Today's Contents – Click to Read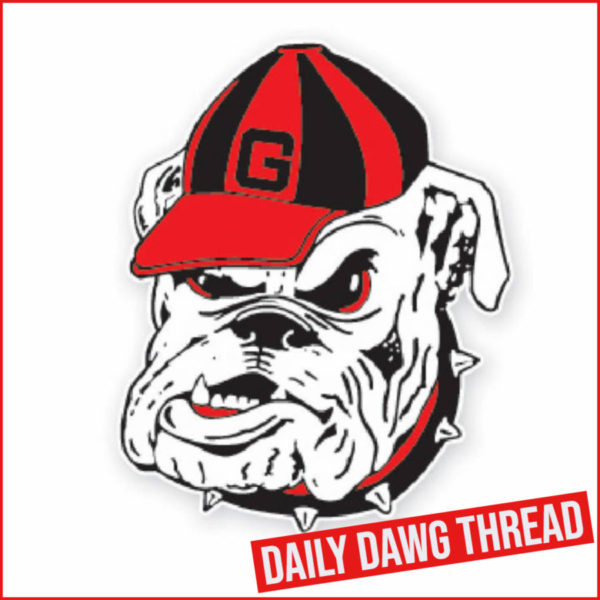 ---
MGOLF: Dawgs 10th as NCAA Championships Continue
Aided by a hole in one from senior Trent Phillips, the Georgia men's golf team moved into the top 10 in the NCAA Championships at Grayhawk Golf Club on Saturday.
Playing Grayhawk's par-70, 7,289-yard layout, the Bulldogs fired a 12-over 292 to shift into a tie with Kansas at 23-over 583 for the tournament. Oklahoma has the team lead at 2-over 562, followed by Vanderbilt at 4-over 564 and Oklahoma State at 6-over 566.
Georgia and the other 29 squads will complete 54 holes of stroke play on Sunday. The field then will be cut to the top 15 teams to complete a fourth round on Monday. The top eight squads after stroke play will advance to match play, with the quarterfinals and semifinals set for Tuesday and the championship slated for Wednesday.
The Bulldogs will head into Sunday one shot behind the eighth-place teams (Arizona State and Texas) and two ahead of the teams hovering on the cut line (Stanford, Oregon, and Florida).
"We're looking at a pretty bunched-up leaderboard going into Sunday," Georgia head coach Chris Haack said. "That will be exciting for the fans, but it will be nerve-racking for the coaches. Teams will be working hard to position themselves for those top-15 and top-8 spots, so I expect it to be a very competitive day. Our guys know what the blueprint is. We have to take each shot as it comes, each hole as it comes. We'll add them up at the end and we'll see where we are."
The Saturday highlight for the Bulldogs was produced by Phillips. On the par-3, 230-yard 13th hole, which is known as Burning Bush, the senior found the bottom of the cup for his first collegiate ace and just the second of his golf career.
"It was pretty electric," said Phillips, who ended the round at 2-over 72. "It was a full 6-iron, I hit it hard, it looked good all the way, and it went in. I could see it go in and then I saw all the people going crazy. It was a great feeling."
Junior Ben van Wyk paced the Bulldogs in the second round with a 1-over 71. After Phillips, junior Nicolas Cassidy signed for a 3-over 73 and freshman Maxwell Ford posted a 6-over 76. Freshman Buck Brumlow had Georgia's non-counting round of 11-over 81.
Phillips moved to 3-over 143 for the tournament, good enough for 18th individually. Vanderbilt's Cole Sherwood holds the lead at 3-under 137, followed by Aman Gupta of Oklahoma State and Gordon Sargent of Vanderbilt at 2-under 138, and Jackson Suber of Ole Miss and Chris Gotterup of Oklahoma at 1-under 139.
Van Wyk landed at 5-over 145, followed by Ford at 6-over 146, Cassidy at 11-over 151, and Brumlow at 17-over 157.
The Bulldogs will return to Grayhawk on Sunday with tee times slated for 10:27-11:11 a.m. EDT. Georgia will be paired with Kansas and Ole Miss. Said Phillips, "We're going to keep grinding and battling. I know our guys will be ready for Sunday."
Today's Contents – Click to Read
---
T&F: Three More Bulldogs Qualify At NCAA East Prelims
The Bulldogs qualified another trio as the NCAA East Prelims came to a close Saturday.
Freshman Elena Kulichenko and graduate transfer Jamari Drake punched their tickets in the high jump and senior Titiana Marsh qualified for her second event after finishing in the top 12 in the triple jump.
On Friday, senior Darius Carbin (high jump), junior Matthew Boling (100-meter dash, 200m, 4x400m relay), senior Elija Godwin (400m, 4x400m relay), junior Caleb Cavanaugh (400m hurdles, 4x400m relay), senior Clay Pender (800m) and Bryce McCray (4x400m relay) all qualified for Nationals.
Through the first two days, four Bulldogs qualified for Nationals at the meet. Marsh (long jump), junior Ana da Silva (shot put), senior Alencar Pereira (hammer throw) and senior Ahmed Magour (javelin) punched their tickets to the final round on Wednesday and Thursday.
There are 48 competitors from the East Region in every individual event and 24 in the relays. The NCAA West Prelims ran simultaneously in Fayetteville, Ark., with the same format. The top 12 in each event from both regions advance to the NCAA Outdoor Championships in Eugene, Ore, on June 8-11.
Two Bulldogs ranked in the nation's top four in the multi-events earned the right to skip the Prelims by automatically qualifying for the NCAA Championships (senior Johannes Erm, junior Kyle Garland – decathlon).
The Lowdown: Georgia managed to push two through in the high jump after Kulichenko and Drake went over the bar at 1.84 meters/6 feet, ½ inches. Kulichenko registered her last clearance on her second try for sixth place while Drake took three tries to get over the same bar to take ninth.
Marsh improved on her second and third attempts in the triple jump, topped out at 13.22/43-4.50 to take fourth overall. This will be her third trip to the NCAA Outdoor Championships since 2019, including a seventh-place finish last year.
Day 1 NCAA Championships Final Qualifiers (MEN)
Name Event Place / Mark
Alencar Pereira Hammer Throw 4th / 69.02/226-5
Ahmed Magour Javelin 4th / 72.52/237-11
Day 2 NCAA Championships Final Qualifiers (WOMEN)
Titiana Marsh Long Jump 2nd / 6.37/20-10.75
Ana da Silva Shot Put 2nd / 17.99/59-0.25
Day 3 NCAA Championships Final Qualifiers (MEN)
Darius Carbin High Jump 9th / 2.15/7-0.50
Elija Godwin 400m 4th / 45.35
Matthew Boling 100m 11th / 10.18
Matthew Boling 200m 3rd / 20.24
Clay Pender 800m 10th / 1:48.77
Caleb Cavanaugh 400mH 1st / *49.59
Men's 4x400m relay 6th / 3:03.77
Godwin, Boling, Bryce McCray
Day 4 NCAA Championships Final Qualifiers (WOMEN)
Elena Kulcichenko High Jump 6th / 1.84/6-0.60
Jamari Drake High Jump 9th / 1.84/6-0.50
Titiana Marsh Triple Jump 4th / 13.22/43-4.50
*personal record
Today's Contents – Click to Read
---
Photo Flahback: Clemson 2021
Watch a fullscreen slideshow
HERE.
Today's Contents – Click to Read
---
Jump To Comments