Today's Contents – Click to Read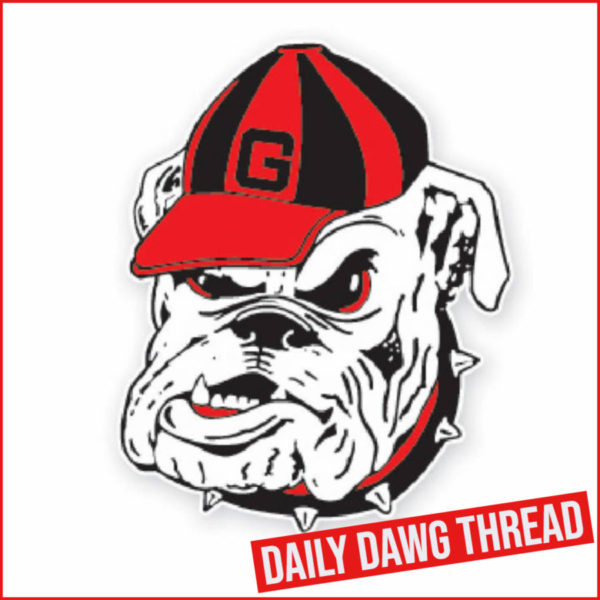 ---
The Steg hosts a season-opening doubleheader today
Georgia vs. Western Carolina
2022-23 Season Game No. 1
Monday, November 7 at 8:00 p.m.
Stegeman Coliseum in Athens, Ga.
Series History: UGA leads 8-0
Last meeting: UGA, 85-79, on 12/20/21
Streaming: SEC Network+ (Jeff Dantzler, pbp; Marcus Thornton, analyst)
Radio: Georgia Bulldogs Radio Network (WSB AM 750; Sirius/XM: 389; SXM App: 979) (Scott Howard, pbp; Chuck Dowdle, analyst; Adam Gillespie, producer)
The Starting Five
• UGA is 3-0 all-time in season openers versus WCU, christening its campaigns in 1994-95, 2003-04 and 2019-20.
• The Bulldogs are 84-33 all-time record in season openers, including a 38-6 at Stegeman Coliseum.
• Mike White is 8-3 all-time in season openers, including a 5-0 mark in home games at La. Tech and Florida.
• UGA's 5 returning letterwinners accounted for 60.9 percent of the Bulldogs' points last season.
• 5 of UGA's 6 new transfers – Anselem, Hill, Holt, Moncrieffe & McBride – have played on NCAA Tourney teams.
The Opening Tip
The Georgia Bulldogs christen their 118th season of basketball – and do so under their 23rd head coach – on Monday evening when they host Western Carolina at historic Stegeman Coliseum.
Mike White assumes the reins in Athens following 11 highly successful campaigns at Louisiana Tech (2011-15) and Florida (2015-22). White's teams averaged more than 22 wins over that span and reached postseason play every season possible but one, his first.
Keepin An Eye On: Entering Today's Game . . .
Mike White is…
• 7 wins from 250 for his career
Braelen Bridges is…
• 124 points from 1,000 for his career
• 70 rebounds from 500 for his career
Jailyn Ingram is…
• 70 points from 1,500 for his career
• 16 rebounds from 700 for his career
Georgia (0-0) vs. Coastal Carolina (0-0)
Monday, Nov. 7 | 6 p.m. ET | Stegeman Coliseum (10,523) | Athens, Ga.
TV: SECN+ (Matt Stewart and Anne Marie Armstrong)
Radio: Georgia Bulldog Sports Network (Jeff Dantzler)
Listen Link: Click Here
Live Stats: Click Here
Opening Tip
» Georgia opens the season Monday at 6 p.m. against Coastal Carolina. The game will air live on SEC Network + and on the Georgia Bulldogs Sports Network.
» This marks the 50th season of Georgia Lady Bulldog basketball. This historic program ranks 15th all time in win percentage (.694) and 16th in total wins (1,039). Georgia ranks second nationally in NCAA tournament appearances with 35 and is still one of only three programs to boast a winning record every season since 1981.
» This is also the Lady Bulldogs' first game under the leadership of new head coach Katie Abrahamson-Henderson. Coach ABE was named just the third head coach in Georgia history on March 26, 2022.
» An SEC-leading 10 newcomers will wear the red and black for the first time on Monday. The Lady Bulldogs' roster features five returners, five graduate transfers, four freshman and a sophomore transfer.
» Georgia is 40-9 in season-opening games and has won 16-straight lid-lifters dating back to the 2005-06 season (L, 84-72 to No. 6 Baylor).
» The Lady Bulldogs own a 27-2 overall record in season-opening home games.
» Monday's contest marks the first-ever matchup between Georgia and Coastal Carolina.
» The Chanticleers are in their first season under new head coach Kevin Pederson. Coach Pederson led Lander University to a 356-160 record and 13 NCAA tournament appearances during his 17-year tenure.
» 2022 American Athletic Conference Player and Defensive Player of the Year Diamond Battles was named preseason All-SEC and placed on Naismith National Player of the Year Watch List.
» Battles, one of the top graduate transfers in the nation, helped lead UCF to an unprecedented run in 2022. The Knights won the AAC regular season and tournament crowns and earned the highest NCAA tournament seeding (No. 7) in school history.
Georgia Notebook
Coach ABE Returns to Lead Georgia
Katie Abrahamson-Henderson was named just the third full-time head coach in Georgia history on March 26, 2022. Coach ABE returns to Georgia, where she played for the Lady Bulldogs from 1986-87 and was a member of the 1986 squad that captured the SEC Championship. Teammates Katrina McClain, Teresa Edwards, Lisa O'Connor and Carla Green, among others, helped lead Georgia to its third SEC. Coach ABE played in all 32 games as a freshman during that championship season.
Success at Every Stop
Coach ABE has built successful programs in coaching stops at Albany, Missouri State and UCF. Her teams have won an unprecedented 70 percent of their games, an average of 22 victories per year, while capturing 16 conference titles in 17 seasons. At UCF, the 2021-22 squad won a school-record 26 games en route to the American Athletic Conference Championship, the AAC Tournament crown and a No. 7 seed in the NCAA tournament – the highest seeding in program history.
Today's Contents – Click to Read
---
Jump To Comments