Today's Contents – Click to Read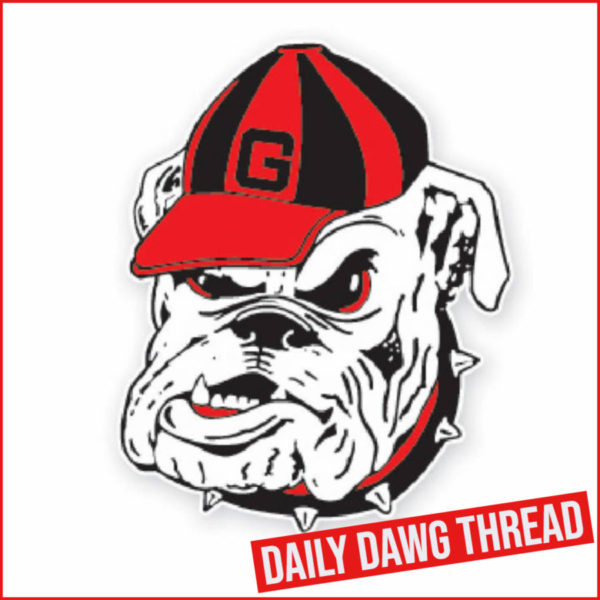 ---
Three Semifinalists: Washington and Bowers for Mackey Award, Bennett for Burlsworth Trophy
Georgia junior Darnell Washington and sophomore Brock Bowers have been named John Mackey Award semifinalists while senior Stetson Bennett has been included as a semifinalist for the Burlsworth Trophy, according to separate announcements recently.
Washington, a native of Las Vegas, Nev., and Bowers, a native of Napa, Calif., are two of nine semifinalists for the Mackey Award, which is given annually to the nation's best tight end. Bowers was also a semifinalist last year before being named the Shaun Alexander and Football Writers Association of America (FWAA) National Freshman of the Year. The Bulldog pair are the only Southeastern Conference players included as semifinalists.
Bennett, a native of Blackshear, Ga., is one of 10 semifinalists for the Burlsworth Trophy, which honors the country's most outstanding player who began his career as a walk-on. Bennett, who is one of two SEC players on the list, was a 2021 finalist. In addition, former All-American place-kicker Rodrigo Blankenship was a 2019 finalist.
Washington has 19 catches for 332 yards (team best 17.5 per catch for those with 10 or more receptions) while Bowers has 34 catches for a team leading 574 yards and three touchdowns. Bowers also has four carries on his resume this season that went for 89 yards and three scores. In addition to their receptions, Washington and Bowers have been dominant blockers, helping to allow the Bulldogs to average 194.0 yards on the ground.
Bennett is now 23-3 as the Bulldogs' starting quarterback and has led No. 1 Georgia to 11 straight wins bridging the team's 2021 national title. He has completed 198 of 292 passes (67.8 percent) this season for 2,606 yards and 11 touchdowns. Bennett has also rushed 29 times for 130 yards and six scores.
Today's Contents – Click to Read
---
WBB: 4-Star Miyah Verse Signs With UGA
Miyah Verse, a versatile forward prospect from Peoria, Arizona, has signed a national letter of intent with the Georgia women's basketball team, head coach Katie Abrahamson-Henderson announced Wednesday.
"I'm very excited to welcome Miyah to our Georgia Bulldog family!" Coach "ABE" said. "She is explosive and can score on all three levels. Miyah is very physical and plays extremely hard, and she is going to be a great addition to our team's culture. Our philosophy is family, academics and basketball, and we're thrilled to bring the Verse family into the fold."
Verse is a four-star recruit who landed in ESPN's Super 60 Poll as one of the top players in the nation. She plays high school basketball at Arizona Elite Prep, which has become a national powerhouse.
At 6-foot-1, the physically-gifted forward averaged 13.2 points and 9.8 rebounds per game during her sophomore season. Throughout her career, she has been known as a three-level scorer and talented rebounder. She can shoot the three or finish at the basket.
Verse is the first signee of Georgia's 2023 class. The early signing period began on Nov. 9 and runs through Nov. 16.
Today's Contents – Click to Read
---
SOFTBALL: Dawgs Sign Three
University of Georgia head softball coach Tony Baldwin has announced the signing of three future Bulldogs to the 2024 roster. The signing class includes infielders Hannah Davila and Emily Digby and utility Emma Castorri.
Emma Castorri | Utility | R/R | 5-8 | Buford, Ga. | Buford HS
Emma Castorri signs to UGA from Buford High School where she was a four-year starter for the Wolves. She earned all-region status her first three years of high school, was named defensive MVP as a junior, and was a qualifier for the senior All-State game in 2022. As a senior, Castorri helped lift the Wolves to a 7A state championship. Off the diamond, she competed in track and field for two seasons and earned a spot on the AB honor roll. Castorri plays club for Georgia Bombers Lewis.
Emma is the daughter of Jen and Christian Castorri. Her father played baseball in the Pittsburgh Pirates organization and coached at Middle Georgia College and Georgia Gwinnett College. She was four younger siblings: Summer, Crew, Rad, and Fox. She intends to major in Psychology at Georgia.
Baldwin on Castorri: "Emma comes from an athletic family. She has played in one of the best high school programs in the country in Buford HS, under former Coach Tony Wolfe and now Coach Trent Adams. She has played on highly competitive travel teams, most recently for the Bombers and Patrick Lewis. When you ask her coaches about Emma, they all say she is a 'glue gal.' She brings people together which is such a critical ingredient for a successful team. On top of that, she has a knack for the big hit and big play. What I love most about Emma is that she has a high level of 'figure it out' to her! We are excited to welcome Emma and her family to the Classic City."
Hannah Davila | Infield | R/R | 5-8 | Flossmoor, Ill. | Wesley Chapel HS
Hannah Davila signs to Georgia from Wesley Chapel High School outside Tampa, Florida. Davila originally hails from Flossmoor, Illinois where she attended Homewood Flossmoor High School the first three years of her prep career, earning all-conference honors and MVP status twice before moving to the Tampa area. She will play her senior season at Wesley Chapel HS in the Spring. Aside from softball, Davila also plays basketball. Davila plays club for Lady Dukes Lamar.
Davila is the number seven ranked recruit by Perfect Game Softball in the 2023 class.
Hannah is the daughter of Kristina and Alberto Davila. Her father played baseball in the Pittsburgh Pirates organization and was a scout for the Texas Rangers. She has a younger brother, Brandon. She intends to major in Criminology at Georgia.
Baldwin on Davila: "Hannah is a high-end athlete. She is physical and especially agile. She has all the traits of being an elite defender whether that be in the middle of the infield or the corners. She has crazy raw power with her bat and her best days as a hitter are still ahead of her. She is another one that comes from an athletic family and plays the game with a high level of softball I.Q. She has played highly competitive travel ball under Coach Rocky Thompson and the Thunderbolts and now is playing in the Lady Dukes program under James Lamar. We are excited to welcome Hannah and her family to Athens."
Emily Digby | Infield | R/R | 5-8 | Dacula, Ga. | Dacula HS
Emily Digby signs to Georgia from Dacula High School where she was a four-year starter for the Falcons. Digby's senior season culminated in setting new Dacula career records for batting average (.438), runs (166), RBI (127), hits (155), doubles (42), home runs (34), and walks (70). She also holds eight single-season records at DHS. She has been named first team all-region, all-county, and all-state throughout her prep career. As a junior she was named the Region 8, GDP, and Gwinnett County Player of the Year. She was the back-to-back Dacula Player of the Year in 2019 and 2020. She received an invite to the GADC Senior All-State Game this past season and appeared in the PGF All-America Game in both 2020 and 2021. Off the field, she is a member of the Dacula leadership team, peer leading, FCA, and Delta Message. She plays club for Georgia Impact Sampson.
Emily is the daughter of Laurie and David Digby. Her older sister Elisa is currently a senior at UGA. Emily intends to major in Business at Georgia.
Baldwin on Digby: "The more we watched Digs play during the evaluation process, the more we absolutely loved her game. She is a natural shortstop, but we have seen her play nearly every position other than pitcher. She has a calm and competitive demeanor to her that allows her to be highly consistent. She is an outstanding athlete with tremendous balance – you rarely see get her body out of position. She has a smooth and repeatable swing with surprising power and looks to be a middle of the lineup-type RBI producer. Emily has played locally for the Bombers organization and is a long-time member of the Georgia Impact organization as well. We are excited to get Emily in the Red and Black and welcome her family to the Georgia Softball family."
Today's Contents – Click to Read
---
Jump To Comments