Today's Contents – Click to Read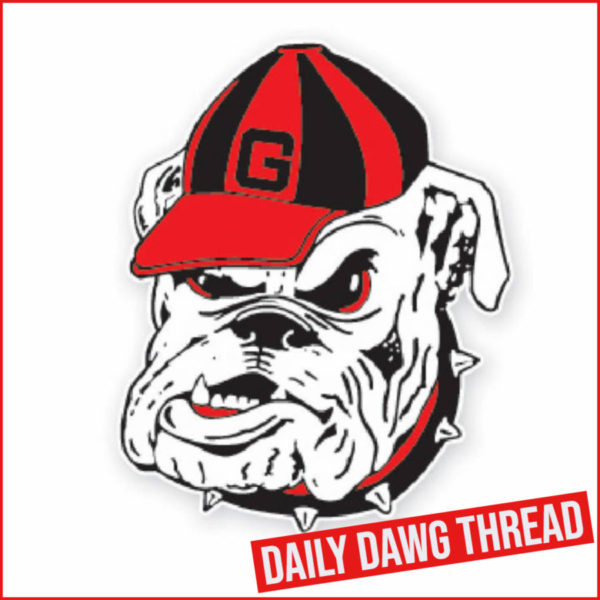 ---
Jordan Davis named Walter Camp Player Of The Year semifinalist
Georgia senior lineman Jordan Davis has been named one of 15 semifinalists for the Walter Camp Player of the Year, according to an announcement from the Walter Camp Football Foundation.
Davis, a native of Charlotte, N.C., is one of four semifinalists from the Southeastern Conference.  The Walter Camp Player of the Year is voted on by the 130 Football Bowl Subdivision head coaches and sports information directors.  A list of five finalists will be announced on Dec. 2, and the winner announced on ESPN's Home Depot College Football Awards Show on Dec. 9.
College Football Hall of Famer Herschel Walker is the only Bulldog to ever win the Walter Camp Player of the Year award in 1982.
Davis is already a Bednarik Award semifinalist after tallying 21 stops, including 3.5 tackles for loss and two sacks, through the Bulldogs' undefeated start.  He has been instrumental in a defense that ranks first nationally in Scoring Defense (6.6 points/game) and Red Zone Defense (56 percent) and second in Total Defense (231.8 yards/game), Passing Yards Allowed (151.1 y/g), and Rushing Defense (80.7 y/g).
Today's Contents – Click to Read
---
SOFTBALL: UGA Signs Five
Lauren Burnett // Infielder/Catcher // Mansfield, Ga. // Eastside HS
Infielder/catcher Lauren Burnett signs to Georgia from Eastside High School. The Mansfield, Georgia native played four years as the Eagles' shortstop, lettering all four seasons. She earned offensive player of the year accolades as a sophomore and defensive player of the year the following year. Burnett is a two-time all-region selection and a multi-time All-State performer. She helped guide Eastside to 82 wins in her prep career. In the classroom, she is an AB Honor Roll student.
Baldwin on Burnett: "Lauren is an in-state power hitter who has been committed to UGA for what seems like forever. LB's another one who can play a lot of places on the softball field, but profiles as a corner infielder. Her offensive prowess is what stands out now and we believe she has the potential to improve defensively when she arrives in Athens. We are excited to welcome Lauren and her family to Bulldog Softball Family."
Tyler Ellison // Infielder // McDonough, Ga. // Hampton HS
Infielder Tyler Ellison signs with Georgia out of Hampton High School where she was a four-year letterwinner for the Hornets. She began her prep career playing the outfield before beginning the transition to the middle infield as a sophomore. Ellison garnered all-region honors all four seasons and guided Hampton to four-straight region championships. Ellison's junior season saw her named all-state, offensive MVP, and she broke Hampton's single season batting average record. Following her senior campaign, she was invited to play in the Georgia Dugout All-Star game. Ellison is a strong student in the classroom, earning A-Honor Roll honors and distinguished honors in math, language arts, and science. She is a Junior Marshall and earned the Georgia Certificate of Merit.
Baldwin on Ellison: "Tyler is a homegrown, in-state utility player who is just scratching the surface of how good she can be! She projects to be right-handed power bat in the long line of UGA right-handed power bats. She is a good runner, an excellent defender with a nice feel for the game. She has excelled at the highest levels of competitive softball. Tyler is also a tremendous student and is in contention to be the valedictorian of her class. We are thankful that Tyler chose to be a Dawg and wear the Red and Black."
Jaydyn Goodwin // Infielder // Paris, Ky. // Bourbon County HS
Infielder Jaydyn "Shorty" Goodwin signs to Georgia from Bourbon County High School in Kentucky. While she's played three seasons on the basketball court for Bourbon County, she played softball exclusively on the club level. She began her club career in the Mojo organization at the 10U level when she helped guide Mojo to a PGF national title. She was selected as the PGF 14U MVP after hitting .488 for another championship Mojo squad in 2019. On the basketball court, she's run point for Bourbon County, earning multiple all-academic team accolades and was named most improved and defensive player of the year a season ago. In the classroom, she's a member of Beta Club, Pep Club, and National Honor Society.
Baldwin on Goodwin: "Jaydyn is as competitive and tough as they come. She plays the game with energy, she plays fast, and she plays big in the big games. She has grown up playing competitive softball for years and been on championship level, winning teams from the get-go. Shorty is a slapper by nature but her swing away is really coming along. She is a tremendous baserunner and an excellent defender at second base. It feels like we have been waiting forever for Shorty to finally be a Dawg and we are excited that day is finally here."
Destin Howard // Pitcher // Macon, Ga. // Jones County HS
Right-handed pitcher Destin Howard signs to UGA from Jones County High School where she was a four-year letterwinner in the circle. The Macon native picked up region pitcher of the year, MVP, GDAC Player of the Year, first team all-state, and the Greyhound award following the 2020 campaign. She guided Jones County to a state championship that season with 172 strikeouts. She tallied north of 200 strikeouts as a senior. She helped Jones County to just shy of 100 wins in four seasons.
Baldwin on Howard: "Destin is right handed power pitcher from Macon who we expect to compete for time in the circle the minute she steps foot on campus. She is one of the top 2022 high school pitchers in the country and we are excited we were able to keep her home to represent the Red and Black. Her velocity sits north of the 70-mark and Bulldog fans everywhere are going to love watching her in the circle at the Jack. Destin possesses a big time power bat and we look forward to seeing what she can do on the offensive side as well. We are excited to have Destin and her family join the Bulldog Softball Family."
Marisa Miller // Catcher // Suwanee, Ga. // North Gwinnett HS
Catcher Marisa Miller signs from North Gwinnett High School in Suwanee where she was a four-year varsity letterwinner on the softball field and on the basketball court. She's played behind the plate and at third in high school. She's a two-time all-county and all-state selection and was the 2020 Gwinnett County offensive player of the year. Last summer, she hit .412 with 12 home runs and 31 RBI for her Lady Dukes-Lamar club team. She helped guide North Gwinnett to a 7A state championship this past season, hitting three home runs in the championship game. She's also appeared in two Georgia Dugout Club All-Star games. Off the field and court, she's a member of the Spanish Honor Society, National Honor Society, Environmental Club, and volunteers with the local Happy Feat Organization.
Baldwin on Miller: "Marisa is one of the top catchers in the country. She is big and strong, but don't overlook her athleticism – she also excels on the basketball court. She receives the ball well and shows plus, plus arm strength behind the plate. She recently led her North Gwinnett High School team to the 7A Georgia State High School State Championship down in Columbus. She has a power bat and is one of the top hitters in the state. She brings an energy to the game that our fans are going to love and we can't wait to see her in the Red and Black."
Today's Contents – Click to Read
---
GYM: Kupets Carter Announces 2022 Signing Class
The signees include: Naya Howard of Chesapeake, Va., Jacquelyn (Jacquie) Moran of Santa Cruz, Calif., and Ariel Posen of Manalapan, N.J.

Naya Howard signs with Georgia after training at Ocean Tumblers. She was the 2018 National Bar Champion on top of being a national team member in 2018 and 2021. She took second place on beam at nationals in 2021. She has been a USAG national qualifier from 2017-2021. Additionally, Howard was the first gymnast from Ocean Tumblers to make the Region 7 All-Star team member in 2018, which she then was a member of in 2019 and 2021 as well.

Jacquie Moran signs to be a GymDog after training at San Mateo Gymnastics. She was the 2019 State All-Around Champion with a score of 39.025, the highest score of her career, and the 2019 Bars National Champion with her highest individual score on 9.900.

Ariel Posen signs with UGA after training at Arena Gymnastics. She has a five-star recruit rating on College Gym News with many impressive finishes and scores under her belt. She is a 10-time State Champion and eight-time Regional Champion. She placed seventh on beam in the 2019 US Championships and qualified for Elite. In 2018 she was a Junior Olympics National Level 10 Floor Champion and finished second on vault.
Today's Contents – Click to Read
---
Jump To Comments