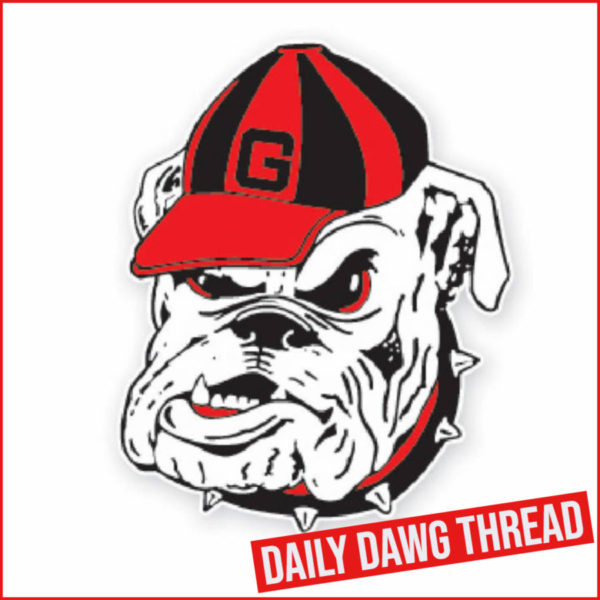 ---
Video/Transcript: Kirby Smart Presser – October 11, 2022
On Vanderbilt quarterback AJ Swann…
"Yeah, we had him down several times. Really throws the ball well; he's a sneaky athlete. Kid throws back shoulder balls, RPOs, spins it really good. You can see why they've had confidence in him. The most recent games he stood out and done tremendous job. For a freshman to go into the environments he's played in, he's played really well."
On what he believes the team's identity is…
"Probably grit, toughness. The way they practice, I really like it. They're really a unique, connected group. A little different than last year's group. Last year's group feels like they had been around longer. This group is created a little bit of a identity of how they care for each other, but also the grit and toughness they play with."
On Adonai Mitchell, Jalen Carter, Trezmen Marshall, Smael Mondon and Kendall Milton's status…
"Adonai has looked better, but he hasn't probably looked as good as I thought he did in pregame last week. I really thought he looked good in pregame and hasn't quite been to that mark. I don't know if it was the adrenaline, or the rush, I thought he looked pretty good in pregame and thought we might be able to use him more, but it didn't work out. He didn't really tweak it again, but he's not 100%. He's been very similar this week as he was last week. Jalen is still not practicing with us. He's not taking reps or anything, he's rehabbing. Trezmen warms up, gets loose. He looked much better today. He's able to practice and take some reps. Smael's been very similar to last week. Kendall has not practiced yet. He's been out there with us. I would say he's probably probable, but I don't know if he's going to be able to play or not."
On Dan Jackson's growth…
"First of all, he was a talented athlete coming in, he could run, he popped off to us when we ran 40's, and he was one of the faster guys. He didn't know much about our defense, so it took a full season of doing scout work, learning, playing on special teams, and then he started contributing more and he's created a role for himself as a really good special teams player. He's kind of the leader of the punt return unit, and he plays in dime situations and he gives us a lot of reliability, a lot of leadership and a lot of players on the team respect Dan."
On what Rian Davis means to the program…
"He's a core special teams guy, he practices hard. He played behind those other guys last year. If you were a fly on the wall in that room, you know that talent just oozed, and he was blessed to be with those three guys that left and watch how they worked in practice, and he was he was a part of that too. He also had a very significant injury last year, that prevented him from being able to contribute in other areas and special teams, and this year, he's been able to do that and he got his opportunity Saturday, and he made the most of it."
On having consecutive home games and if it helps injured players…
"Not really. It means we're not on a bus or a plane for a two to three hour window. We treat guys on the plane, we treat guys in transit, we treat guys on the road, we treat guys at home. I would just say that it's just a little more time they can get treated since they're not traveling."
On how he schedules each week when recruits are coming in…
"I don't really know what you mean. Every home game, I have meetings and I have recruiting. It's definitely tougher, the bigger the game, because you attract just more sheer numbers. Probably more high profile players, the better the game is, so we have a lot of those. But we don't change anything. The amount of time we have is the amount of time we have. We have meetings Friday night, we have meetings Saturday morning, we have meetings Saturday in the middle, we have a meeting Saturday night, we have a meeting Sunday morning, and then we have meetings Sunday afternoon before they leave. So, it's constant. We try to meet with every kid we possibly can."
On what playing as number 16 meant to him and what jersey numbers mean to players…
"I didn't know anything about 16, that's what they gave me. I didn't go in and complain about it, I can promise you that. It really hasn't changed that much. It's changed if you allow it to change you, so if you want to make it a big deal, and you want to sign a recruit over a number, you're probably going to have a lot of problems with that kid when he gets there, if it's all about the number. You know right away that it's going to be an uphill battle if he's more worried about the number than he is about how to get on the field. Not to say that we don't talk to guys about numbers, they ask about them, and I don't think many kids nowadays, especially with NIL, put that high on the priority list of what the jersey number is. We have a system that we believe in on it, and we follow that system."
On Kamari Lassiter…
"Kamari is a really tough, competitive, great leader, great kid, 4.0 [GPA] type of student in high school. We recruited for a long time, we knew his high school coaches well, he came over to camp with us, he sent videos to us during COVID. Just a lot of respect for the way he competes and carries himself. He's got a tremendous family and a Georgia background. He's played good, and he could probably tell you himself, he's got a lot of areas he can improve in, but he's a good football player. He tackles well, he's smart, he listens. But I'm proud of what he's done for our team."
On his routine during the grind of the season…
"I have a routine of the week. Sunday, Monday, Tuesday is pretty intense for our coaches schedule. Wednesday is a little better, we go home after practice, so you get to see your family. I like to say we catch up on Wednesday, Thursday, take a deep breath and then get ready for Friday and Saturday. There's not a lot of time I have in the day to do other things. I should exercise more, I don't. I like to eat, that didn't couple well with not exercising, but spend time with our players and what little time I have spend time with my family."
On the exercise he gets on the field…
"[I don't get] as much as I should. I'll find myself yelling for the players to run and I'm walking. I used to run a lot more, but my legs are weary."
On the development of the young wide receivers and the challenges they face…
"Challenges, or opportunities? There's something about playing receiver that you really need to do it in a game to get the utmost confidence. Dillon [Bell] probably has got a little bit of that, De'Nylon [Morrissett], he's played more than most freshmen, but still not a lot. C.J. Smith has really come along well but hasn't had a ton of opportunities. Those guys are getting a lot of reps and getting better in practice, but it's hard to gain the confidence and experience you need until you get live game reps, and those guys have not gotten a ton. They've gotten some, Oscar [Delp] has gotten some. I'm very pleased with that class of guys. It's probably the first wide receiver class that we can say across the board, man, they got some good players in it, they're just not there right now. There's a couple guys in front of them, too."
On Oscar Delp's opportunities on Saturday…
"Well, it's not that he didn't earn it before. He was probably ready and prepared prior to, we just we had a little bit of a 13 package. The 13 packages has opened him up to play, which is the three tight ends, so he was in there and he played and we look each week at it how teams play different personnel groupings, and we thought that was a an opportunity to take advantage of. Sometimes it has to do with the depth at other positions that allow us to do that."
On what he tells Kamari Lassiter after missing coverages to keep his composure…
"He's not wanting to miss coverages. You said that, not me. I didn't say he missed coverages because I don't think Kamari misses many coverages. He might get beat, but there's a big difference between a missed coverage and a one on one. When you play football, and you play out on that island, you guys don't notice when the defensive tackle gets blocked; they get blocked every play. You notice when a corner doesn't make a play or maybe gets beat, but he understands that, he knows that every day at practice he's on an island, and you live on that that lonely place and you have to play the next play. Because if it's going to take your confidence to get beat once, you won't last long at defensive back."
On how he finds a balance between coaches and players delivering messages to players…
"Balance. It's great when players deliver messages and talk to guys, as long as they do it the right way and they do it for the right reason. He was frustrated that he came out of coverage in scramble, and really, in a lot of ways, Kamari wasn't wrong. He was the force player, he was the flat player. It's one of those deals he should have plastered and stayed on him. He didn't, it was a mistake. We talk all the time in our organization about being able to accept criticism and accept leadership. It's just as important as it is to have leaders in your program as it is to have people that will accept leadership and not defy it or not crumble when people confront them. I thought he handled that well, and he's had the same thing where he's gotten on people, because he certainly has great work ethic and earned the right to hold people to our standard."
On Rian Davis overcoming so many obstacles…
"That shows resiliency. He talked all offseason about it. He stands in front of the team and talks about what he's been through and how tough it's been and you keep plugging away. I can still remember when he came in my office during the COVID year and said 'Coach, I'm going to sit this thing out,' and I said, 'No you're not. You're staying with it. You're going to stick it out, you're going to keep playing, you're going to keep practicing.' He was ready to just shut it down, and I'm so glad that he did because he's become a better person. Number one thing Rian's done is he came in and there was times he would slack academically and maybe not do what you're supposed to do. Every academic report we've been getting, for the most part, has been good with him. He's grown up. You see these guys as coaches, as a freshman or a sophomore and you think, 'Man, this guy is going to make it,' and the next thing you know, their third and fourth year it hits them. So many players I can remember in our organization, [Calvin] Riley Ridley is one that sticks out, it's just like they changed and they realized it's much easier just to do it right on the front end, and he's done that. He's also done that with a lot of injuries and footballs are a tough sport. I don't know how many of you guys in this room played it, but it's physical, and it's hard. You're not always healthy, and it makes you question what you believe in sometimes, and I think he's been through that and he's come out on the good side of it."
On how he feels about the team being viewed as contender this year after the roster turnover…
"I wouldn't have cared. Because I don't trust the source. So, I don't I really don't care."
On if the team keeps stats on how far offensive linemen push the running backs forward…
"I don't. I know that Coach Dell [McGee] has some 'dog yards,' but that's mostly after contact, but it would have been a great stat for the last game, I agree with you. That's something Coach [Stacy] Searls takes a lot of pride in. I thought the two or three plays Warren McClendon ignited our entire offensive line. Because on the play, you can see that he never broke down, his goal was, 'I'm charging on,' and everybody saw him and thought, 'Well, if he's going to do it, then I want to do it,' and they all piled in. You're really special when you got five guys doing that relentlessly. I would say Warren was doing it relentlessly and the others joined. I don't know what the yards were, but it definitely helped."
On if there is a leadership committee…
"It's just not defined quite like that. Information within your family stays within your family. We didn't really have one last year, don't really have one this year. We've got a great group of guys that all love each other. It doesn't mean I don't reach out and speak to guys and ask guys questions, but it's not really labeled that way."
On what the changed system is…
"That stays in the family. Because if I told you that, then every coach in the country would use it against me in recruiting."
---
Video/Transcript: Rian Davis and Kamari Lassiter Interviews – October 11, 2022
On his first start last Saturday…
"It meant a lot. I was very excited about that. It was a very emotional game for me because I have battled through a lot. Getting that first start and being out there with my brothers, it was a good time."
On his role as a leader as a veteran on the team…
"I wouldn't say I was scared of the leader role, but I wanted to make sure that I was doing everything right first before I try to tell everybody else to do stuff right because nobody is going to listen to you if you are not doing what you are supposed to be doing. That was more for me. This year, I feel like I have stepped up more as a leader. I have been doing more things right, in my business, academic wise, off the field and on the field.
On keeping a positive mindset…
"It was definitely hard. I have definitely had some times throughout these last couple years where I have been down and wondering why this happened to me. I try to think in a mode where your situation could always be worse. There is always somebody in a worse situation. There are people at other schools who have had more injuries than me. They have battled back. I look at it like that. Somebody's situation is always worse than mine."
On how he feels he has developed since the start of the season…
"I would say that starting off from game one, I had a little bit of nerves coming in with it being my first start. As the season has progressed, I'm just getting better with practice and reps, so I've been able to learn the defense better. I would say my progression has been pretty good, but I have a long way to go still."
On the interaction between him and Jamon Dumas-Johnson on the sideline of the Missouri game…
"I see it as two players who just want to win. With Pop [Dumas-Johnson], he's trying to be a leader and do whatever he can to help us win, so I'm just going to listen to him because he's the middle linebacker. He makes a lot of our calls and he's one of the leaders on this defense. That's a guy I respect a lot, we came in together and we have a good relationship, the clip just blew up because of the way it looked, but nobody was on the field with us except for us."
On how big leadership is for a team that is looking to win a national championship…
"It's huge, championship teams are led by the players. You obviously have the coaches, but a player-led team is a team that both the coaches and players want so having those leaders on the field and off the field as well is crucial for a championship team."
---
Dawgs in the NFL – Week 5
EAGLES 20, CARDINALS 17
Jordan Davis, DL: Posted three tackles as the Eagles remained the last undefeated NFL team at 5-0.
Nakobe Dean, ILB: Appeared on 21 special teams plays with no stats for Philadelphia.
A.J. Green, WR: Caught three passes for 20 yards for Arizona.
Jonathan Ledbetter, DL: Had two tackles for the Cardinals.
GIANTS 27, PACKERS 22
Tae Crowder, ILB: Had three tackles, including one for loss, in London for the Giants.
Azeez Ojulari, OLB: Was on New York's inactive list with a calf injury.
Andrew Thomas, OL: Logged all 61 plays at right tackle, plus five more on special teams, as the Giants accumulated 338 total yards.
Eric Stokes, DB: Recorded six tackles for the Packers.
Quay Walker, ILB: Led Green Bay with eight tackles.
Devonte Wyatt, DL: Was on the Packers' inactive list with a quadriceps injury.
BILLS 38, STEELERS 3
James Cook, RB: Carried four times for 31 yards, including a 24-yarder for his first NFL touchdown — the first of the season for a Buffalo running back.
Isaiah McKenzie, WR: Was on the Bills' inactive list with a concussion.
George Pickens, WR: Led the Steelers with six catches for 83 yards.
TITANS 21, COMMANDERS 17
Ben Jones, OL: Played all 64 snaps at center and helped the Titans post 241 total yards.
Monty Rice, ILB: Appeared on 24 special teams plays with no stats in his season debut after being activated from the Titans' Reserve/PUP list on Saturday.
CHARGERS 30, BROWNS 28
Tre' McKitty, TE: Logged 36 offensive plays with two targets but no stats for the Chargers.
Sony Michel, RB: Appeared on two offensive plays with a carry for no yards for Los Angeles.
Jamaree Salyer, OL: Played all 71 snaps at left tackle, helping the Chargers post 465 total yards, and logged six special teams snaps.
Nick Chubb, RB: Rushed for 134 yards and two touchdowns, including a 41-yarder, on 17 carries for Cleveland. Leads the NFL with 593 yards and seven touchdowns.
PATRIOTS 29, LIONS 0
David Andrews, OL: Played all 60 snaps at center and helped the Patriots roll up 364 total yards.
Isaiah Wynn, OL: Logged all 60 plays at right tackle, plus seven more on special teams, as New England accumulated 364 total yards.
D'Andre Swift, RB: Was on the Lions' inactive list with a shoulder injury.
BUCCANEERS 21, FALCONS 15
Jake Camarda, P: Punted four times for a 49.3-yard average, kicked off three times, held on two field goals and an extra point, and made a special teams tackle for Tampa Bay.
Lorenzo Carter, OLB: Rolled up three tackles and a quarterback hurry for the Falcons.
VIKINGS 29, BEARS 22
Roquan Smith, ILB: Posted eight tackles for Chicago. Leads the NFL with 54 tackles.
JETS 40, DOLPHINS 17
Lawrence Cager, TE: Was on the Jets' inactive list as a healthy scratch.
John Jenkins, DL: Appeared on nine defensive plays with no stats for Miami.
Channing Tindall, OLB: Saw action on nine special teams plays and two defensive plays — his first time on defense this year — and recorded his first NFL tackle for the Dolphins.
49ERS 37, PANTHERS 15
Charlie Woerner, TE: Appeared on 24 offensive plays and 22 special teams plays with two tackles for San Francisco.
RAVENS 19, BENGALS 17
Ben Cleveland, OL: Was on Baltimore's inactive list with a foot injury.
Justin Houston, OLB: Was on the Ravens' inactive list due to a groin injury.
Nick Moore, LS: Snapped on four field goals — including the game winner as time expired — two punts, and one extra point for the Ravens.
Trey Hill, OL: Was active but did not see any action for Cincinnati.
CHIEFS 30, RAIDERS 29
Mecole Hardman, WR: Caught four passes for 73 yards and rushed once for seven yards for Kansas City.
Malik Herring, DL: Posted one tackle for the Chiefs.
Zamir White, RB: Had one carry for minus-seven yards for the Raiders.
TEXANS 13, JAGUARS 6
Tyson Campbell, DB: Recorded six tackles for the Jaguars.
Travon Walker, OLB: Had five tackles for Jacksonville.
COWBOYS 22, RAMS 10
Leonard Floyd, OLB: Posted four tackles and a quarterback hurry for Los Angeles.
Derion Kendrick, DB: Recorded three tackles for the Rams.
Matthew Stafford, QB: Went 28-of-42 for 308 yards, including a 75-yard touchdown pass, for Los Angeles. Stands 10th in the NFL with 1,323 passing yards.
Practice Squads
Browns: Richard LeCounte, DB
Cardinals: Javon Wims, WR
Chargers: Mark Webb, DB
Falcons: Justin Shaffer, OL
Giants: Solomon Kindley, OL
Texans: Chris Conley, WR
Reserve Lists (IR, PUP, NFI, COVID)
Bengals: Elijah Holyfield, RB
Commanders: Eli Wolf, TE
Falcons: John FitzPatrick, TE
Raiders: Jordan Jenkins, OLB
Vikings: Lewis Cine, DB
---
Jump To Comments