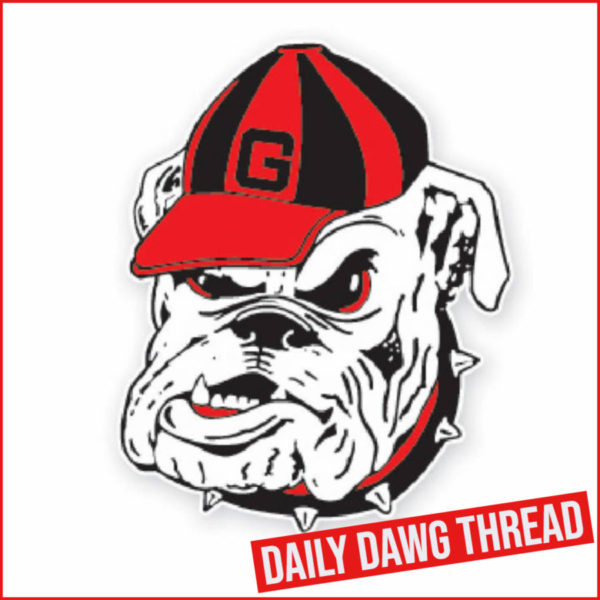 ---
WGOLF: UGA Wins Illini Invitational at Medinah
The No. 20-ranked Georgia women's golf team shot the second-best tournament score in school history en route to winning the Illini Invitational and Medinah Country Club on Tuesday. The Bulldogs wrapped up the 54-hole event at 15-under 849, tying with Louisville atop the team leaderboard.
Georgia's golfers played approximately 25 holes on Tuesday, finishing Monday's second round, which was suspended due to the weather, and then immediately playing the final round. The entire tournament was played under a shotgun format, with pairings remaining the same for all three rounds.
"It was hard today, with everyone starting in different places with a shotgun start and the golf course playing under very different conditions for everyone," head coach Josh Brewer said. "Then, you're not sure who's keeping live scoring and if it's correct. You just play as well as you can and hope for the best.
"I think we were the one team in the field that was up around first or second for the entire tournament," Brewer added. "Both days, everyone was chasing us. Everyone was chasing us from the moment we teed off to the final putt. With the shotgun start, which was what had to happen under these circumstances, we didn't get to look the people in the eye we were competing against. I think we would've enjoyed that, but at the same time, a win's a win."
Georgia wrapped up the second round with a 3-under 288 team total. The Bulldogs counted a pair of 2-under 70s from Isabella Holpfer and Caroline Craig, a 72 from Jo Hua Hung and a 73, the score posted by both Jenny Bae and Caterina Don.
That left the Bulldogs in second place, a shot behind Purdue.
Craig paced Georgia in the final round with a 3-under 69, while Hung added a 70, Holpfer shot 71 and Don fired a 72.
Of Georgia's 12 counting rounds during the tournament, 11 were par-or-better scores.
Overall Holpfer tied for sixth individually at 5-under 211, five shots behind medalist Emily Price of Kent State. Craig and Hung both tied for 13th at 3-under 213, Don tied for 25th at 1-under 215 and Bae tied for 42nd at 219. Zoë Walker, who was competing as an individual, also tied for 42nd after shooting a career-low 1-under 71 in the final round.
Louisville closed with an 11-under 277 to tie the Bulldogs late in the day. Following the Bulldogs and Cardinals at 849 and rounding out the top-10 teams were Purdue at 850, LSU at 853, San Jose State at 854, Kent State and Illinois both at 858, Maryland and No. 16 Texas Tech both at 865 and No. 21 Oklahoma at 866.
"Hats off to Louisville," Brewer said. "They played great today. We're a seasoned team, and we know how to handle ourselves under pressure. We would've liked the chance to play with the other leaders today to see if we could have put some pressure on them but that just wasn't the case."
The win represented the Bulldogs' 15 team title during Brewer's 10 seasons in Athens and the 96th all-time for Georgia. The 15-under effort fell four strokes shy of the school record of 19-under 845 at the 2016 Annika Intercollegiate.
Georgia was scheduled to fly from Chicago to San Francisco on Tuesday evening. The Bulldogs will compete in the Stanford Intercollegiate this Friday-Sunday in their final tournament of the 2021 calendar.
"Everyone has worked hard, and they're all willing to listen," Brewer said. "We think we have a special group this season. We know we're building for what's coming next April and May, but we have lots of tournaments before then when we can create some neat memories from this season. We know the ultimate prizes are at the end of the season, and we want to make sure we're ready for SECs and then Scottsdale (for the NCAA Championships)."
---
Thomas Davis and Jon Stinchcomb to become Georgia-Florida Hall of Fame inductees
Former Georgia Bulldog linebacker Thomas Davis and offensive lineman Jon Stinchcomb will be inducted into the Georgia-Florida Hall of Fame during ceremonies and a luncheon presented by Miller Electric Company on Friday, Oct. 29, as part of the Georgia-Florida Weekend.
Joining Davis and Stinchcomb in this year's class will be Florida running back Ciatrick Fason and defensive back Keiwan Ratliff. The group will be inducted at the 25th annual luncheon inside the East Club at TIAA Bank Field.
"The Florida-Georgia game is one of Jacksonville's longest running traditions, and one of the most storied rivalries in college football," said Mayor Lenny Curry. "Every year, the Hall of Fame Luncheon allows us the opportunity to recognize some of the most talented student-athletes and coaches and highlight the tremendous impact and strong connection this game has to our city."
Davis was a versatile defensive star for the Bulldogs, playing linebacker and safety throughout his career from 2002-2004. While at Georgia, Davis accumulated 272 tackles, 10.5 sacks, and 3 interceptions, he also helped the Dawgs to three consecutive seasons of 10 wins or more, including a SEC Championship in 2002. Davis was a unanimous first-team All-SEC selection in 2003 and 2004, while also being named a first-team All-American in 2004 and was a semi-finalist for the Bednarik Award given annually to the nation's top defensive player. Davis was drafted in the first round of the 2005 NFL Draft by the Carolina Panthers and was named the NFL's Walter Payton Man of the Year in 2014, which recognizes a player's off-the-field community service as well as his playing excellence.
Stinchcomb arrived at UGA with an outstanding record of accomplishment after being named USA Today first team All-America and the 1998 recipient of the National Football Foundation High School Scholar-Athlete Award. Stinchcomb started his career at UGA by earning Freshman All-American honors, and by the time he was a senior in 2002, he helped lead the Bulldogs to their first SEC Championship in 20 years, while being named first team All-American, and was selected to the Academic All-American Team for the second consecutive year. He also was one of 11 Division I players nationally to be named to the AFCA National Good Works Team for outstanding contributions to community service. Stinchcomb was drafted by the New Orleans Saints in the 2nd round of the 2003 NFL Draft, and he achieved the ultimate goal in the NFL as a member of the 2010 New Orleans Saints Super Bowl XLIV Championship team.
---
Dawgs in the NFL – Week 5
Patriots 25, Texans 22
David Andrews, OL: Andrews played all 64 snaps at center and helped the Patriots accumulate 352 total net yards. He was New England's lone regular starter on the offensive line as injuries and COVID-19 sidelined the other four.
Chris Conley, WR: Conley caught three passes for 84 yards, including a 37-yard touchdown, for Houston. Prior to Sunday's game, Conley and wife Brianna welcomed their first child, a daughter named Calani Myles.
Jordan Jenkins, DE: Jenkins posted four tackles, including one for loss, and a quarterback hurry for the Texans.
Titans 37, Jaguars 19
Ben Jones, OL: Jones logged all 64 snaps and helped Tennessee roll up 368 total net yards.
Monty Rice, ILB: Rice appeared on 12 plays on defense and seven special teams snaps for the Titans.
Tyson Campbell, DB: Campbell was on the Jaguars' inactive list due to a toe injury.
Cardinals 17, 49ers 10
A.J. Green, WR: Green hauled in a 13-yard catch for the Cardinals.
Charlie Woerner, TE: Woerner had a 4-yard reception, his first of the year, for the 49ers.
Bills 38, Chiefs 20
Isaiah McKenzie, WR: McKenzie had a 7-yard punt return and a 4-yard kickoff return for Buffalo. He stands seventh in the NFL with 91 punt return yards. Teammates also lauded his ability to help simulate Kansas City quarterback Patrick Mahomes during practices leading up to the game.
Deandre Baker, DB: Baker saw action on one defensive play for Kansas City.
Mecole Hardman, WR: Hardman led the Chiefs with nine catches for 76 yards.
Packers 25, Bengals 22 (OT)
Eric Stokes, DB: Stokes had four tackles and defended a pass for Green Bay.
Trey Hill, OL: Hill appeared on four of the Bengals' special teams plays.
Chargers 47, Browns 42
Tre' McKitty, TE: McKitty was on the Chargers' inactive list as a healthy scratch.
Mark Webb, DB: Webb posted a special teams tackle for the Chargers.
Nick Chubb, RB: Chubb rushed for 161 yards, including a 52-yard touchdown, on 21 carries and added a 9-yard reception for the Browns. He ranks second in the NFL with 523 rushing yards and sixth with four rushing touchdowns.
Richard LeCounte, DB: LeCounte was on Cleveland's inactive list for undisclosed reasons.
Ravens 31, Colts 25 (OT)
Ben Cleveland, OL: Cleveland saw action on four Baltimore plays before exiting with a second-quarter knee injury.
Justin Houston, OLB: Houston, who played for Indianapolis in 2019 and 2020, posted three tackles and a quarterback hurry for the Ravens.
Nick Moore, LS: Moore snapped on four punts and a field goal and he registered a special teams tackle for the Ravens.
Rodrigo Blankenship, PK: Blankenship converted field goals of 37 and 43 yards and he made one extra point for the Colts. He stands second in the NFL with 11 field goals.
Rams 26, Seahawks 17
Leonard Floyd, OLB: Floyd posted five tackles, including one for loss, for the Rams.
Sony Michel, RB: Michel rushed for 37 yards and a touchdown on 11 carries and added an 8-yard reception for Los Angeles.
Matthew Stafford, QB: Stafford went 25-of-37 for 365 yards and a touchdown for the Rams. He ranks third in the NFL with 1,587 passing yards and fifth with 12 passing touchdowns.
Bears 20, Raiders 9
Alec Ogletree, OLB: Ogletree posted six tackles for the Bears.
Roquan Smith, ILB: Smith had a Chicago-best 10 tackles and he defended one pass. Smith stands fifth in the NFL with 50 tackles.
Vikings 19, Lions 17
D'Andre Swift, RB: Swift had 11 carries for 51 yards and a touchdown and he caught six passes for 53 yards for the Lions.
Cowboys 44, Giants 20
Lorenzo Carter, OLB: Carter notched an interception and two tackles for the Giants.
Tae Crowder, ILB: Crowder recorded eight tackles and forced a fumble for New York.
Azeez Ojulari, OLB: Ojulari picked up three tackles for the Giants.
Andrew Thomas, OL: Thomas was active, but he did not play due to a foot injury.
Buccaneers 45, Dolphins 17
John Jenkins, DL: Jenkins was on the Dolphins' inactive list for undisclosed reasons.
Solomon Kindley, OL: Kindley appeared on three of Miami's special teams plays.
Practice Squads
Bengals: Lamont Gaillard, OL
Bills: Jake Fromm, QB
Browns: Lawrence Cager, WR
Cardinals: Jonathan Ledbetter, DL
Falcons: Shawn Williams DB
Giants: Isaiah Wilson, OL
Raiders: Javon Wims, WR
Rams: J.R. Reed, DB
Reserve Lists
Broncos: Natrez Patrick, ILB
Chiefs: Malik Herring, DE
Falcons: Cameron Nizialek, P
Jaguars: Terry Godwin, WR
Patriots: Isaiah Wynn, OL
---
Jump To Comments