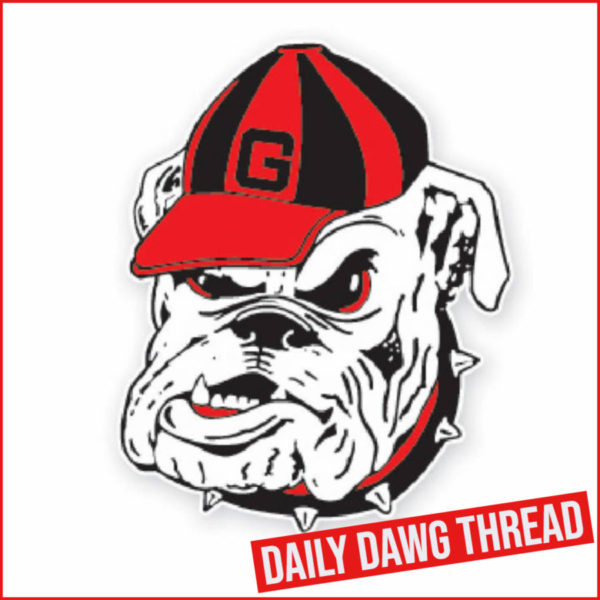 ---
Video/Transcript: Xavier Truss and Broderick Jones Interviews – October 12, 2022
On the team identity through six games…
"We are excited to get out there every day. I think the complacency is out the window. We have a lot of guys that are hungry to get out on the field and put in work. Again, this week the main point has been to strike and attack. I think that is a big part of our identity."
On Daijun Edwards…
"Obviously, a very, very talented back. I think it's great, to see the opportunities that he gets. Having seen him come along the past couple of seasons, especially having the big start to the season this year. It is really awesome to see. As the offensive line, it is our job to make holes for him and to be a part of his success. We have to make holes for him so he can keep doing his thing."
On what makes the offense so versatility and explosive…
"Just everybody doing their part and understanding the part that they play. I think it also helps, having a lot of talented players all over the field. Especially have the brains that Todd Monken has. Coach Monken up there calling the plays… Stetson (Bennett) the quarterback… Everybody knowing their part and playing their part."
On the identity of this year's team…
"Physicality. That's always been our M.O. We worked towards it every day to uphold the standard and keep going. I feel like as a team we were connected last year. I feel like this year, more people are taking on bigger roles, so it forces older players to connect with the younger players because you need them to step up at this point in time. Just being able to connect with them and learn more about where they're from, who they are, and learning their why."
On opposing teams wearing down at the end of games…
"I feel like Coach Kirby does a great job of conditioning us throughout the week, so when the game comes, we are always prepared for all four quarters, 60 minutes, or however long it takes. That's always been our mindset from the beginning of the season to this point. We're just trying to keep it going, keep pushing ourselves to the limit every week to the best in-shape team."
On Xavier Truss' growth…
"Tremendous. He played a big role last year. A couple of guys got injured. We played on the same side with (Justin) Shaffer and Jamaree (Salyer) being out some time. We've got a bond just being on the left side. I've seen him grow in his pass-sets and his maturity in everything, and it continues."
---
BASEBALL: Dawgs Host UAB Sunday
-The Bulldogs will play their first exhibition of the fall season Sunday at Foley Field against the UAB Blazers. First pitch is scheduled for 1 p.m., and the game is free and open to the public.

Gates will open at noon, and fans are encouraged to use the main entrance by home plate, and the third base gate will be an option too. Parking is free and available in the S14 surface lot behind the outfield as well as the Carlton Deck.
The concession stands will be open with a limited menu from noon to 4 p.m. With the concession stands open, no outside food or beverages will be allowed into Foley Field.

Georgia is in their 10th year under Ike Cousins head baseball coach Scott Stricklin. The Bulldogs have 24 returning lettermen who helped the team post a 36-23 (15-15 SEC) mark last year and advance to the NCAA Chapel Hill (N.C.) Regional. The Blazers, coached by Casey Dunn, went 31-25 (13-17 Conference USA) last season. They made their first postseason appearance since 2018 in the conference tournament.

Next week, the Bulldogs will hold their Red versus Black intrasquad series Oct. 21-23 at Foley Field. These scrimmages are free and open to the public.
The NCAA allows teams to play two fall exhibitions against other college squads. Georgia will conclude fall workouts with an exhibition against the University of Florida on Oct. 28 in Jacksonville. First pitch at 121 Financial Ballpark (home of the Jacksonville Jumbo Shrimp, the Triple-A affiliate of the Miami Marlins) will be at 6:30 p.m. Tickets for the Florida exhibition are $15 and can be purchased online via Ticketmaster at this link: https://link.edgepilot.com/s/74f95716/PTAd6yBXZkC2F9oxgEIdcA?u=https://gado.gs/9ia
Georgia season ticket applications and renewals will be available online in early December. Follow this link for information on the Georgia Baseball Fund (GBF).
Key Fall Dates
Sun., Oct. 16 UAB vs. Georgia (Foley Field), Free, 1 p.m.
Fri., Oct. 21 Red vs. Black Game One (Foley Field) Free, 4 p.m.
Sat., Oct. 22 Red vs. Black Game Two (Foley Field), Free, 2 p.m.
Sun., Oct. 23 Red vs. Black Game Three (Foley Field), Free, Noon
Fri., Oct. 28 Georgia vs. Florida (in Jacksonville), $15, 6:30 p.m.
---
MBB: UGA to hold an open practice Saturday morning
The Georgia men's basketball team will host an open practice for students and fans this Saturday morning from 11:00 a.m.-12:30 p.m. at Stegeman Coliseum. The workout will include an intrasquad scrimmage.
Gate A on the Smith Street side of the Coliseum – the same side as Foley Field – will be open for the public to enter the arena. Seating will be available in Sections B-J in the lower bowl. A "clear bag" policy will be in place, and fans will not be allowed to bring outside food or drinks into Stegeman.
---
Jump To Comments