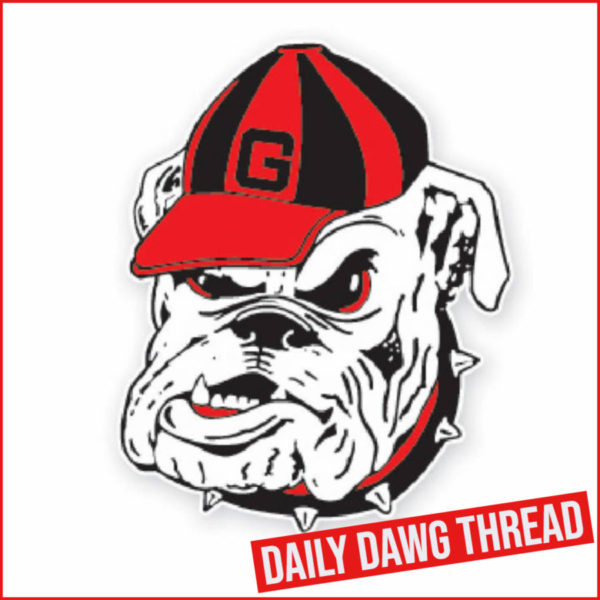 ---
Video/Transcript: Kirby Smart Tuesday Presser – October 25, 2022
On the team's practice today compared to yesterday…
"A lot better day today than Monday. I didn't think Monday was great. With getting back out there and getting going, I thought it took a little while to get her motors running. You haven't had a practice with Friday, Saturday, Sunday off and then they go back out there for a Monday practice, they didn't have the tempo I wanted to have. But today was much better. I thought they got after today, and that's kind of the expectation. You're playing a rivalry like this, you expect guys to come out ready to play and practice, and they did."
On how Nolan Smith has excelled this season outside of the stat sheet…
"Leadership, toughness. Nolan is a natural leader. He's been that way since I met him when he was in eighth grade and he came up here to camp. He's been a natural leader, comes from a great family, but his leadership is more important than his ability and his ability is pretty strong. He creates a toughness about the he holds people to a standard of the way you strike blocks, the way you close on counters, the way you rush with effort, special teams, I mean, he plays on all special teams. He's just a core guy."
On Dan Jackson…
"Yeah, he's got a foot injury, that he's probably going to have surgery on. It was bothering him in the Vanderbilt game. I'm not sure when that surgery is going to take place. I know Ron Courson knows, he wasn't able to go with this much last week and hasn't been able to go much this week."
On the 25th anniversary of Kirby's interception against Kentucky with a dog running on the field…
"A lot of passes. I don't remember much. I think somebody said they broke a record for passes in one game, maybe. But I don't even remember the dog running on the field to be honest with you. I remember the passes and us winning a tight, hard-fought, tight ballgame, like all these SEC games seem to be."
On Florida's designed run plays for quarterback Anthony Richardson…
"It's not actually the designed running plays that he kills people on, he's good at that and he's physical. They get an extra hat on you whenever he runs the ball. They don't design run him a lot, I think they do it when they have to, when they need to win a game they'll certainly do it. But I think they value him and they know that you can't take that kind of pounding over and over again in our league. So, they don't kill people with those, it's the scrambles. It's the draws, the converted runs, where he takes off that he's really elite at. I mean, they've got some 60 and 70 yard runs that you might say is a designed run, but it's not. It makes it really hard to defend, because most coaches try to defend the pass by covering people and the worst thing you can do sometimes is cover everybody and this guy take off because it puts your defense all spread out around the field."
On who will have to step up with Dan Jackson out…
"Well, Malaki Starks and Chris Smith are starting, so they're there. Dan was playing someone a dime roll which, if you remember last year, we couldn't play dime. We didn't play dime much at all. With our depth at defensive back, David Daniel-Sisavanh is a guy that will step up and play. Javon Bullard and Tykee Smith both work and rep all the time at safety. JaCorey Thomas has been repping all year at safety. So, it'll be done by committee with all those guys."
On Andrew Paul's recovery…
"He's doing good. I get to visit with him once or twice a week in the Bones Dining Hall area, and he's quiet kid. So, you always worry about a guy when he's not with the team as much when he's injured. But he's rehabbing. He couldn't be with a better athletic training staff. I know Ron has got a great history with the ACL recoveries and expecting him to come back stronger than ever."
On Drew Bobo and Earnest Greene III…
"Drew had a labrum repair that he came in with, he battled through it, and we wanted to see how long he could go this year with it before knowing that we're probably going to have to repair it. He went maybe two or three weeks into the season and he had labrum repair, and he'll be coming back in the spring. Earnest also had a surgery. I can't say the word, it's a little too complicated for me. He had a back surgery. That's what's been bothering him. We've had problems with it and it was one of the things we tried to treat. We got to the point where the doctors advised us, 'Look, at this point we got to take care of it and get it fixed so that he can come back and be healthy.' We're expecting him to come back for the bowl practice or at the end in January and be able to lift and go full speed and get into spring. But it was at the point we couldn't do anything else but have surgery."
On if there is carryover on how to contain Anthony Richardson from last season to this one…
"Nothing. It was not same offense. It's different. Different offensive coordinator. Billy Napier's offensive is different than Dan Mullins. There's as much drop back to it. It's a lot of play action shots, mis-directions. They do a really good job at what he's good at, they cater the game plan and his skill set to give him the option of running or passing. Last year, that wasn't what they were doing as much with him."
On where he feels the defense is after seven games and what they must prove the rest of the season…
"I don't know they have to prove anything. It's not about proving it, it's about being at your best when your best is needed. I think we've played really good complementary defense, meaning complement the offense. When we've had turnovers in the red area, I feel like they've gone out put out some fires. They've gone out and created some turnovers at opportunistic times. We have not played our best. We got a lot of players individually that might be playing their best, but we have not played our collective best as a defense. As a coach, that's what you are trying to achieve. We lost a lot of good players, and unfortunately, we've had some good players out this year, when you count Smael [Mondon] in that and you count some of the linebackers and Jalen [Carter], it's been tough. But, I'm not one to sit up here make excuses. We get paid to coach the players that are out there. And the guys that are out there have done a tremendous job of giving us great effort day in and day out, and they're buying into the standard of the University of Georgia defense, which is half the battle is your buy-in."
On Jalen Carter and Adonai Mitchell in practice and Smael Mondon's recovery…
"Smael has looked really good. He's taken all his reps. I would venture to say he's in a good position. The other two have done things sparingly. They've done a little bit but we don't feel great about them. Jalen has probably look better than Adonai, but I don't know at this point if either one of them will be able to play."
On Kendall Milton's recovery…
"I didn't see him much today. I was with the defense a lot, so I have to go in and watch tape, but I thought he was much better on Monday. Today, he was he was out there some, and we lighten his load, so I don't know how many reps he ended up getting."
On recruiting with other big games happening…
"No, I have not even thought about it or talked about it. We deal with it the week of. Guys reach out and want seats and want to come, but it is not something that i am worried about. It is not like I am checking the list. I am worried about playing Florida. That is the feature at hand. I am not concerned with that. We have staff members who deal with that and we talk about it the week of."
On how game time impacts recruiting…
"I don't ever concern myself with when the game is. If you had to set a perfect time for recruiting, it would probably be 3:30. It gives you time to visit with them afterwards. You actually get to see them. The night game, number one it is not great for your team. You are sitting around all day. You get more time with the recruits on the front end but less time on the back end. The 3:30 gives you time on the front end and the back end, but I am not complaining or looking for anything."
On what he tells younger players to expect…
"We show them. We show them video of the stands being pretty empty during warms ups then filling up as the game goes and the two 50/50 sides. Momentum controls the crowd noise. We go through all of those things. We want them to be able to expect it. It seems like a broken record, but your younger team is never gone. You want them to know an expectation and be able to participate what it is like."
On what he has seen from the defensive coordinators…
"This has been a real smooth transition. It is no different than it was last year. We have got multiple guys that present during every defensive meeting. Tray Scott does a great job. Chidera (Uzo-Diribe) and Fran (Brown) do a great job. Everybody chips in a little bit because we think that multiple voices develops coaches and multiple voices are heard better by the audience."
On where Florida might not be getting credit…
"They are extremely physical. To me, they are extremely disciplined. They don't beat themselves. They do a really good job at both line of scrimmages. You can see what Billy (Napier) is building in terms of recruiting. Number two, the way the players play. They play to a standard. They play really physical and hard. I am not saying that old Florida teams didn't, but I don't know if people acknowledge that when you see 6.3 yards per carry and they lead the country in terms of rushing yards."
---
Jamon Dumas-Johnson and Zion Logue Interviews – October 25, 2022
On what he's learned from Nolan Smith about being a vocal leader…
"I learned from Nolan that you can't care what other people say about you. If you're going to be a leader, you have to realize that people are either going to respect you, or they're not. Most of the time, they respect you because you're making plays out there, you're stepping up, and you're making things happen. That's really what I've learned from Nolan these last two years. Nolan means a lot to me, he's always getting on me but at the end of the day it's a big brother, little brother love. I know Nolan means a lot to the team and he's really given me the confidence to be the vocal leader that I am today."
On defending Anthony Richardson…
"We've played a lot of mobile quarterbacks this year. It's nothing different from what we have had to do before. We have to lock in, and do our jobs at the end of the day. If everybody just does their job, we'll be good."
On his memories from last year's game against Florida…
"We won. We almost held them scoreless, and when we gave up the late touchdown the defense was pretty mad about those seven points we left on the field."
On the focus of the defensive line during the bye week…
"We keep putting one foot in front of the next one. Keep getting better at us. As a team, I wouldn't even say as just a defensive line, we are getting better over the bye week not letting days go by without working."
On facing Anthony Richardson…
"He is a physical runner. At 6-3, 235, he loves to stiff arm. He loves to make guys look silly on film. We have to rally to him and put a hat on."
On the improvement of the defensive line when facing quarterbacks that can extend plays…
"We take each week and hone in on what we have to do to stop him. We know we have to keep him in a rut and keep him in a cage. We try to drive him on the left side. We know he wants to get to his right so doing little things like that to keep him in the pocket and let our guys cover."
---
Bulldogs in the NFL: Week 7
CHIEFS 44, 49ERS 23
Mecole Hardman, WR: Rushed twice for 28 yards and two touchdowns, caught four passes for 32 yards and a touchdown, and returned a free kick four yards for Kansas City. Became the first receiver in the Super Bowl era with two rushing touchdowns and one receiving touchdown in the same game. Now has career touchdowns receiving (15), rushing (2), on a kick return (1), and on a punt return (1).
Malik Herring, DL: Recovered a fumble and posted one tackle for the Chiefs.
Charlie Woerner, TE: Appeared on 21 special teams plays and 12 offensive plays with no stats for San Francisco.
GIANTS 23, JAGUARS 17
Tae Crowder, ILB: Had six tackles and defended a pass for New York.
Andrew Thomas, OL: Logged all 77 plays at right tackle, plus five more on special teams, as the Giants accumulated 436 total yards.
Tyson Campbell, DB: Recorded six tackles for the Jaguars.
Travon Walker, OLB: Had five tackles, including a sack, for Jacksonville. Stands third among NFL rookies with two sacks.
RAVENS 23, BROWNS 20
Ben Cleveland, OL: Was on Baltimore's inactive list with a foot injury.
Justin Houston, OLB: Posted two sacks and forced a fumble as he returned to the Ravens' rotation after missing three straight games with a groin injury.
Nick Moore, LS: Snapped on three field goals, three punts, and two extra points for Baltimore.
Nick Chubb, RB: Rushed 16 times for 91 yards and a touchdown and caught two passes for 16 yards for Cleveland. Leads the NFL with 740 yards and eight touchdowns. Joined Jim Brown, Adrian Peterson, Emmitt Smith, and LaDainian Tomlinson as the only players in NFL history with eight or more rushing touchdowns in each of their first five seasons.
CARDINALS 42, SAINTS 34
Rodrigo Blankenship, PK: Kicked two field goals, including a 50-yarder, and two extra points after being elevated from the Cardinals' practice squad.
A.J. Green, WR: Was active but did not see any action for Arizona.
Jonathan Ledbetter, DL: Appeared on 10 defensive plays and five special teams plays with no stats for the Cardinals.
DOLPHINS 16, STEELERS 10
John Jenkins, DL: Had a tackle and a quarterback hurry for Miami.
Channing Tindall, OLB: Appeared on 12 special teams plays with no stats for the Dolphins.
George Pickens, WR: Had six catches for 61 yards and the first touchdown reception of his career for the Steelers. Ranks second among NFL rookies with 338 yards receiving.
BEARS 33, PATRIOTS 14
Roquan Smith, ILB: Paced Chicago with 12 tackles, including a sack, and intercepted a pass. Leads the NFL with 78 tackles.
David Andrews, OL: Played 44 snaps, exiting with a fourth-quarter head injury, and helped the Patriots post 260 total yards.
Isaiah Wynn, OL: Was on the New England inactive list due to a shoulder injury.
TITANS 19, COLTS 10
Ben Jones, OL: Logged 58 (of a possible 59) snaps and helped the Titans accumulate 254 total yards.
Monty Rice, ILB: Appeared on 16 special teams plays with one tackle for Tennessee.
BENGALS 35, FALCONS 17
Trey Hill, OL: Appeared on five special teams plays for the Bengals.
Lorenzo Carter, OLB: Had two tackles, including a sack, for Atlanta.
RAIDERS 38, TEXANS 20
Zamir White, RB: Rushed once for two yards as he appeared on five offensive plays and five special teams plays for the Raiders.
COMMANDERS 23, PACKERS 21
Eric Stokes, DB: Recorded three tackles for Green Bay.
Quay Walker, ILB: Paced the Packers with 13 tackles, registered a quarterback hurry, and defended a pass. Ranks second among NFL rookies with 52 tackles.
Devonte Wyatt, DL: Had two tackles for Green Bay.
PANTHERS 21, BUCCANEERS 3
Jake Camarda, P: Punted six times for a 46.5-yard average, kicked off twice, and held on the field goal for Tampa Bay. Stands fourth among NFL rookies with a punting average of 45.7 yards.
SEAHAWKS 37, CHARGERS 23
Tre' McKitty, TE: Recovered a Los Angeles teammate's fumble and made a tackle after an interception as he logged 24 offensive plays.
Sony Michel, RB: Caught an 8-yard pass and rushed twice for five yards for the Chargers.
Jamaree Salyer, OL: Played all 71 snaps at left tackle, plus three more on special teams, as Los Angeles posted 329 total yards.
COWBOYS 24, LIONS 6
D'Andre Swift, RB: Was on the Lions' inactive list with shoulder and ankle injuries.
On A Bye
Bills: James Cook, RB; Isaiah McKenzie, WR
Rams: Leonard Floyd, OLB; Derion Kendrick, DB; Matthew Stafford, QB
Eagles: Jordan Davis, DE; Nakobe Dean, ILB
Practice Squads
Cardinals: Javon Wims, WR
Chargers: Mark Webb, DB
Chiefs: Chris Conley, WR
Commanders: Jake Fromm, QB
Falcons: Justin Shaffer, OL
Giants: Lawrence Cager, TE; Solomon Kindley, OL
Reserve Lists (IR, PUP, NFI, COVID)
Bengals: Elijah Holyfield, RB
Commanders: Eli Wolf, TE
Falcons: John FitzPatrick, TE
Giants: Azeez Ojulari, OLB
Raiders: Jordan Jenkins, OLB
Vikings: Lewis Cine, DB
---
Jump To Comments