Today's Contents – Click to Read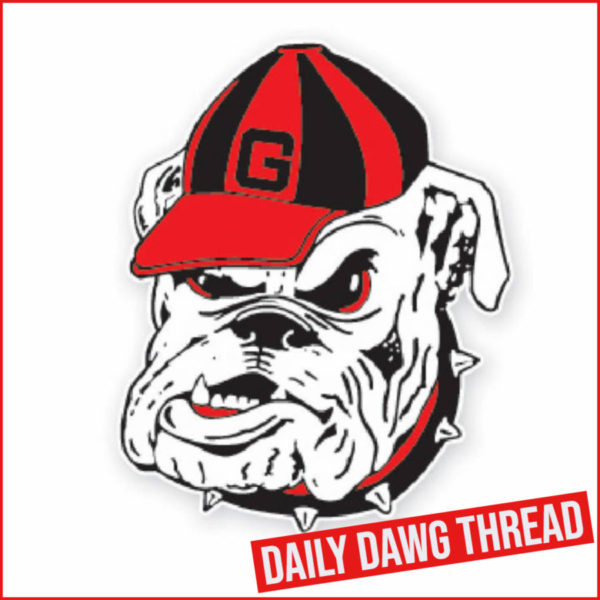 ---
Kirby Smart on his linebackers: They are interchangeable
"Well that is a hard question to answer, it is a good group because they have some depth. We have been able to rotate some guys in through that core. I mean we have a MACK and MONEY position and a MIKE and WILL position. They all marry up. So you say 'what's the difference?' They are really interchangeable. We have gotten to the point in our defense where you can't really have guys that just play one because of injury or a guy that has to go play the other one. So, the two are really interchangeable really to the point where we don't even take them and line them up anymore like we used to. We tell them 'you're left and right, you have to be able to play both." So whether a team has trips to the field or two-by-two, we let our linebackers play. They have to understand the coverage multiples based on where they line up. As you're talking specifically about those players, Nakobe (Dean) is an alpha guy, the leader of the group, communicator, and does a really good job. Quay (Walker) has come so far since getting here. I mean his development from the time he got here to now and just the way he has changed in terms of 'man I am not playing, I am frustrated,' to being an alpha leader. He went through some injuries in camp and missed some time but he is getting back now where he is comfortable, healthy and we have been really pleased with him. Channing (Tindall) is a veteran guy that has played really well for us. Channing is really fast, athletic, and can run. Those three guys kind of head up the group. Then, Rian Davis, Trezmen Marshall had a good camp. Then the two young kids are going to be good players; I am excited about Jamon (Dumas-Johnson) and Smael (Mondon). They are both going to have very big roles on special teams and have bright futures. Smael is very intelligent and has been a surprise this camp. Whether or not he gets snaps at inside backer is yet to be seen based on the other guys. But he is certainly talented enough and he is a very good special teams player."
Today's Contents – Click to Reading
---
Video/Transcript: Marcus Rosemy-Jacksaint and Jaylen Johnson
On chemistry with JT Daniels…
"Chemistry has been great. I believe we've really clicked on a great level. We've been working all off-season on our chemistry. Not only myself but other receivers, we've all been working together. We really feel like we have a chance to be able to perform. Go out there and do what we do and play Georgia Football."
On his recovery and his return…
"During the time of the injury, I was told I would be out for at least four-to-six months. At the time it didn't really hit me that it would be that long but after surgery it really hit me. The process has been long, a very tedious process, having to wake up every morning and getting treatment. Just working the little things trying to get it back right. I feel like that process really helped me get into the right state of mind to prepare myself, not only prepare myself but my teammates."
On the mindset of the wide receiving core given the injuries….
"I don't think we have anything to prove. We just want to go in there and do what we were training this whole offseason for – just to go out there and do our jobs. Compete at a high level, be physical out there, and the most important thing is to be together while we do it."
On the confidence level of the wide receivers despite injuries…
"Injuries are a part of the sport, and we know that. That's the thing that's so cool about this team and so good about this team, we're so deep at the receivers position, really at all positions. It's a next man up mentality, so when one goes down, it's just time for the other to step up."
On his transition from being a walk-on to a scholarship player…
"First, you can never be too satisfied. You have to come out and prove yourself every day. It kind of clicked last season. I really felt like I was confident in my ability, confident in my athletic ability, and I really felt like the game slowed down for me because I had a complete understanding of the offense and everything around me."
On Ladd McConkey…
"Ladd (McConkey) is a guy who's going to come to work every day just like the rest of the receivers. He's a great guy off the field, and on the field, he's a great teammate. He's going to give it 100 percent every play and every rep. I'm just excited for him."
Today's Contents – Click to Read
---
Rules Changes for 2021
Overtime 2-Point Conversion Requirements
Teams will be required to run a 2-point conversion play after a touchdown when a game reaches a second overtime period. Previously, a 2-point attempt was required after the third overtime period. Also, if the game reaches a third overtime, teams will run alternating 2-point plays, instead of starting another drive at the opponent's 25-yard line. This is a change from the previous rule, which started to use 2-point plays in the fifth overtime period. This rules change is being made to limit the number of plays from scrimmage and bring the game to a quicker conclusion. Teams can still choose whether to kick the point after touchdown or run a 2-point conversion play during the first overtime period.

Team Area
The team area will be permanently extended to the 20-yard lines, starting in the 2021 season. Previously, the team area extended to the 25-yard lines, but this area was expanded to the 15-yard lines last season to create more spacing due to the COVID-19 pandemic.
Unsportsmanlike Tactics
Video board and lighting system operators have been included in those personnel who may not create any distraction that obstructs play.
Feigning injuries
A new framework has been created to allow a school or conference to request a postgame video review about questionable actions through the NCAA secretary-rules editor/national coordinator of officials.
Instant Replay – Clock Adjustments
In order to keep the game moving, when Instant Replay overturns a call on the field, The clock will only be reset when there is less than two minutes remaining in the 2nd quarter and less than five minutes remaining in the 4th quarter.
Points of Emphasis:
For the 2021 season, targeting and dangerous contact fouls will continue to be a priority for all officials. The NCAA Football Rules Committee continues to embrace the targeting rule to promote player safety and reduce head contact.
It will be a point of emphasis for officials to penalize any taunting action directed toward an opponent. Committee members think these actions reflect poorly on the game and can lead to unnecessary confrontations.
Officials are directed to be alert to players who are significantly in violation of uniform rules and to send violators out of the game to correct the issue. This will include specifically the pants, jerseys and T-shirts that extend below the torso.
Coaches should not enter the field of play or leave the team area to debate officiating decisions. Those who do so will have committed an automatic unsportsmanlike conduct foul.
Source: National Football Foundation
Today's Contents – Click to Read
---
Jump To Comments