Today's Contents – Click to Read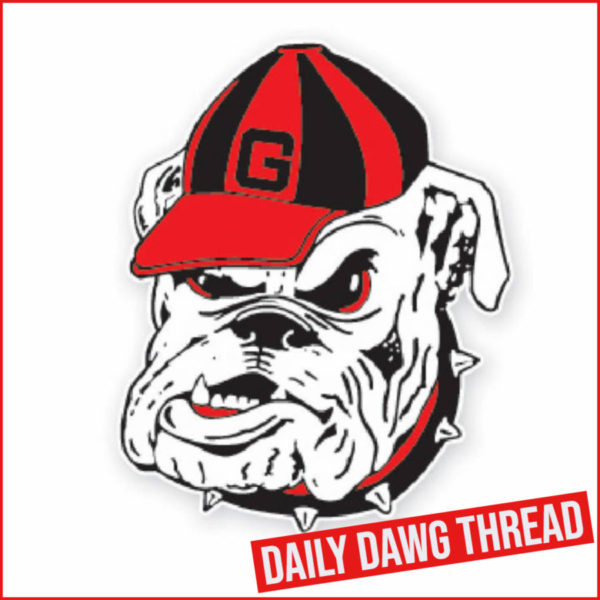 ---
Wallace Takes Bronze at Paralympics
Jarryd Wallace, a Georgia alumnus, won't be leaving Tokyo empty-handed. Early Saturday morning, Wallace won his first Paralympic medal in the 200-meter dash at the 2020 Paralympic Games.
Having qualified for the 200m final Friday evening, Wallace ran a 22.09 to find himself on the podium and as the top American finisher. Wallace also competed in the 100-meter dash this week. He was the eighth and final qualifier for the 100m finals and finished sixth as the top American again.
Previously this year, he ran a world-best time of 10.99 in the 100m at the U.S. Trials. Wallace, who is a four-time world record holder and three-time world champion in various races, competed in his third Paralympic Games. He finished fifth in the 100m in Rio in 2016 and sixth in the 400m in London in 2012.
Wallace, a graduate of Oconee High School and the University of Georgia, lives and trains in Athens with his wife Lea, and son, Levi. He is the son of Georgia women's tennis head coach Jeff Wallace and the former Sabina Horne who was an All-SEC distance runner for the Bulldogs.
Off the track, Wallace has helped empower disabled athletes with his "Leg in Faith Foundation" that he started in 2012. Most recently, he is a part of Toyota USA's initiative to support Team USA's Paralympic athletes in Tokyo and the 2022 Paralympic Winter Games in Beijing.
During this year's Olympics, Georgia finished with 13 medals (three gold, three silver, and seven bronze). The largest Georgia contingent competing in Olympic and Paralympic history came in Rio 2016 when a total of 36 members were in the field. This year in Tokyo, Georgia has the second largest group at 31 people competing for 12 different nations in six different sports.
Today's Contents – Click to Read
---
MGOLF: UGA Opens Season at Pebble Beach
The Georgia men's golf team will open the fall portion of the 2021-2022 season this weekend in The Carmel Cup in Pebble Beach, Calif.
Lineup: Seniors Will Kahlstorf, Trent Phillips, and Eli Scott; junior Nicolas Cassidy; and freshmen Buck Brumlow and Maxwell Ford.
Field: Georgia, Vanderbilt, Texas Tech, Oklahoma, Oklahoma State, TCU, Mississippi State, and Arkansas.
Schedule: The Bulldogs will tee off in 10-minute increments between 11:10 a.m. and noon EDT on Friday and will be paired with Mississippi State, Oklahoma, and TCU.
Rankings: No. 14 Bushnell Golfweek Coaches Poll; No. 17 GolfChannel.com.
Tournament Format: 54 holes of stroke play Friday, Saturday, and Sunday. Teams will have lineups of six players, with the low five counting.
Course: Pebble Beach Golf Links (par 72, 6,828 yards).
Live Results: Golfstat will provide team and individual results, pairings, and tee times.
Last Time: The Bulldogs came in fourth in the 2019 event as then-sophomore Phillips posted a third-place finish. Spencer Ralston and Davis Thompson, who capped their record-setting Georgia careers last season, added eighth-place efforts.
Coach Chris Haack Says: "This is the first time we haven't had Spencer Ralston and Davis Thompson in the lineup in a long, long while, so it's the next guy up to replace those guys. So far, so good with some new faces stepping into the lineup. We're taking six guys to Pebble, and five of them have never been there. It's a new group, but they are good, young, talented guys, and we're excited to get out there. I always go into every tournament thinking we're going to win. We want to go out there, get into contention, get some experience under our belt, and see what we're made of. Every team has its own identity, and this is where we start creating it."
News & Notes: Phillips has been ranked No. 7 in the GolfChannel.com Preseason Top 30 and he has been named to the Haskins Award Preseason Watch List … Phillips is 29-for-29 in tournament appearances for the Bulldogs. Kahlstorf has played in 11, followed by Scott with eight, and Cassidy with six … Highly touted freshmen Brumlow and Ford will be making their collegiate debuts … Haack is beginning his 26th season as the Bulldogs' head coach. Predecessors Dick Copas (1971-96) and Howell Hollis (1946-70) served as Georgia's head coach for 26 and 25 seasons, respectively.
Today's Contents – Click to Read
Today's Pics – Zamir White
2020: Starter at TB in each of the Bulldogs' 10 games…finished as the team's leading rusher with 779 yards on 144 carries (5.4 avg.) and 11 TDs…three 100-yard rushing games during the season, including back-to-back vs. Kentucky & Florida…also went for 126 yards in just 12 carries vs. Missouri….career-best day in the win at Kentucky, with 136 yards (first 100-yard game of career) on 26 carries, including a 22-yard scoring run…107 yards on just seven carries (75-yard TD run) vs. Florida…had 88 yards on 19 carries and a pair of TDs in win over #7 Auburn…rushed 13 times for 71 yards and one TD vs. Arkansas…also caught two passes for nine yards…perhaps his biggest play of the game, however, was a third-quarter punt block which led to a Bulldog score four plays later…named one of three team captains for the Auburn and South Carolina games…named to the preseason watch list for the Doak Walker Award (nation's top RB).
2019: Played in 13 of 14 games…finished season with 408 yards on 78 carries, third-best among all rushers…career-best 92 yards on 18 rushes in first starting assignment vs. Baylor in Sugar Bowl…scored his first collegiate touchdown on a second-quarter run of six yards vs. Murray State…also caught two passes for 20 yards…had his first KO return (22 yards) vs. Georgia Tech…co-winner of David Jacobs Award (overcoming injury), given at team's post-season awards gala.
2018: Redshirted…missed the 2018 season after suffering a knee injury during pre-season practice…enrolled at UGA in January of 2018 and participated in spring drills in a limited capacity while mending an injury…named to the J. Reid Parker Director of Athletics Honor Roll for 2018 Summer Semester.
Source: georgiadogs.com
Watch a fullscreen slideshow
HERE
.
Click
HERE
for our mobile photo app.
Today's Contents – Click to Read
---
Jump To Comments