Today's Contents – Click to Read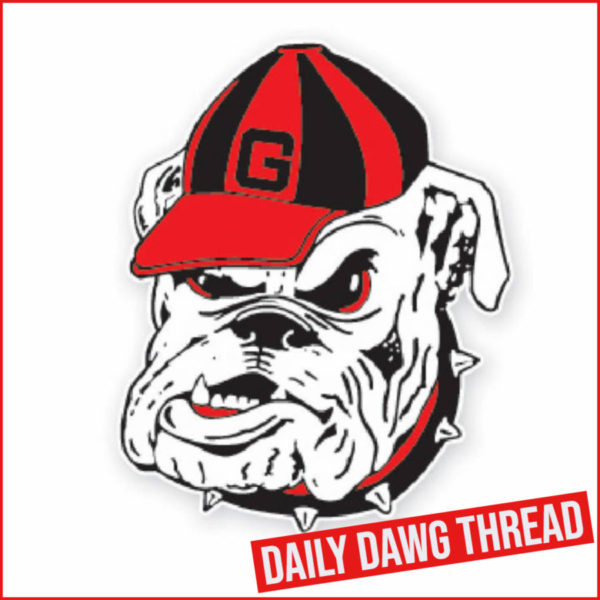 ---
NFL Dawgs Update
Of note regarding the 2021 Bulldogs in the NFL:

• Georgia has at least one active player at every position — including kicker, punter, snapper, and return specialist — for the first time in school history.
• Georgia has seven offensive linemen; six outside linebackers and defensive backs; five receivers; four inside linebackers; three running backs and defensive linemen; two quarterbacks and tight ends; and one kicker, punter, and snapper.
• Nine veterans have new teams this season: receiver Chris Conley, Houston; receiver A.J. Green, Arizona; outside linebacker Justin Houston, Baltimore; defensive lineman John Jenkins, Miami; outside linebacker Jordan Jenkins, Houston; defensive lineman Jonathan Ledbetter, Arizona; running back Sony Michel, Los Angeles Rams; outside linebacker Alec Ogletree, Chicago; inside linebacker Natrez Patrick, Denver; and quarterback Matthew Stafford, Los Angeles Rams.
• Ten rookies made NFL rosters: defensive back Tyson Campbell, Jacksonville; offensive lineman Ben Cleveland, Baltimore; defensive end Malik Herring, Kansas City; offensive lineman Trey Hill, Cincinnati; defensive back Richard LeCounte, Cleveland; tight end Tre' McKitty, Los Angeles Chargers; outside linebacker Azeez Ojulari, New York Giants; inside linebacker Monty Rice, Tennessee; defensive back Eric Stokes, Green Bay; and defensive back Mark Webb, Los Angeles Chargers. In addition, punter Cameron Nizialek of Atlanta will appear on an active roster for the first time in his career.
• Stafford is beginning his 13th year in the NFL, followed by Green and Houston at 11 each. Stafford and Green are both 33, while Houston is 32. Ogletree, entering his ninth season, will turn 30 in September.
• Ten active Bulldogs were previous first-round draft picks: defensive back Deandre Baker, Kansas City; outside linebacker Leonard Floyd, Rams; Green; Michel; Ogletree; inside linebacker Roquan Smith, Bears; Stafford; Stokes; offensive lineman Andrew Thomas, New York Giants; and offensive lineman Isaiah Wynn, New England.
• The Rams and the Giants each have four Bulldogs, while the Chiefs and the Ravens both boast three.
• The Bulldogs are members of 13 AFC teams and eight NFC squads.
• Georgia heads into the season with a national-best 20 straight years of having a Bulldog on a Super Bowl roster. LSU is tied with Georgia, followed by Florida at 19.
• With 41 players, Georgia is the fifth-ranked school in NFL representation.
Today's Contents – Click to Read
---
WTEN: Six Bulldogs in the Preseason ITA Rankings
Singles
No. 15 Meg Kowalski
No. 19 Lea Ma
No. 66 Morgan Coppoc
Doubles
No. 42 Mell Reasco & Morgan Coppoc
No. 50 Ania Hertel & Guillermina Grant
Top 10 Newcomers
No. 4 Mell Reasco
Today's Contents – Click to Read
---
MTENNIS: Five Bulldogs Featured in ITA Preseason Rankings
Several Georgia men's tennis players are featured in the 2021 Intercollegiate Tennis Association Preseason Rankings that were released this week.
Four-time ITA All-American Trent Bryde leads Georgia with a No. 12 singles mark, while Philip Henning comes in at No. 15. Hamish Stewart — a graduate transfer from Tulane — is ranked No. 23 nationally, while senior Blake Croyder comes in at No. 122.
In doubles, Bryde and Croyder are ranked No. 23. Stewart and Notre Dame graduate transfer Tristan McCormick come in ranked at No. 25.
"Jamie and I are thrilled about this year's team," head coach Manuel Diaz said. "We have been really pleased with how our guys have started practice, and I know they are hungry and ready to get started. We have never put too much stock into preseason rankings, but it is good to see a few of our guys in there. As we tell them all the time — it is not where you start but where you finish. We can't wait to get back on the court."
The Bulldogs return six players off last year's squad that posted a 17-7 overall record and finished ranked No. 9 nationally. The Bulldogs won 11 of their last 14 matches, including a 4-3 victory against No. 6 North Carolina in the NCAA Round of 16.
Georgia also adds four talented newcomers to this season's roster. Joining transfers McCormick and Stewart will be highly-touted freshmen Mathis Debru and Miguel Perez Peña.
Today's Contents – Click to Read
---
Jump To Comments