Today's Contents – Click to Read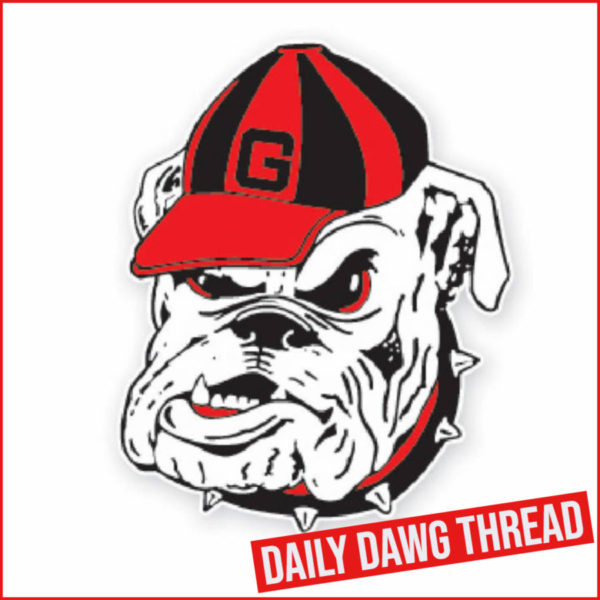 ---
VOLLEYBALL: Bulldogs Earn Pair of Comeback Wins in Boston
The University of Georgia women's volleyball team earned a pair of victories at the Cabot Center on the campus of Northeastern University Friday, defeating Iona 3-1, then host Northeastern in a thrilling five-setter in the nightcap, 3-2.
Georgia improves to 7-1 on the season.
Senior Kacie Evans concluded the day with 29 kills, while junior Sophie Fischer had 26. Sophomore libero Bailey Cox put up 41 digs, averaging 4.56 per set.
Georgia 3, Iona 1
Evans paced Georgia's offense with 13 kills on an efficient .375 hitting clip against the Gaels. Fischer added eight kills, and sophomore Abby Maesch tallied seven. Six Bulldogs recorded five or more kills.
Cox recorded her first 20-dig match of the season, putting up 22 against the Gaels (5-2), falling one shy of tying a career best.
Redshirt-junior setter Alexa Fortin dished out a career-best 27 assists. Fellow setter Clara Brower put down a new career-best five kills on five attempts in the match.
All 15 student-athletes on Georgia's roster saw playing time in the first match Friday.
It took a few rallies, but Georgia's offense began firing in the opening stanza. Down 4-2, four-straight gave Georgia its first lead at 6-4. Iona responded with 5-1 run to take back the lead 9-7. The Gaels never relinquished the advantage in the first set, taking the frame 25-20. Four Bulldogs registered three kills apiece. Eight of Cox's digs came in the first.
The second set was close to start. Down 7-6, a 6-1 Georgia run opened a 12-8 lead, one the Bulldogs continued to build on in the set. Iona cut the lead to 14-11, then Georgia responded by winning nine of the next 10 points to go ahead 11 on the Gaels. Georgia took the set 25-15, tying up the match at a set apiece. As a team, the Dogs hit .500 in the second set, committing just two errors on offense.
While the third set started neck-and-neck, Georgia never trailed. Tied at 7-all, Georgia took seven of the next nine rallies to go up 14-9. Iona cut Georgia's lead to three late in the set, but the Bulldogs held on to take the set 25-21 and a 2-1 lead in the match.
Seven­-straight points early in the fourth gave the Bulldogs a quick 8-2 lead. Iona responded with three-straight, then Georgia rattled off an 8-1 run to go ahead 10, 16-6. There was no stopping the Georgia offense as the Bulldogs rolled to a 25-14 win in set four, securing the 3-1 victory.
Georgia 3, Northeastern 2
Georgia's second comeback of the day came in the nightcap against host Northeastern. The Bulldogs battled back from down two sets to reverse sweep the Huskies (21-25, 14-25, 25-17, 28-26, 15-10).
Fischer topped her career mark in kills, laying down 18 kills against the Huskies, hitting .382. Evans added 16 kills with eight digs and five blocks.
Freshman outside Estelle Haugen picked up seven kills while senior Meghan Froemming and graduate Sage Powell added six and five, respectively.
Defensively, Cox put up 19 digs while Fortin matched Evans' total of eight. Powell led the blocking game with seven. As a team, Georgia put up 13 total blocks.
Georgia jumped out to an early 4-1 lead in the opening set against Northeastern (2-5), but the Huskies stayed within striking distance and used a 6-2 run to go ahead 14-12, forcing a Bulldog timeout. Down 19-16, Georgia rattled off four straight to tie it at 19. Knotted at 20, Northeastern went on to take the set, winning five of the next six rallies, 25-21.
The Bulldogs found themselves down 11-7 in set two but worked to tie it up at 13. Northeastern responded by rattling off 10-straight points, rolling to a 25-14 set two win and a 2-0 lead in the match.
Set three was close to start before Georgia began to open a lead. Ahead 13-9, Georiga inflated its advantage to seven at 20-13, capped by back-to-back Brower aces. Both teams traded points after that, but Georgia could hold on and win the set 25-17, keeping the match alive. Georgia hit .484 in the set after hitting -.206 the set prior. Fischer contributed six kills in the third.
Georgia jumped out to a 6-1 lead in the fourth. With Georgia ahead 13-10, Northeastern won five of six points to go ahead 15-14, then Georgia took the next four to regain an 18-15 advantage. Georgia worked to draw set point at 24-22, but Northeastern had other plans. After a back-and-forth battle, Georgia came out on top 28-26 forcing a fifth and final set.
After Northeastern came out 3-1 in the fifth, Georgia won six of the next seven to take a 7-4 lead. Northeastern cut it to one, 8-7, but three straight from the Bulldogs put Georgia back in front by four, forcing Northeastern's second timeout. Georgia held on in the fifth to take the set 15-10 and the match in five sets.
The Bulldogs will take on the Harvard Crimson Saturday at 11 a.m. in Cambridge.
Today's Contents – Click to Read
---
Jump To Comments