Today's Contents – Click to Read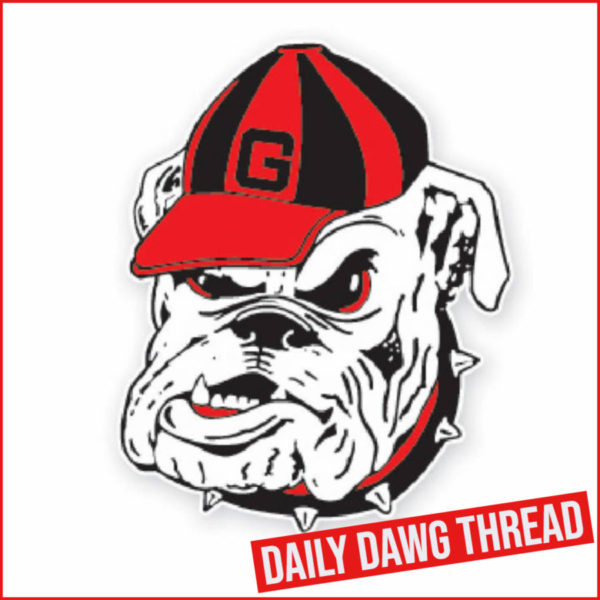 ---
Georgia vs. UAB Game Notes
Record-Setting First Half For Bennett: At the half, Georgia senior starting QB Stetson Bennett was 7-for-8 for 260 yards with a school-record tying and career-high 5 TD passes among his eight completions for a 35-0 lead. He completed his first five passes for 245 yards. Today's TD passes by him covered 73, 12, 88, 61 and 9 yards. He tied the school record for TD passes in a game when he connected with freshman TE Brock Bowers (3-for-107, 2 TDs) for a nine-yarder.
He became the sixth Bulldog with five TD passes in a game, and the first to do it since Aaron Murray vs New Mexico State in 2011, also doing it in the first half. In the second half, Bennett led another TD drive, a 70-yarder on eight plays capped by a 14-yard run from James Cookto make it 42-0. Bennett's first pass went for a 73-yard TD to sophomore Jermaine Burton for a 7-0 lead following the PAT. It was a career-long catch for Burton. Then, Bennett hit Bowers for an 88-yard TD, the ninth longest in school history and longest since a record 98-yarder in 2013 from Aaron Murray to Reggie Davis. The next time Georgia got the football, Bennett and sophomore Arian Smith connected on a 61-yard TD pass for a 28-0 lead. On Georgia's second possession on a 3rd-and-4 from the UAB 12, Bennett completed a 12-yard TD pass to junior Kenny McIntosh for a 14-0 edge. RS-freshman Carson Beck connected with RS-freshman Justin Robinson for a 12-yard TD and a 49-0 lead, the first TDs for both.
Defensive Leaders & Another Pick Six: The leading tackler for the Bulldogs was senior Channing Tindall with seven. Georgia tallied three sacks. Senior Adam Anderson collected his second sack of the season and 11th for his career while sophomore Nazir Stackhouse notched the first of his career. Tindallpicked up his first sack this year and now has 7.5 for his career, Georgia registered its 20th score on defense or special teams in the Kirby Smart era (since 2016) when freshman Jamon Dumas-Johnson scored from 20 yards on an INT in the fourth quarter. It was the sixth pick-six in the Smart era including second this season. There have been 17 TDs and three safeties. In games wIth a non-offensive score by Georgia, the Bulldogs are 17-1 under Smart.
Special Teams Summary: Senior punterJake Camarda finished with a 49.7 average on three punts with a long of 60 yards and two inside the 20. Also, he had seven kickoffs with seven touchbacks. Junior Jack Podlesny was 8-for-8 on PATs, missed a 32-yard field goal, and had two kickoffs for touchbacks. Junior Kearis Jackson had two punt returns for 67 yards including a 33-yarder to the UAB 17 that led to the final TD of the first half.

Points Off Turnovers: Georgia got 14 points off three interceptions (Lewis Cine7th career INT, pressure by Nazir Stackhouse; Kelee RingoINT-first of his career; freshman Jamon Dumas-Johnson 20-yard INT for a TD, first of his career) while the Blazers scored seven points off one INT – a 61-yad pick-six by Keondre Swoopes. The Bulldogs have two pick-sixes this year.
Today's Contents – Click to Read
---
Georgia vs. UAB Photo Galley
UGA took care of business yesterday at Sanford Stadium.
Watch a fullscreen slideshow
HERE
.
Click
HERE
for our mobile photo app.
These photos can be viewed, downloaded
HERE
.
Today's Contents – Click to Read
---
Jump To Comments