Today's Contents – Click to Read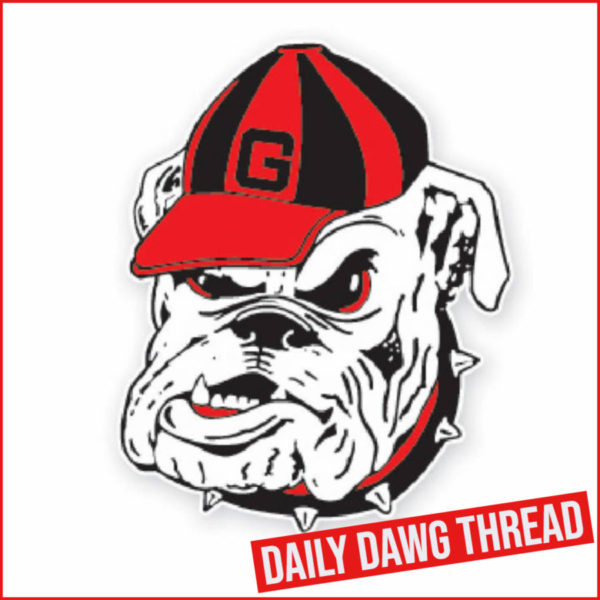 ---
Stetson Bennett named to Davey O'Brien list
Georgia senior Stetson Bennett is one of eight quarterbacks nationally who was included in this week's Davey O'Brien Award's Great 8 list after his performance in the 56-7 win over UAB.
Bennett also garnered an SEC Offensive Player of the Week award earlier in the day.
Bennett, a native of Blackshear, Ga., torched UAB to tie a school record with five touchdown passes, which all came in the opening half. He finished the game 10-for-12 for 288 yards after starting the day 5-for-5 with four scoring passes of 73, 12, 89 and 61 yards.
Bennett's 89-yard touchdown pass to freshman tight end Brock Bowers was the ninth-longest passing play in Georgia history. Bennett completed the contest with a monstrous pass efficiency rating of 422.4.
Today's Contents – Click to Read
---
Dawgs in the Minors Update
Here's a brief look at the 19 former Georgia Bulldogs in the Minor Leagues as the regular season wraps up later this month.
Pitchers Ben Harris (Los Angeles Dodgers) and Ryan Webb (Cleveland Indians) were the latest Bulldogs to sign professional contracts following the 2021 Major League Baseball Draft. Harris has made his debut while Webb is on track to do so next season when healthy.
In 2021, the minor league classifications include Low-A, High-A, Double-A (AA) and Triple-A (AAA). The minor league season ranges from 132 to 144 games based on the class. In the Major Leagues, a total of 162 games are played.
Tucker Bradley, OF, Quad Cities River Bandits (High-A), Kansas City
In 90 games, Tucker is batting .288 with 19 doubles, five triples, six home runs, 45 RBI and 12 stolen bases. He began the season with the Columbia Fireflies and in late May moved up to the River Bandits.

Michael Curry, OF, San Antonio Missions (AA), San Diego
Michael is batting .235 with 11 doubles, seven home runs and 33 RBI in 74 games. He began the season with the Fort Wayne TinCaps before moving up on May 13 to the Missions.
Tim Elliott, RHP, Everett AquaSox (High-A), Seattle
Tim is 5-4 with a 6.78 ERA and one save in 19 appearances including 10 starts. He has registered 90 strikeouts and 42 walks in 82.1 innings.
Justin Grimm, RHP, Tacoma Rainiers (Triple-A), Seattle
Justin is 3-1 with a 4.15 ERA and five saves in 41 appearances including one start. He has tallied 64 strikeouts and 19 walks in 43.1 innings. Grimm has played eight years in the Major Leagues including winning a World Series with the Chicago Cubs (2016).
Emerson Hancock, RHP, Everett AquaSox (High-A), Seattle
Emerson is 3-1 with a 2.62 ERA in 12 starts. He has pitched 44.2innings with 43 strikeouts and 17 walks. Hancock was placed on the seven-day injured list on Aug. 28.
Ben Harris, LHP, Rancho-Cucamonga (A), Los Angeles Dodgers
Ben was selected in the eighth round by the Los Angeles Dodgers in the 2021 MLB Draft. He has made five relief appearances and is 0-0 with a 6.75 ERA. In four innings, he has seven strikeouts and six walks.
Heath Holder, RHP, Albuquerque Isotopes (AAA), Colorado
Heath has made 35 relief appearances and is 3-3 with a 9.93 ERA. In 45.1 innings, he has 45 strikeouts and 36 walks.

Zac Kristofak, RHP, Tri-City Dust Devils (High-A), Los Angeles Angels
Zac is 1-2 with a 5.88 ERA and three saves in 36 relief outings. He has tallied 43 strikeouts and 19 walks in 41.1 innings.

Ryan Lawlor, LHP, Iowa Cubs (Triple-A), Chicago
Ryan is 4-0 with a 9.14 ERA in 19 relief appearances. He has 32 strikeouts and 14 walks in 21.2 innings. Lawlor was placed on the seven-day injured list on Aug. 25 and has not returned to action­.
Tony Locey, RHP, Fresno Grizzlies (Low-A), Colorado
Tony is 3-0 with a 3.47 ERA in 24 appearances including nine starts. He has 70 strikeouts and 42 walks in 59.2 innings.
Keegan McGovern, OF, Arkansas Travelers (AA), Seattle
Keegan played in 42 games and batted .189 with three doubles, four home runs and 11 RBI. He was released on July 28 after four years in the Mariners organization where he hit .232-31-90 in 186 games.
Sean McLaughlin, RHP, Mississippi Braves (AA), Atlanta
Sean is 4-1 with a 5.25 ERA in 29 relief outings. He has 38 strikeouts and 12 walks in 36 innings.
Aaron Schunk, 3B, Spokane Indians (High-A), Colorado
Aaron has played in 86 games and is batting .225 with 12 doubles, four triples, seven home runs and 42 RBI. He is 13-for-18 in stolen base attempts. Schunk has made 42 starts at third base, 34 at second base, two at first base and seven as a DH.
Cam Shepherd, SS, Augusta GreenJackets (Low-A), Atlanta
Cam has made 45 starts at shortstop, 33 at second base and one as a DH while batting .183 with seven doubles, a triple, two home runs and 25 RBI in 83 games.
Kevin Smith, LHP, Norfolk Tides (AAA), Baltimore
Kevin is 3-6 with a 4.12 ERA and one save in 19 games including 17 starts. He has tallied 94 strikeouts and 43 walks in 74.1 innings. On June 10, Kevin was promoted to Triple-A Norfolk.
LJ Talley, 2B, New Hampshire Fisher Cats (AA), Toronto
In 87 games, LJ batted .251 with 23 doubles, two triples, eight home runs and 54RBI. He began the year with the Vancouver Canadians before moving up to the Double-A Fisher Cats in mid-May. On Sept. 8, he was placed on the 60-day injured list, ending his season.
Ryan Webb, LHP, Cleveland Indians
Ryan was selected in the fourth round of the 2021 MLB Draft. He is scheduled to make his debut next season after having elbow surgery this past May.
Cole Wilcox, RHP, Charleston RiverDogs (Low-A), Tampa Bay
Cole went 1-0 with a 2.03 ERA in 10 starts. In 44.1 innings, he had 52 strikeouts and just five walks for a WHIP of 0.86. On Aug. 9, he was placed on the 60-day injured list, ending his season.
Stephen Wrenn, OF, Arkansas Travelers (AA), Seattle
Stephen has played in 88 games and is batting .244 with 12 doubles, four triples, seven home runs and 39 RBI. He has 23 stolen bases in 28 attempts. Wrenn has made 53 starts in the outfield (41-LF, 17-RF, 22-CF) and six as a DH.
Also of note, former Bulldog catcher Skyler Weber played his first season of independent professional baseball with the Lincoln (Neb.) Saltdogs of the American Association. A former 18th-round pick of the A's, Weber helped Lincoln post a 53-47 mark and batted .260 with nine doubles, nine home runs and 31 RBI in 75 games.
Currently, three former Bulldogs are at the Major League level in shortstop Kyle Farmer (Cincinnati Reds), first baseman Jared Walsh (Los Angeles Angels) and pitcher Alex Wood (San Francisco Giants).
Farmer earned the starting shortstop job this season, and his .989 fielding percentage ranks second among shortstops in Major League Baseball with just four errors in 106 games. He is batting .254 with 13 home runs and 53 RBI, and he's made starts at first, second, third.
Walsh, who was selected to the All-Star team this year, is batting .272 with 26 home runs an 82 RBI in 125 games. He is fielding .996, which is tied for third among MLB first baseman.
Wood has made 23 starts for the Giants who have the best record in baseball at 93-50. He is 10-4 with a 4.08 ERA.
Today's Contents – Click to Read
---
WGOLF: Dawgs open season with school record
The Georgia women's golf team opened its season with a bang on Monday, posting the best single round score in school history en route earning 5-shot lead over the field at the Cougar Classic. The Bulldogs shot 14-under 274 in the second round of a 36-hole day and are at 16-under entering Tuesday's final round at Yeamans Hall Golf Club.
"We know you're not going to shoot 14-under every day," head coach Josh Brewer said. "We knew we had the firepower to play like this and now we've done it. It's a tell-tale sign of the depth we have. We threw out a 71. If you look at really good teams, they have to have five players to play like we did today. We feel like we have 10 players that could help us play like we did today. We're working on a process and not worry about posting a score. The process we're trying to complete went really well today."
Jenny Bae, Caroline Craig and Isabella Holpfer all fired 4-under 68s in the afternoon, and Caterina Don's 2-under 70 rounded out Georgia's counting tallies. The Bulldogs' discarded a 1-under 71 from Jo Hua Hung.
The 274 bettered the existing record by a stroke set in the second round of the 2015 Mason Rudolph Championship.
Today's Contents – Click to Read
---
Jump To Comments