Today's Contents – Click to Read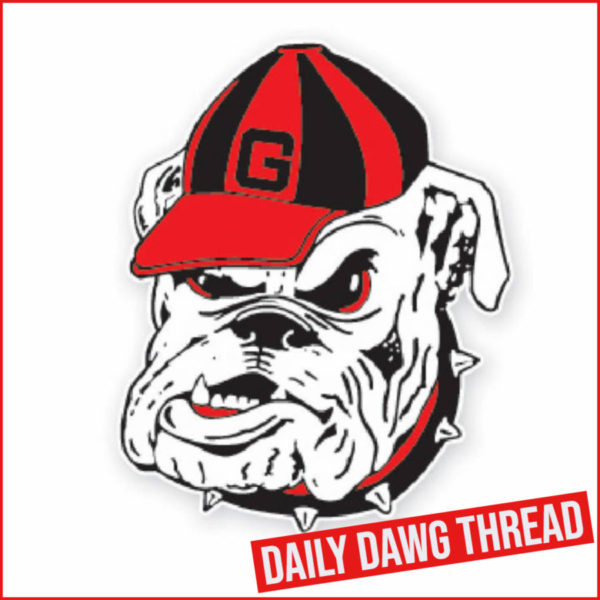 ---
Kirby Smart on Jack Podlesny's accuracy stuggles
Jack Podlesny has struggles with field goals under 40-yards this season, but Kirby is confident that he can work through it.
"Yeah, he's battling through it, he's pushing through. I thought he kicked the ball well today. We actually just walked off the field and did field goal periods, and I thought he kicked the ball well. But yeah, you know, we're always in competition as you well know, Chip, it's one of those things that we got to help him out and push him to he's been really consistent in his career as a starter here, still believe in him and we're gonna work through it, and I think he's still got a great leg you know he's hit a clutch field goals multiple times but we're pushing through it and you know (Jared) Zirkel out there kicking and so is (Jake) Camarda so those guys are kicking as well." 

From Kirby Smart Interview – September 14, 2021
Today's Contents – Click to Read
---
Dawgs in the NFL – Week One
Rams 34, Bears 14
Leonard Floyd, OLB: Floyd posted three tackles for the Rams.
Sony Michel, RB: Michel had a 2-yard rush in his first game for Los Angeles.
J.R. Reed, DB: Reed was on the Rams' inactive list.
Matthew Stafford, QB: Stafford made his Los Angeles debut by going 20-of-26 for 321 yards and three touchdowns (including one of 67 yards and one of 56 yards).
Alec Ogletree, OLB: Ogletree had five tackles in his first game with the Bears.
Roquan Smith, ILB: Smith paced Chicago with 11 tackles.
Chiefs 33, Browns 29
Deandre Baker, DB: Baker was on the Chiefs' inactive list.
Mecole Hardman, WR: Hardman had three catches for 19 yards and one punt return for seven yards for Kansas City.
Nick Chubb, RB: Chubb rushed for 83 yards and two touchdowns on 15 carries and had two catches for 18 yards for Cleveland.
Richard LeCounte, DB: LeCounte made his NFL debut with 12 snaps on 12 special teams and five more on defense for the Browns.
Dolphins 17, Patriots 16
John Jenkins, DL: Jenkins celebrated his return to Miami with four tackles.
Solomon Kindley, OL: Kindley logged all 54 offensive snaps at guard and helped the Dolphins roll up 259 net yards.
David Andrews, OL: Andrews registered all 75 offensive snaps at center and helped the Patriots accumulate 393 net yards. He also recovered a teammate's fumble.
Isaiah Wynn, OL: Wynn took all 75 offensive snaps at tackle and helped the Patriots post 393 net yards.
Chargers 20, Football Team 16
Tre' McKitty, TE: McKitty was on the Chargers' inactive list.
Mark Webb, DB: Webb made his NFL debut by appearing on 15 special teams plays for Los Angeles.
Cardinals 38, Titans 17
A.J. Green, WR: Green had two catches for 25 yards in his first game for Arizona.
Ben Jones, OL: Jones helped the Titans accumulate 248 total yards as he registered all 64 snaps at center.
Monty Rice, ILB: Rice made his NFL debut with two tackles for Tennessee.
Texans 37, Jaguars 21
Chris Conley, WR: Conley made his Houston debut with two catches for 27 yards.
Jordan Jenkins, OLB: Jenkins had one tackle in his first game with the Texans.
Tyson Campbell, DB: Campbell made his NFL debut with two tackles for the Jaguars.
49ers 41, Lions 33
Charlie Woerner, TE: Woerner saw action on 23 special teams plays and nine more on offense for the 49ers.
D'Andre Swift, RB: Swift had eight catches for 65 yards, including a 43-yard touchdown reception, and 11 carries for 39 yards for the Lions.
Bengals 27, Vikings 24 (OT)
Trey Hill, OL: Hill was active for the Bengals, but he did not see any action in his first NFL game.
Broncos 27, Giants 13
Lorenzo Carter, OLB: Carter registered four tackles for the Giants.
Tae Crowder, ILB: Crowder posted four tackles for New York.
Azeez Ojulari, OLB: Ojulari made his NFL debut with three tackles, including a sack, for the Giants.
Andrew Thomas, OL: Thomas logged all 61 offensive snaps at tackle and helped New York roll up 314 net yards.
Raiders 33, Ravens 27 (OT)
Ben Cleveland, OL: Cleveland was on the Ravens' inactive list.
Justin Houston, OLB: Houston had two tackles and a quarterback hurry in his first game with the Ravens.
Nick Moore, LS: Moore snapped on four punts, three extra points, and two field goals for Baltimore.
Falcons 32, Eagles 6
Cameron Nizialek, P: Nizialek made his NFL debut by averaging 46.5 yards on six punts for Atlanta. He kicked off three times and held on two successful field goals.
Steelers 23, Bills 16
Isaiah McKenzie, WR: McKenzie returned the opening kickoff 75 yards and finished for four returns for 143 yards for Buffalo. He added a 1-yard punt return and a minus-1-yard rush.
Seahawks 28, Colts 16
Rodrigo Blankenship, PK: Blankenship converted a 21-yard field goal and one extra point for the Colts.
Saints 38, Packers 3
Eric Stokes, DB: Stokes, the Packers' 2021 first-round draft pick, made his NFL debut, with one defended pass.
Practice Squads
Bills: Jake Fromm, QB
Cardinals: Jonathan Ledbetter, DL
Reserve Lists:
Broncos: Natrez Patrick, ILB
Chiefs: Malik Herring, DE
Jaguars: Terry Godwin, WR
Today's Contents – Click to Read
---
Jump To Comments