Today's Contents – Click to Read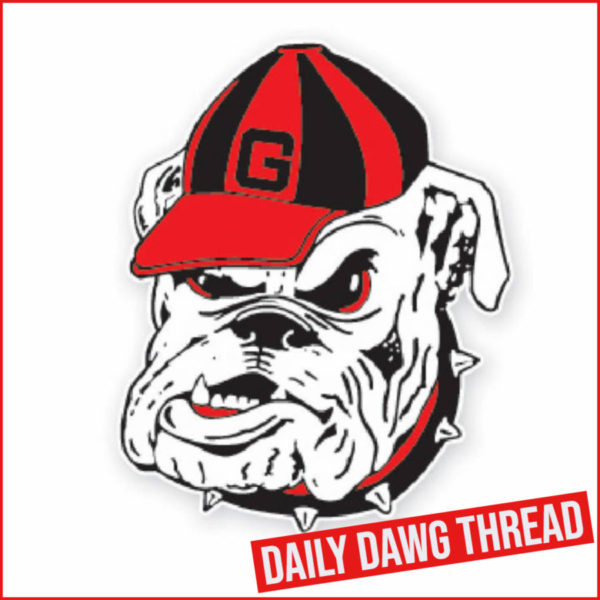 ---
Video/Transcript: Brock Bowers and Broderick Jones Interviews – September 14, 2022
On preparing for a road environment in the SEC…
"We have crowd noise over the loudspeakers at practice. It gets hard to hear sometimes, so we're working on things on offense because we're trying to replicate the game environment at practice."
On his comfort level through two games compared to last year…
"It's completely night and day… I think after two games last year everything was still moving pretty fast for me. It was hard to make reads and process everything, but after two games this year I feel pretty good."
On what stands out to him about South Carolina's defense…
"They have some good guys in the middle and at defensive back. We just try to prepare like every other week and get after it. We try to imitate them as best we can on the scout side of the ball, and they've been doing a good job of that."
On the opportunity to improve the run game against South Carolina…
"Every game we try to impose our will in the running game, no matter who we are playing. That is always the goal, to impose our will in the running game. I think we will attack it a little bit more this week."
On the offensive line rotations…
"We just have so many great offensive linemen. Everybody can play any position. We're just rotating and keeping fresh, keeping our legs fresh. Rotate so (?) Mims can get reps because he's been doing a great job. Warren (?) has been doing a great job at right and left (tackle). We're just trying to keep a fresh pair of legs in at all times."
On Williams-Brice Stadium…
"I really didn't get a real experience my first time playing there, it was during Covid, so I'm excited to play there. SEC stadiums are always going to be rocking when two SEC opponents are going at it."
On the craziest environment he's played in…
"Tennessee. That was the loudest stadium I have ever played in."
Today's Contents – Click to Read
---
BASEBALL: 2023 SEC Schedule Announced
The Georgia Bulldogs' Southeastern Conference schedule for the 2023 baseball season was announced Wednesday by the league office. The Bulldogs will open the 30-game conference slate when Tennessee visits Foley Field March 17-19.
The Bulldogs' other four SEC home series will feature Kentucky (Apr. 7-9), Arkansas (Apr. 21-23), South Carolina (May 5-7) and LSU (May 18-20). Georgia's five SEC road series will be at Vanderbilt (March 24-26), Missouri (March 31-Apr. 2), Auburn (Apr. 14-16), Florida (Apr. 28-30) and Ole Miss (May 12-14).
The 2023 SEC baseball television schedule will be announced later; therefore, it is possible some series could begin on Thursdays. The 2023 SEC Tournament returns to Hoover, Ala., and will be held May 23-28. The format again will feature the league's top 12 finishers. NCAA Regional action will be June 2-5 with Super Regionals slated for June 9-12, both played at various campus sites. The College World Series will be conducted June 16-26 in Omaha, Neb.
Georgia's non-conference schedule and all game times will be announced­­ later. Season ticket applications and renewals will be available online in early December. Follow this link for information on the Georgia Baseball Fund (GBF).
Georgia begins fall practice on Sunday, Sept. 18 under the direction of Ike Cousins head baseball coach Scott Stricklin who enters his 10th season. In 2022, the Bulldogs advanced to an NCAA Regional in Chapel Hill, N.C., and finished with a 36-23 (15-15 SEC) mark.
Georgia has 24 returning lettermen, including six starters, around the diamond. The Bulldogs welcome back graduate outfielders Connor Tate (.345-13-58) and Ben Anderson (.274-9-34), sophomore outfielder Cole Wagner (.276-6-21), junior infielder Parks Harber (.307-13-53), junior catcher/designated hitter Corey Collins (256-11-37) and junior catcher Fernando Gonzalez (.258-4-22). The pitching staff will be led by senior Nolan Crisp (1-4, 5.12 ERA), juniors Liam Sullivan (4-3, 4.62 ERA), Jaden Woods (1-1, 4.80, 3 SV) and Luke Wagner (5-3, 6.15 ERA) and sophomore Chandler Marsh (4-1, 3.74 ERA). The Bulldogs have 18 newcomers.
The fall season will feature two exhibitions. The Bulldogs play host to UAB on Oct. 16 at Foley Field. First pitch will be at 1 p.m. with free admission. The annual Red versus Black Fall World Series will be Oct. 21-23. The Florida exhibition in Jacksonville on Oct. 28 will conclude fall workouts. Georgia will be the home team against Florida this year. Tickets for the Georgia-Florida baseball contest are $15 and are now on sale online via Ticketmaster at the following link: https://link.edgepilot.com/s/43dac2d5/PxilqssLsU_6MWek7kBrnQ?u=https://gado.gs/9ia
Today's Contents – Click to Read
---
Jump To Comments