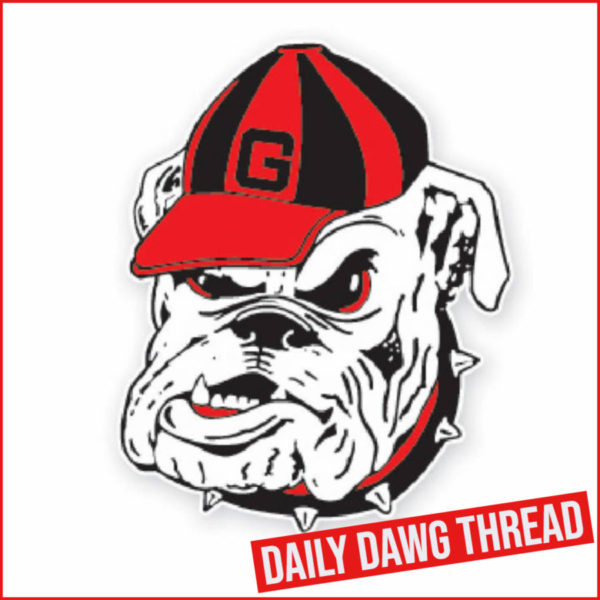 ---
Video/Transcript: Darnell Washington and Kearis Jackson Interviews – September 21, 2022
On being a member of the 2022 Allstate AFCA Good Works Team…
"Being one of the 11 chosen means a lot to me. It shows off the hard work that I have been doing on and off the field. Just being able to withhold the standard here at Georgia. We're not just athletes. Being able to have an impact on the community, an impact on kids and adults. Being impactful means a lot to me and my family and the University of Georgia."
Note: Georgia leads the nation in Allstate AFCA Good Works Team honorees with 21 
On Kent State's defense…
"I played with CJ Harris growing up. He plays defense there. Growing up we used to battle a lot because we played on the same team, but when I came in on Sunday I went to Brian McClendon's office and we were watching the first series of the (Kent State versus) Oklahoma game. Those boys out there were flying around, so I have a lot of respect for Kent State and the way they play. They have played against multiple power-five opponents already, Washington, Oklahoma… If you watch those games, they play hard. I have a lot of respect for them because at the same time they have to strap up just like we have to strap up. With that being said I have a lot of respect for Kent State, especially what they do on defense."
On being a leader…
"Just knowing how to deal with certain personalities. There are so many personalities on the team, it's crazy. But, when you get to sit down and talk to people you actually find out more about themselves. When you are able to do that, it's eye-opening. We have our skull session. Throughout those skull sessions, we find out each other's why. For some of our teammates why, I have no choice but to play hard because I know what they have been through. Same with me. Most of my teammates know what I have been going through, so when you have that connection and that bond it leads you to want to play harder."
On being the No. 1 team in the nation and blocking out the noise
"We just take everything day-by-day… In meetings, staying on schedule, doing what we did last year. It's just a routine and that's how we go about it."
On what has led to a growth in his maturity over the past year
"One thing that helped me improve is having a family at a young age, so I had to mature to get used to everyday life. The focal aspect is going against older guys with how mature they are. When we're at practice we have fun, but at a high school practice, you're on the sidelines not paying attention, joking around. Here if you're joking around on the sideline Kirby will get on you."
On what he's seen from Oscar Delp in his first year so far
"I've seen a lot of improvement physicality-wise. Coming in as a freshman it's not easy. When I came here, it was a big change from high school to college, so he's really improved his physicality so far." 
---
Brock Bowers Named John Mackey Award Tight End of the Week
Watch a fullscreen slideshow
HERE.
Bulldog sophomore tight end Brock Bowers earned the John Mackey Award Tight End of the Week following his performance at South Carolina, according to an announcement Wednesday.
Earlier in the week, Bowers was named the Southeastern Conference Offensive Player of the Week. While that marked his first SEC honor of that kind, Bowers was named the Mackey Tight End of the Week after last year's Kentucky game as well.
Bowers, a native of Napa, Calif., posted the fifth 100-yard receiving game of his career and scored three touchdowns in a game for the second time during the 48-7 rout at South Carolina. He had a team-high five receptions for 121 yards and two scores, including a 78-yard touchdown catch that put Georgia up 31-0 in the third quarter.
Bowers also had a 5-yard rushing score for the game's first points in the opening period. This marked the second time in his career that he has tallied two receiving touchdowns and one rushing touchdown in the same game (2021, at Vanderbilt).
---
WTENNIS: Dawgs Open Fall in San Francisco
BATTLE IN THE BAY
Site: California Tennis Club
Location: San Francisco, California
Date: Sept. 22-25, 2022
Time: All day
792 Wins, 19 SEC Titles, 6 National Championships
Georgia head coach Jeff Wallace is now in his 38th year at the helm of the Bulldogs' tennis program. As the nation's winningest active women's tennis coach, Wallace is one of only two coaches to record 750 wins in women's tennis history. Wallace enters the 2022-23 season with 792 career victories.
Dawgs in the Rankings
Georgia boasts seven rankings: A quartet of individuals, No. 13 Mell Reasco, No. 26 Lea Ma, No. 79 Dasha Vidmanova and No. 101 Ania Hertel; Two doubles teams in No. 20 Reasco and Vidmanova and No. 46 Guillermina Grant and Hertel.
In the fall, the ITA also ranks the Top-10 Freshman/Newcomer; Anastasiia Lopata came in at No. 10.
Bernstein's Beliefs
"We're excited to start off the season in Northern California at the Battle in the Bay," Georgia associate head coach Drake Bernstein said. "It is a prestigious tournament with incredible hosts, hospitality and of course, a top notch field. We've been putting in a lot of fitness work in the first month and I know our team is excited to see that hard work pay off. As a group, we feel like we were creating a lot of momentum late in the season last year and we're excited pick up where we left off."
The Field
Georgia graduate Meg Kowalski, senior Lea and sophomores Dasha Vidmanova and Guillermina Grant will compete against a strong field of student-athletes from Arizona, Arizona State, Colorado, Fresno State, Kansas, Oklahoma State, Pacific, Pepperdine, San Diego, Southern California and the host school San Francisco. The field includes 23 players ranked in the ITA singles top-125, eight of the top-60 ranked doubles teams and three of the top-10 newcomers/freshman.
---
MBB: SEC Tip Times, TV Assignments Set
The Georgia Bulldogs' game times and television network assignments for the SEC 2022-23 men's basketball season were announced by the league office on Wednesday.
Georgia's SEC home slate features five weeknight and four weekend outings, including a trio of Saturday matinees. Sixteen of the Bulldogs' 18 conference contests will appear on the SEC Network. The Kentucky game in Lexington on Tuesday, Jan. 17 will air on ESPN, and the home date with the Wildcats on Saturday, Feb. 11 will be televised on ESPN or ESPN2.
Tip times and television information for non-conference games will be announced at a later date.
The Bulldogs' first two SEC contests at Stegeman Coliseum will be consecutive Wednesday dates against Auburn and Mississippi State on Jan. 4 and Jan. 11, respectively, that will tip at 6:30 p.m. on the SEC Network.
Georgia will host Vanderbilt on Jan. 21 at 1:00 p.m. and South Carolina on Jan. 28 at 6:00 p.m. on back-to-back weekends.
The Bulldogs will enjoy a three-game homestand in early February, facing Ole Miss on Tuesday, Feb. 7 at 7:00, Kentucky on Saturday, Feb. 11 at noon and LSU on Valentine's Day at 8:30 p.m.
The home slate concludes with consecutive games at Stegeman against Missouri on Saturday, Feb. 25 at 1:00 and Florida on Tuesday, February 28 at 7:00.
---
Jump To Comments