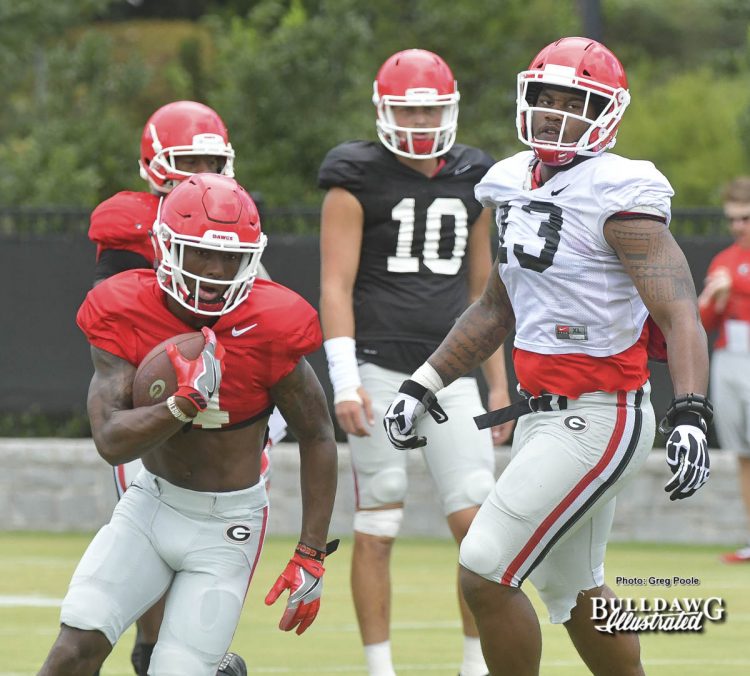 Georgia suited up for their sixteenth practice on Thursday afternoon and freshman tailback D'Andre Swift was back with the Bulldogs after missing two previous practices due to an injury he sustained in last Saturday's scrimmage.


While Swift was back, there was a notable player on defense that was absent for a second straight day. Senior cornerback Malkom Parrish was not at Wednesday's practice and he was also out for Thursday's practice. It was reported that Parrish had surgery to repair a broken bone in his foot, but at this time, there has been no confirmation from UGA or Head Coach Kirby Smart on whether or not Parrish has been injured or if he had surgery.


With Parrish out, Aaron Davis was back at corner again in the secondary.


Another player that was out was long snapper Trent Frix who has been dealing with a hamstring injury. Wide receiver Jeremiah Holloman looked to be still dealing with his hamstring injury as well. Sophomore wide receiver Tyler Simmons was still in a black "no-contact" jersey and sporting a cast on his left wrist, an injury he sustained during Georgia's sixth practice back on Saturday, August 5th.


The offensive line rotation remained the same with Isaiah Wynn at left tackle, Pat Allen at left guard, Lamont Gaillard at center, Solomon Kindley at right guard, and Andrew Thomas at center. And Georgia was still running "Wild Dawg" drills with sophomore wide receiver Mecole Hardman, Jr. and senior tailback Sony Michel against a skeleton defense that consisted of junior linebackers Natrez Patrick and Roquan Smith and freshman defensive back Richard LeCounte.


The Dogs will have a closed practice No. 17 on Friday afternoon and then look to hold their second scrimmage of Fall camp on Saturday.


PHOTO GALLERY: Practice 16, Thursday, August 17, 2017
CLICK ON PHOTO TO ENLARGE

[foogallery id="109961″]