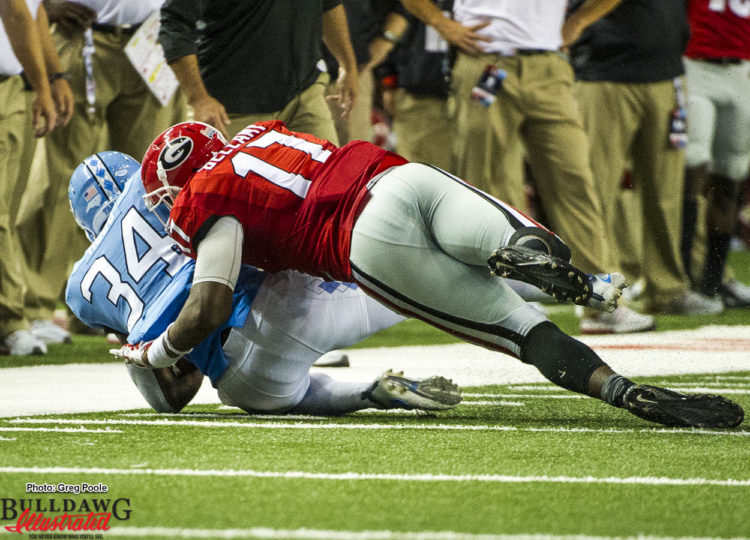 Davin Bellamy received many questions about the Bulldogs defense during the game, but one interviewer asked Bellamy if he was a better tight end prospect than outside linebacker.
The interviewer was none other than offensive coordinator Jim Chaney, who jokingly (with a huge smile) might have had a flicker of a thought of moving Bellamy to tight end. Chaney is surely happy with having one of the strongest tight end groups in the country but Bellamy could be a breakout player for the Bulldogs as a tight end (maybe). Chaney was joking, but Bellamy certainly a good enough athlete to play offense.
Back to the more common post game questions, Bellany complimented some of the freshmen including defensive end David Marshall and running back Brian Herrien. Marshall was the Bulldogs leading tackler at halftime and overall had a very impressive first game. Herrien seemed to come out as the Bulldogs third string running back, as the coaches decided to give running backs Sony Michel and Elijah Holyfield more time to heal their respective injuries.
Herrien took his first carry for a 19-yard touchdown run and looked like he could be one of the Bulldogs biggest surprises from last years recruiting class. Herrien ended the day with 59 yards on seven carries and one touchdown. Bellamy mentioned that Herrien's impressive performance does not surprise members of the Bulldogs defense because he has constantly shined in the team's scrimmages.
We saw that all in the scrimmage man. Number 35 he ran the ball down our throat in the scrimmage, so we already knew what was coming from him.


Bellamy also went on to compliment the Bulldogs newest member, 5th year senior Maurice Smith who had a very strong opening game with his new team. Bellamy said the team had a lot of confidence in Smith and he continued to do what he did in practice, in the game, and that the moment was not too big for Smith.


Overall the Bulldogs defensive mindset was to play assignment football, and, they did that effectively. Bellamy may not have had the greatest number, but, since the team played great assignment football, then it was a great showing for the defense as a whole.