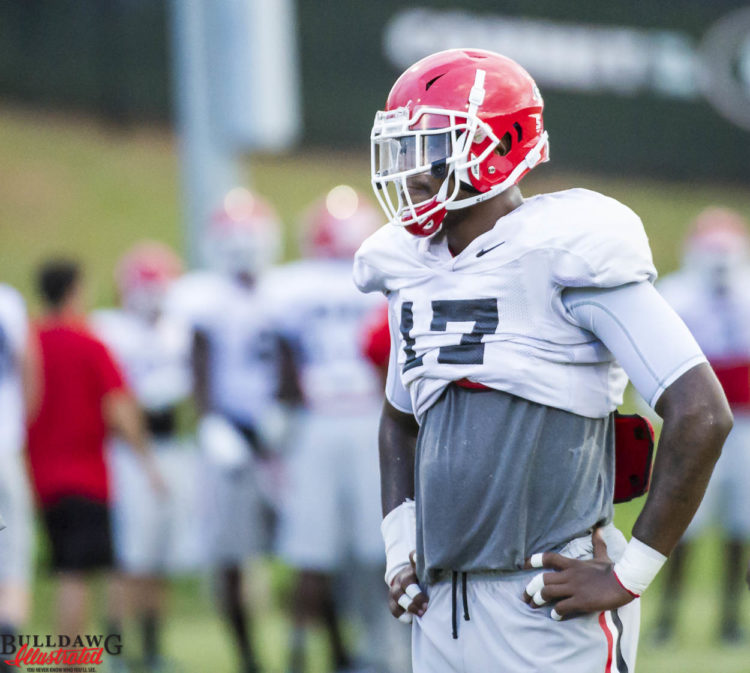 Davin Bellamy should have an expanded role on the defense with the departure of outside linebackers Jordan Jenkins and Leonard Floyd is ready to get the season started and hit opponents, rather than teammates.
Bellamy is looking forward to the Bulldogs kick off game against the North Carolina Tar Heels and the start of what could be a break out season for him. Bellamy has the potential to put up great numbers as he has a knack for getting in the backfield and creating big time defensive plays. He had this to say on how he feels as the season opener is about to kick off for the Bulldogs:
I think I just feel the first game jitters, that everyone has, and if you don't have them then you're not normal…You kinda get tired of hitting your own guys, so you really just wanna let it loose, on somebody else.


Bellamy also has taken up a bit of a leadership role on the team and is giving some of the younger players advice as the first game is drawing ever closer. He enjoys the fact that he has the experience to be able to help out the young guys, as they make their transition from the high school level to the collegiate level.

It definitely puts you in a different role, you know, to think about others more so than yourself a lot of times and that's something that I'm really okay with. I love when the young guys come talk to me.


Bellamy was also asked if he could recall upon any of the guys, who helped him make this transition into college as a football player and he named Toby Johnson, Leonard Floyd, Jordan Jenkins and even some offensive players took him under their wing and helped him out. That experience with veterans has helped him see how helpful that can be for the younger players.


The main advice that Bellamy has given the younger players is to keep in mind that "football is football," and they have put in a lot of hard work and have been prepared properly by the coaches, so if they just play the game, their most difficult things will work themselves out.


Bellamy also complimented the Bulldogs tight end group and said that they were the best blocking tight end group in the country in his opinion and that their high level of play has made him bring his A game. Bellamy seems that he has received the right preparation in practice for the season, and it will be interesting to see how his great practices translate into on the field success.