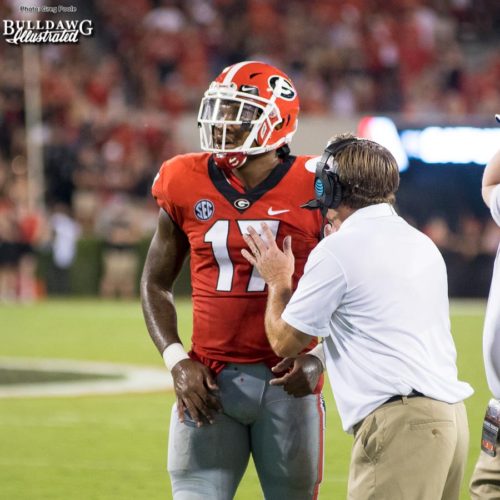 Senior linebacker Davin Bellamy talks about why work week is so important. The team is 7-0 and these seniors seem to have a mini checklist to complete. One of those, to go undefeated. The work week is crucial for the team, as its an emphasis to put in the "work" to stay undefeated.

Bellamy states he wants to go undefeated and that the team doesn't plan on losing any games. He says that is why head coach Kirby Smart pushes the bye week as a "work week" so much, to avoid complacency. Bellamy continued to talk about how other teams might slack off during the bye week, but not this 2017 Georgia football team. He says there is something different going on here and this week could help to decide the next five weeks.


I want to go undefeated. We're 7-0 and we don't plan on losing any games," Bellamy says. "I think that's why coach Smart is trying to make the emphasis on this week. It's the week to get better. A lot of teams right now, take it back a little bit and try to get players back to 100 percent. But we're doing something different over here. This is a work week for us and coach Smart said these last five weeks, you're going to remember this the rest of your life. If we do it right."


"If we do it right," sticks out the most because the players prove they've bought into Smart's process. There is a right and a wrong way to go about success in football, and Bellamy proved that he and his teammates believe Smart's way is the right way.


For Davin Bellamy's full interview, check out the YouTube Clip below.

Recent Articles by Savannah Leigh Richardson


[pt_view id="8722077nva"]