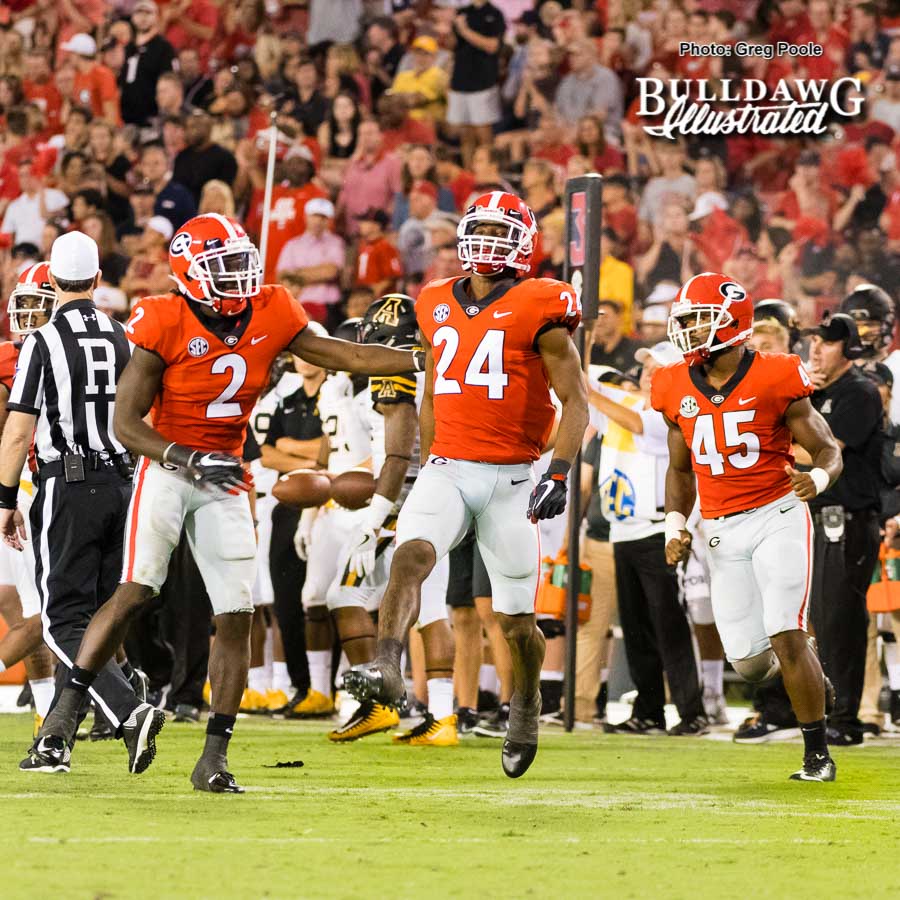 Bulldawg Illustrated intern Savannah Richardson, a senior in the Grady College of Journalism at UGA, takes a look at the Dawgs vs. Mississippi State. Here are her 'Dawg Bones.'


OFFENSE DAWG BONE: Mississippi State

Mississippi State overall is more productive on offense than the Georgia Bulldogs. State averages 47.67 points a game while the good guys average 31.


State averages 297 rush yards a game and 195.33 pass yards. They average 493 total yards per matchup. Georgia is close to their stats, but still behind a power Mississippi State offense. The Bulldogs average 230 rush and 154.33 pass yards a game. Georgia averages 384.3 total yards a game.


Nick Fitzgerald is a force at Mississippi State. He already has five rush touchdowns and seven passing touchdowns. Fitzgerald's 6-5 frame makes him hard to tackle, but what gives defenses trouble is his ability to make plays with his legs. He ran the ball 31 times for 240 yards this season. His arm impresses too, as of now he's 43-70 for 543 yards 7TD and INT. Fitzgerald is a Georgia bred quarterback from Richmond Hill, and the junior made a statement against LSU last week. If he continues to put up these numbers, State's offense will be one of the best in the SEC.


Fitzgerald isn't the only playmaker on offense for the Mississippi Bulldogs, Aeris Williams, junior running back has one touchdown on the season and averages seven yards a carry. Williams carried the ball 23 times for 146 yards at the LSU game. He's quick and will make plays when Fitzgerald can't make the play happen himself.

DEFENSE DAWG BONE: Georgia

Georgia's defense only allows 14.33 points per game. It gives up 71.0 rush yards a game and 195 pass yards. The defense returns 10 of 11 starters from last season, and they are in their hitting on all cylinders. However, Mississippi State's defense is only giving up 9.33 points a game and 101 rush and 105 pass yards a game. Despite the better statistics, the Georgia Bulldogs get the Dawg bone for a few reasons.


The defense is full of veteran leaders like Lorenzo Carter and Davin Bellamy who contribute on every down. Carter is number three on the tackle list with eight solo tackles and 14 total this season. However, he does lead the team in sacks with three.


However, what makes Georgia's defense so good is their ability to read coverage. The speed that the Bulldogs have from J.R. Reed, Roquan Smith, and the players in the secondary, if a player gets loose, Georgia runs the guy down. Smith leads the team with 12 solo tackles and one sack. He is all over the field and one of the most vocal players on the defense.


Georgia's ability to stop the run is going to be the deciding factor. If the defense can hold Fitzgerald and Williams to under 150 rush yards, Georgia will win the ball game.

SPECIAL TEAMS DAWG BONE: Georgia

The special teams for Georgia have been almost perfect this season. Rodrigo Blankenship is 13-18 on touchbacks for kickoffs. However, I believe that graduate transfer punter Cameron Nizialek is a force. He averages 44.27 a punt with a long one of 57. His ability to switch the field is something that will benefit Georgia against a tough Mississippi State team.

COACHING DAWG BONE: Mississippi State

Dan Mullen has done a tremendous job at Mississippi State in the nine seasons he's coached there. He's 61-42 and has stayed competitive in the tough SEC West. Despite heading into Athens for a tough night game, Mullen will have his team ready. Labeled as the quarterback whisperer, Mullen knows how to develop a quarterback. Dak Prescott just to name one is making a name for himself at Dallas. Mullen knows how to coach a team up. If Georgia isn't careful, Mullen has the experience to outcoach Kirby Smart.

OVERALL DAWG BONE: Georgia

Georgia has the advantage here, it's a night game in Athens and the first SEC test of the season. The stadium will be loud and tough for Fitzgerald to hear anything. However, the fans must get loud and be a force. The defense feeds off the energy of the stadium if Georgia fans can keep the energy up, Mississippi State will struggle to communicate all night.




Recent Articles by Savannah Leigh Richardson


[pt_view id="8722077nva"]