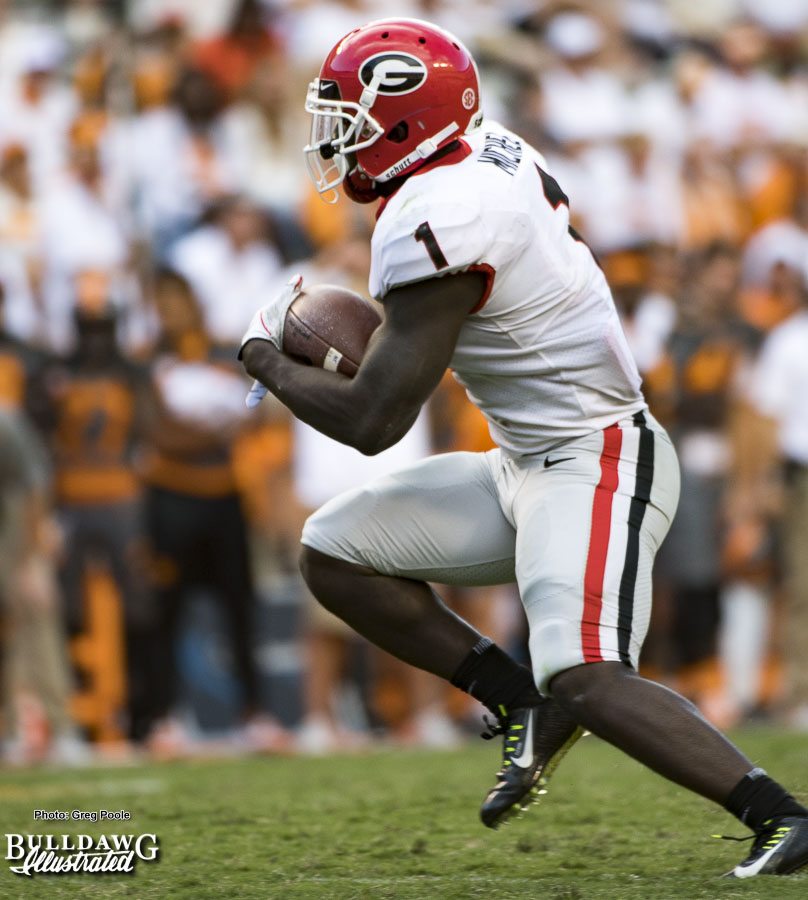 Bulldawg Illustrated intern Savannah Richardson, a senior in the Grady College of Journalism at UGA, takes a look at Saturday's Georgia vs. Vanderbilt game. Here are her 'Dawg Bones.'


OFFENSE DAWG BONE: UGA

Georgia takes the Dawg bone for the offense for two reasons, it's a three-headed running back monster and Jake Fromm's evolving confidence, The Bulldogs average 237.4 rushing yards a game, and with Nick Chubb, Sony Michel, and D'Andre Swift you can bet they will be moving the ball on the ground. Vanderbilt's defense allows 204.6 rush yards a game, so look for Georgia to take advantage of that and sticking to a similar game plan as they ran against Tennessee.


Fromm showed he wasn't perfect in Knoxville when he threw his first interception of the season. However, his confidence grew as the game continued and led the team to its fifth victory. Nashville will be another test for the youngster, but as long as he sticks to the game plan and makes the right decisions, he will lead the Bulldogs to win No. 6.

DEFENSE DAWG BONE: UGA

When you pitch a shut-out in Knoxville, it's hard not to give the bone to Georgia's defense. The Bulldogs allow 9.20 points a game and 90.4 rushing yards a game. This defense is fast, powerful and one of the most aggressive units in the country. Roquan Smith is the best linebacker in the country. Smith has 21 solo tackles so far this season, and four quarterback hurries. He is a force on this defense and is one of the smartest guys on the field. J.R. Reed is another emerging man for Georgia's defense and makes heads turn in the secondary. Reed already has 15 solo tackles, 3.5 tackles for loss, a fumble recovery and interception. He is another guy who is all over the field, and I expect him and Smith to make statements in Nashville.

SPECIAL TEAMS DAWG BONE: UGA

Georgia has one of the best special teams units in the SEC. Rodrigo Blankenship and Cameron Nizialek have proven their worth. Blankenship is 24-31 for kick-off touchbacks and 6-7 on field goals. His leg just seems to get stronger every game and is a key to this unit. Nizialek averages 42.58 yards a punt and is essential to the Bulldogs winning field position. He's already bombed five 50 plus yard punts and gives Georgia's defense an
extra advantage by pushing its opponents deep into their territory.

COACHING DAWG BONE: UGA

Kirby Smart receives the bone because he's coached his team into a disciplined machine. The team has completely bought into his schemes and process, and it shows on the field. One of his mottos for the season is 'keep chopping wood,' and well that's what Georgia is doing. Each week just seems like a business trip to the team. They go into each week cool calm and collected and don't let the pre-game noise get to them. Smart is molding this program into something special and right now is just the beginning.

OVERALL DAWG BONE: UGA

Georgia heads into Nashville after two huge victories over tough SEC opponents. This week marks the second game that left a mark last season. After the Bulldogs handled business in Tennessee, look for them to do it again this week. Georgia keeps chopping this week and wins big in Nashville to mark the third SEC win of the season.



Recent Articles by Savannah Leigh Richardson


[pt_view id="8722077nva"]