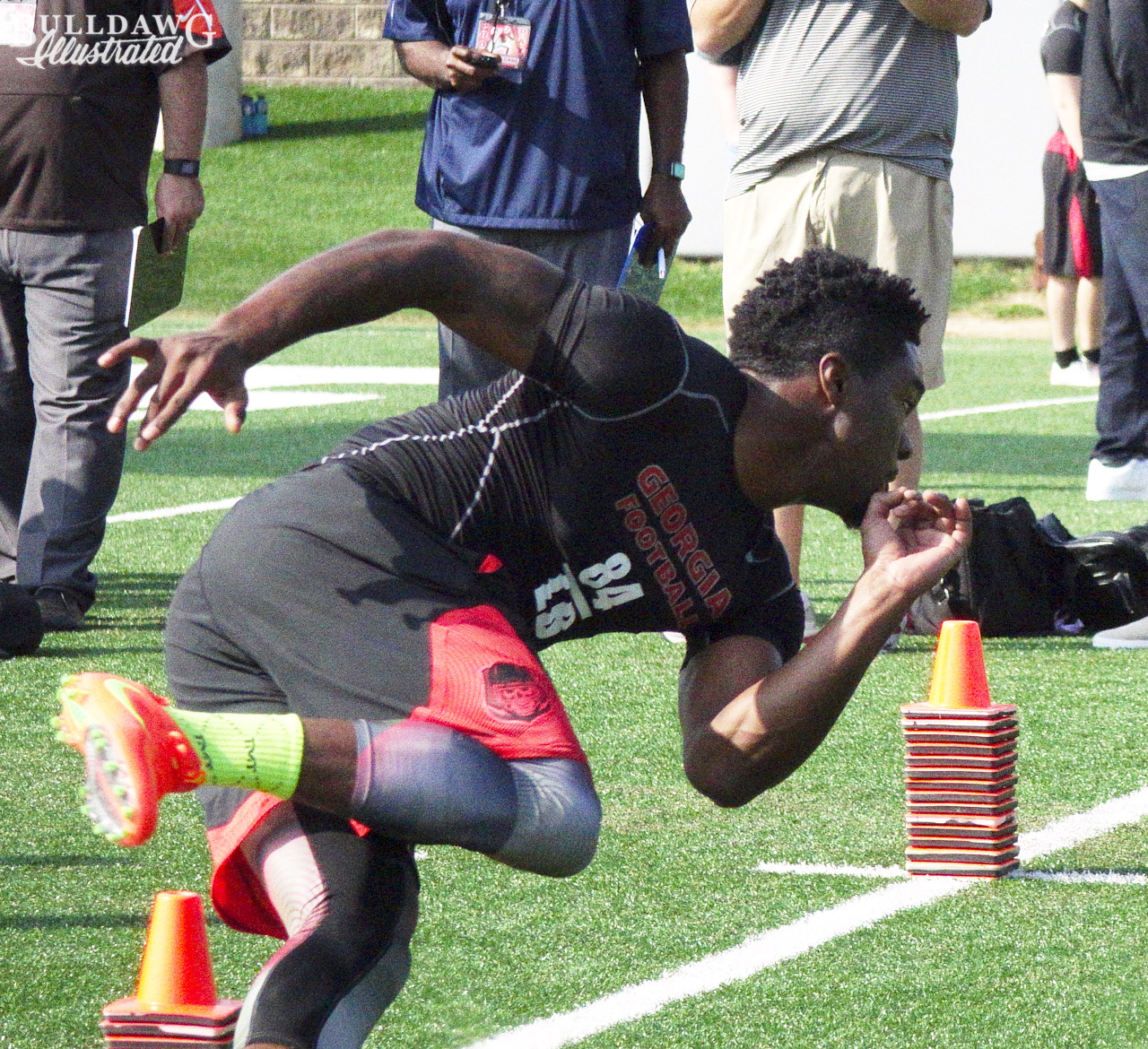 Following the NFL's first-ever Super Wild Card Weekend, there are 12 Georgia alums on six of the eight remaining teams. The Bulldogs have had at least one player on a Super Bowl roster for 19 straight seasons.
The AFC Divisional Playoffs will pit No. 1 Kansas City against No. 6 Cleveland and No. 2 Buffalo against No. 5 Baltimore. The Chiefs have receiver/punt returner Mecole Hardman on the active roster and defensive back Deandre Baker and defensive lineman Tyler Clark on the practice squad. Tailback Nick Chubb anchors the Browns' rushing attack. The Bills boast receiver Isaiah McKenzie and quarterback Jake Fromm. Snapper Nick Moore and tight end Eli Wolf are members of the Ravens' practice squad.
In the NFC Divisional Playoffs, No. 1 Green Bay will face No. 6 Los Angeles. The Packers have tight end Isaac Nauta on their practice squad, while the Rams feature linebacker Leonard Floyd and defensive back J.R. Reed on the primary roster and defensive back Tyrique McGhee on the practice squad. No. 2 New Orleans and No. 5 Tampa Bay do not have any Bulldogs on their rosters.
How the Bulldogs fared in the Super Wild Card Weekend:
Rams 30, Seahawks 20
Leonard Floyd, LB: Floyd had two sacks for seven yards for Los Angeles. Floyd tallied seven sacks in three games against Seattle this season.
J.R. Reed, DB: Reed had two special teams tackles for Los Angeles.
Tyrique McGhee, DB: McGhee is a member of the Rams' practice squad.
Jayson Stanley, DB: Stanley was placed on injured reserve (hamstring) by the Seahawks on Jan. 6.
Browns 48, Steelers 37
Nick Chubb, RB: Chubb had 18 carries for 76 yards and four catches for 69 yards, including a 40-yard touchdown reception, for the Browns. That was Cleveland's first playoff victory since 1994.
Bills 27, Colts 24
Isaiah McKenzie, WR: McKenzie saw action on four offensive plays for the Bills, but he did not have any statistics. He was limited throughout the week of practice due to an ankle injury. Buffalo notched its first playoff win since 1995 — the year McKenzie was born.
Jake Fromm, QB: Fromm was not active for Buffalo. He has served all season as the Bills' No. 3 quarterback.
Rodrigo Blankenship, PK: Blankenship kicked a 30-yard field goal and one extra point for Indianapolis.
Justin Houston, DE: Houston had one tackle and half a sack for 2.5 yards for the Colts.
Ravens 20, Titans 13
Nick Moore, LS: Moore is a member of the Ravens' practice squad. He appeared in one game this season.
Eli Wolf, TE: Wolf is a member of Baltimore's practice squad.
Ben Jones, OL: Jones started at center and helped Tennessee accumulate 209 total yards.
Isaiah Wilson, OL: Wilson was on the Titans' non-football illness reserve list.
    Saints 21, Bears 9
Blair Walsh, PK: Walsh signed with the Saints' practice squad on Monday. Walsh kicked for Minnesota from 2012-16 and for Seattle in 2017.
John Jenkins, DL: Jenkins had a tackle and a fumble recovery for Chicago.
Riley Ridley, WR: Ridley caught two passes for 36 yards for the Bears.
Javon Wims, WR: Wims hauled in a 28-yard reception for Chicago.
Roquan Smith, LB: Smith was inactive for the Bears due to an elbow injury.
Reggie Davis, WR: Davis was on Chicago's practice squad injured reserve list.
Buccaneers 31, Washington 23
Thomas Davis, LB: Davis was not active for Washington due to an ankle injury, marking the end of his illustrious career. He spent 14 years with the Panthers, one with the Chargers, and one with Washington. Davis rolled up more than 1,200 career tackles, including 90 for loss and 29 sacks, and was a 3-time Pro Bowl selection. He also was the 2014 Walter Payton Man of the Year.
Chiefs (Bye)
Mecole Hardman, WR: Hardman had 41 catches for 560 yards and four touchdowns for Kansas City during the regular season. He led the Chiefs with 25 punt returns for 176 yards and a touchdown.
Deandre Baker, DB: Baker was lost for the playoffs when he suffered a broken leg in the regular-season finale.
Tyler Clark, DL: Clark is a member of Kansas City's practice squad.
Packers (Bye)
​Isaac Nauta, TE: Nauta is a member of the Packers' practice squad.