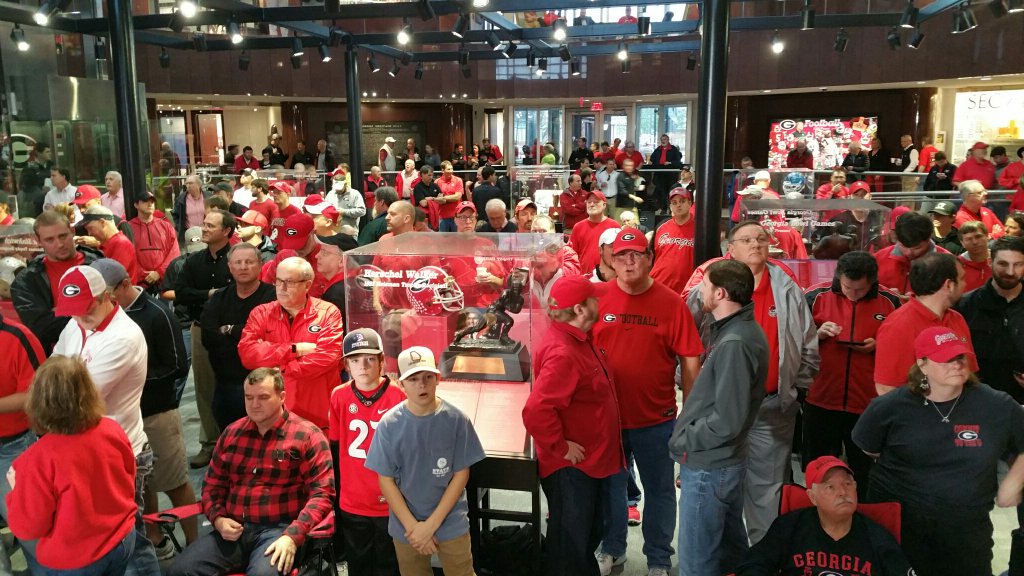 National Signing Day, 2016, arrived bright and early – actually before daylight moved in – Wednesday morning as Georgia football fans turned out en masse to see what Kirby Smart's first Bulldog recruiting class looks like.
At Buffalo's Café in Beechwood Shopping Center in Athens, the Georgia faithful were in their places just after 7 a.m., anxiously awaiting the first group of signees to be listed on the big screen in the back room dining area.
"I really hope we get Hardman (Mecole) and hopefully E.J. Price and Derrick Brown," said Sean Cain, a long-time Bulldog fan from Winder. "And hopefully we can steal some of those linebackers, Wilson (Mack) and Ben Davis from Alabama. I wish we had more offensive linemen but I think we got too late in on the game for that."
"I think it's a good class for Kirby being in town less than a month," said Jeremy Walters, Cain's sidekick in red and black and also from Winder. "I'd like to see the Nelson kid (def. end/LB Jaquwan) and the Williams kid (offensive lineman Jauan) from Florida sign and also get Mack Wilson (linebacker from Alabama). I kind of wish we had a running back because Whaley (Devwah) decommited. Pittman (Sam) is after some good offensive linemen and it's always good to get offensive linemen so I hope we get some of them. That's always something Richt never got, a bunch of stud offensive linemen."
"I just hope we have a great day and we finish with a splash," offered Jack Murray of Watkinsville. "It seems like the last few years we've been kind of let down a little bit on this day. I want us to get Derrick Brown. I'm glad we got Hardman (Mecole) and hope we get Carter (Michail), Price and Brown and I would love to pick up a steal somewhere along the way, somebody we're not expecting to get."
Among the first national letters-of-intent faxed in to the UGA athletic department were Tyrique McGhee, a defensive back from Peach County, Chauncey Manac, defensive end/LB from Clinch County High, Chris Barnes, offensive lineman from Lee County and Marshall Long, an All-America punter from China Grove, N.C.
Then, just after 8:30, the roomful of die-hard Dawgs, erupted into cheers and loud applause with the announcement of the electrifying, nation's No. 1-ranked athlete, Mecole Hardman of Elbert County, signing with the University of Georgia. Hardman, just 5-10 and 175 pounds, will bring blazing speed and make-em-miss moves to Athens and could well line up on both sides of the ball.
Following Hardman's announcement, top tight end/receiver Charlie Woerner, from Rabun County, and junior college receiver Javon Wims, from Hinds Community College in Raymond, Miss., were revealed to be in the Bulldog family.
Now, as signing day continues to unfold, Georgia fans anxiously await the decisions of some of the aforementioned names … the state's No. 1 prospect, defensive lineman Derrick Brown, offensive line stalwart E.J. Price, top defensive tackle Michail Carter and the two truly outstanding defensive performers from Alabama, Lyndell "Mack" Wilson and Ben Davis.
Stay tuned.