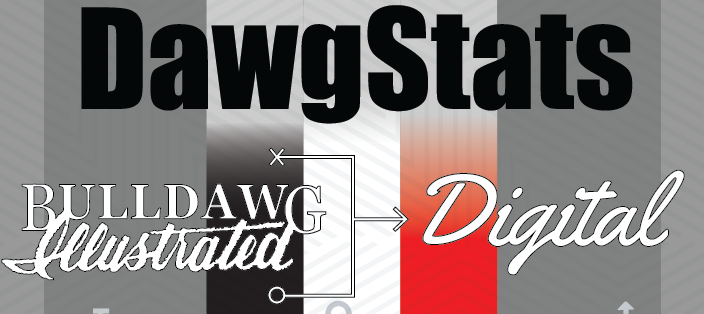 We are on the eve of the season. A day, that countless times, many thought would never come. This season will be unprecedented for a myriad of reasons, but we made it. Let's enjoy it, and not take one second of it for granted. Go Dawgs!
So, the setup for UGA is less than ideal. No spring practice no G-Day, tumultuous preseason camp, all the while installing what a lot of Georgia fans hope is a new offense. The staff here at Bulldawg Illustrated has done compelling work on all of the stories surrounding the season. Kudos to you guys. I am happy to continue writing this little stats blog for you guys, I hope you enjoy and learn with me.
About that new offense. Georgia fans pride themselves on being one of, if not the best RBU in college football. UGA has recruited extremely well not only at running back, but also on the offensive line. So, why do we need a new offense? Well, because lining up and running the ball may not be enough to get Georgia over the hump. Lance pointed out on Twitter that UGA had a 4.9 YPC in 2019. That seems pretty good, but if we look a little deeper – some analytics point to a rushing attack that was middle of the pack in SEC.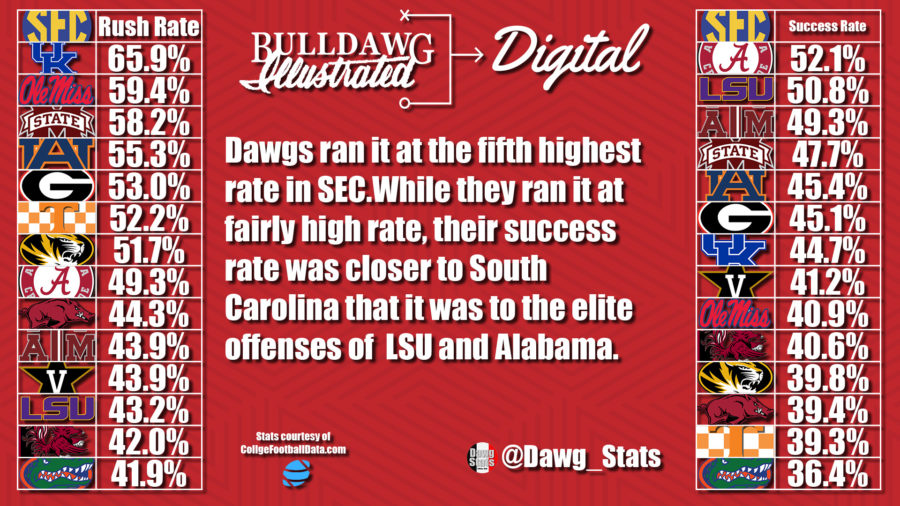 UGA ran it on 53% of plays in 2019. The fifth highest in conference. While, that appears well balanced, Georgia's rush success rate was 6th best. So, we can see that balance may not be ideal. A balanced attack is only good if it is efficient and moves the ball into scoring opportunities.
I have spent the off season researching the explosive metric. Forgive me if I am beating the dead horse, but, explosiveness in football metrics just gives value to play beyond it's success. Just think of it a how to measure how "big" a play is. This metric also factors in field position, down and distance. If we look at UGA's rushing attack using some of these metrics, you can see why Coach Smart is preaching "explosiveness."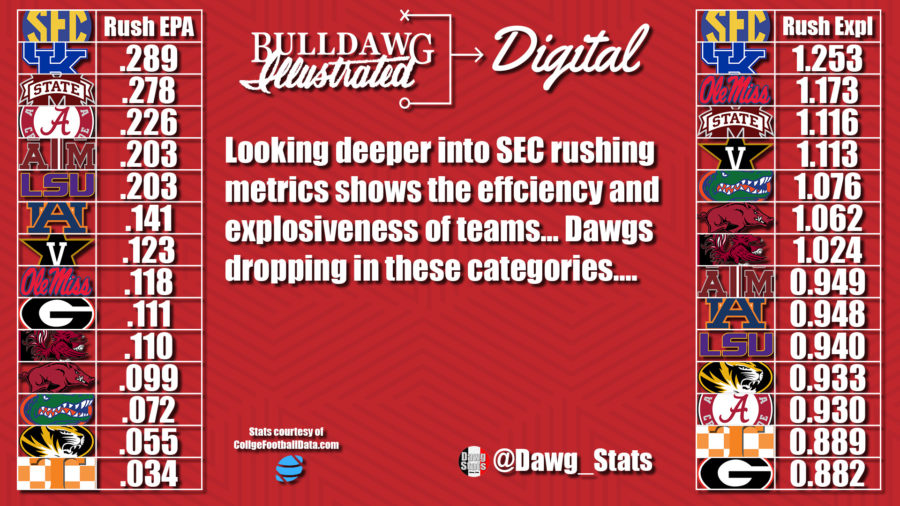 EPA is a formula that estimates points added per play. Explosiveness averages the EPA of the plays that are successful. Both of these metrics put a number on just how tough yards were to come by for UGA. Most fans saw that opposing defenses were stacking the box and doing it with success. A 4.9 YPC is a good average, but only if an offense can get explosive plays. Florida had atrocious rushing averages, but when they got successful runs, they were a lot more explosive on average than UGA. That explosiveness kept defenses honest and made UF very efficient. Gators were third in SEC in total EPA, only behind LSU and Alabama.
Dawgs will not go away from the run with this offensive iteration, but let's see if they can get more production when they run it. The teams that win College Football Playoff games, need to be outstanding on both sides of the ball. A good offense makes a defense better, and Georgia has room to improve. If Coach Monken can get UGA's rushing attack near the top of conference, the Dawgs can compete with the elite teams in the nation.