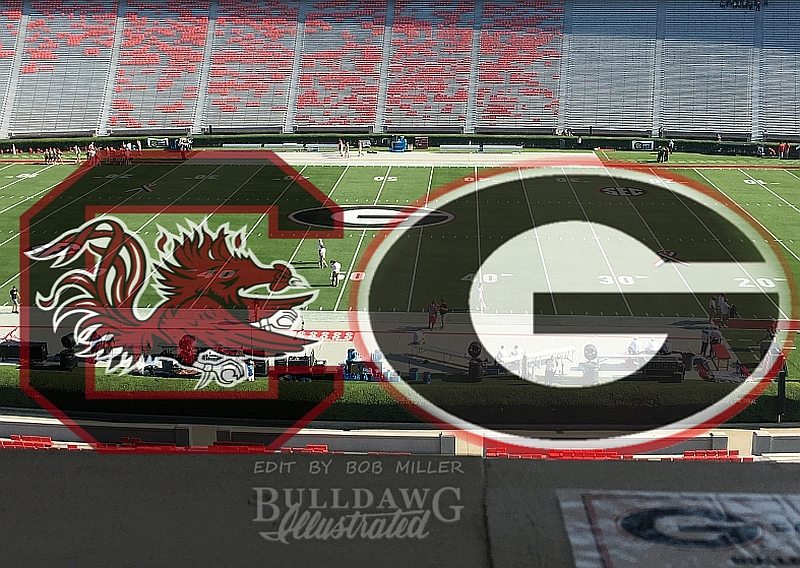 Still sporting that No. 3 national ranking, Georgia's 5-0 Bulldogs (2-0 SEC ) will be back between the beloved hedges Saturday afternoon for another conference skirmish with border-state rival South Carolina.
And after trailing a struggling Tennessee team by 14-10 early in the second quarter in Knoxville last Saturday evening — before going on to pummel the Volunteers by 43-14 — the Bulldogs are hoping to come out of the gate faster in this high noon kickoff at Dooley Field at Sanford Stadium.
Will Muschamp's Gamecocks enter the game with just a 2-3 season record and a 1-2 SEC ledger, thus the reason why Kirby Smart's Dawgs are a hefty 25-point favorite over the roosters from Columbia … almost the identical spread they were accorded over Tennessee last weekend.
And Georgia, which has reeled off four consecutive wins over South Carolina, should win this football game also. The unbeaten Florida Gators — at least still unblemished before they go to Baton Rouge, La. Saturday night — are still three weeks away and Smart and his assistant staff aren't about to let the Bulldogs begin thinking of the Cocktail Party on the banks of the St. Johns River just yet.
Former UGA defensive back Muschamp, who coached with Smart at Valdosta State and LSU, isn't exactly on the hot seat in Columbia yet but that seat is beginning to get a tad warmer after last season's 7-6 record, which included being shut out 28-0 by Virginia in the Belk Bowl. And with a less-than-auspicious start to this season, coming between the hedges Saturday and scoring a somewhat gigantic upset of the nation's No. 3 team would be just the tonic these Gamecocks need to jump-start their 2019 campaign into something very good by season's end.
As you break down South Carolina's five games to date, you can certainly find some positives … Gamecock strengths that should cause the Bulldogs a measure of concern entering Saturday's contest. But, conversely, you can also find negatives in the Cocks' performance, reasons South Carolina is just 2-3 thus far.
Let's look at each of their five games as they prepare to motor west to confront Georgia.
In the Aug. 31 season opener against border state rival North Carolina in Charlotte, the Gamecocks seemed headed for a first-game victory as they moved to a 13-6 halftime lead on the Tar Heels and then boosted that advantage to 20-9 at the end of the third quarter. But, then, the bottom fell out for South Carolina in the fourth period … the Heels outscoring the Gamecocks 15-0 to come away with a 24-20 win over Muschamp's team. Mind you, this was the same North Carolina that dropped a 21-20 heartbreaker to defending national champion Clemson two weeks ago. And too, that opening tilt in Charlotte was when the Gamecocks lost three-year starting quarterback Jake Bentley for the season due to a foot injury.
The next Saturday, South Carolina shook off the opening loss to the Tar Heels with a 72-10 rout of little Charleston Southern. In that game, Bentley's replacement, true freshman Ryan Hilinski, passed for 282 yards and two touchdowns while the Cocks' ace receiver, Bryan Edwards, had five catches for 112 yards and two scores. Backup running back Kevin Harris, a freshman out of Bradwell Institute in Hinesville, Ga., rumbled for 147 rushing yards.
The next week, the big boys — namely the Alabama Crimson Tide — came to Columbia, S.C. Pushing out to a 24-10 halftime lead, the Tide would go on to de-feather the Gamecocks by 47-23. Like all the defenses Alabama has faced to date, the Carolina defense didn't have an answer to All-America Tua Tagovailoa as the Tide's southpaw quarterback threw for 444 yards and five touchdowns. In defeat, Gamecock senior running back Rico Dowdle did dent the 'Bama defense for 102 rushing yards.
The Gamecocks then boarded a plane for the other Columbia … Columbia, Mo. And there, South Carolina suffered their second consecutive blowout defeat, falling to the Tigers by 34-14. From a 17-7 halftime lead, Missouri went on to control the final two quarters while limiting the Gamecock rushing attack to a measly 16 net yards on the day. In the setback, Hilinski passed for 166 yards, with one touchdown pass and one interception.
Then, two weeks ago, before their open date this past Saturday, the Gamecocks returned to Williams-Brice Stadium and posted a solid 24-7 win over the rebuilding Kentucky Wildcats. Tavien Feaster, a grad transfer from the state rival Clemson Tigers, ran for 107 yards against the 'Cat defense while Dowdle also topped the 100-yard mark by charging for 102 yards. With the solid running attack, Hilinski passed for just 140 yards that day.
Thus, South Carolina has ridden the proverbial see-saw in its five outings of 2019. That begs the question: Which Gamecock team will show up in Athens on Saturday? One thing's for sure, the Bulldog defense will be bracing for the best running game it has seen so far. South Carolina totaled 247 yards on the ground in the win over Kentucky and for the season is averaging 203.8 yards per contest, a figure that ranks the Cocks fifth in the SEC and 38th in the nation in the rushing stats.
Likewise, on the other side of the ball, Muschamp has a number of outstanding playmakers the Georgia offense must account for … players that Smart and the Bulldog staff recruited. Up front, there is potential NFL first-round draft choice, 6-6, 310-pound defensive tackle Javon Kinlaw, as well as senior defensive end D.J. Wonnum (6-5, 260). Then senior T. J. Brunson (6-1, 230) heads a very capable linebacking corps.
Like I said at the start of this prediction column, the Bulldogs should win this football game, climb to 6-0 and then start preparing for Kentucky's visit the following Saturday. But win handily over a South Carolina team that will surely be motivated by Muschamp and his assistant staff to deal Georgia its first defeat? … I'm not so sure about that.
The Bulldogs win but South Carolina easily beats that 25-point spread. Make it Georgia, by 31-17.