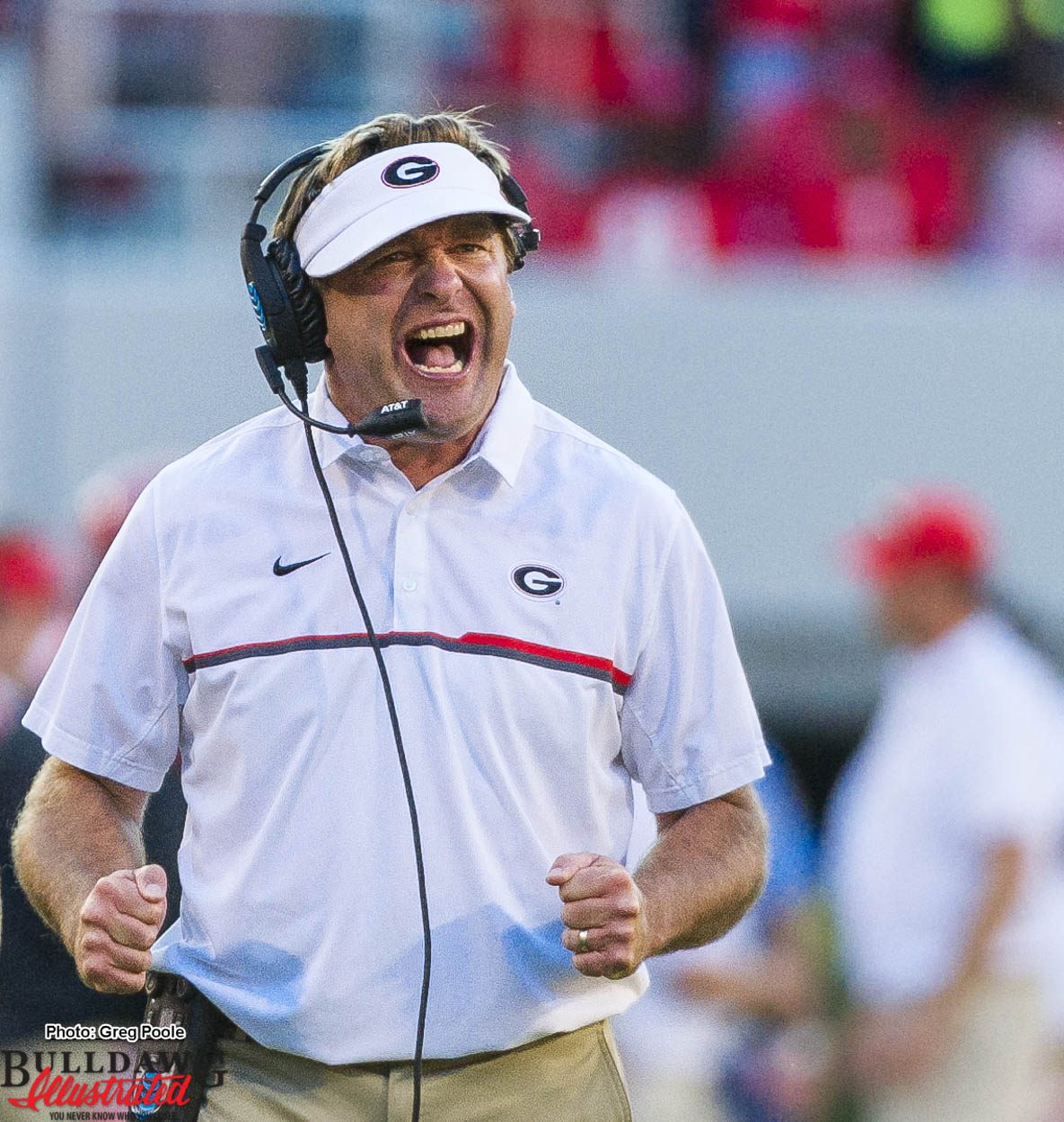 This is not your mom and dad's normal match-up preview. Jeff Dantzler takes a look at the Dawgs vs Gamecocks – the intangibles.


THE FIRSTS
Kirby Smart is in his first season as a head coach, leading his alma mater Georgia. Will Muschamp, a Georgia alum, is in his first year at the South Carolina helm. Smart was a standout defensive back from 1995-1998 and ranks amongst Georgia's all-leaders in interceptions. Muschamp walked on and gave the Bulldogs a physical presence at safety, playing from 1991-1994. In his final season of 1994, Smart was a young redshirt.
Two freshmen will likely start at quarterback, Brandon Mcllwain for the Gamecocks and Jacob Eason for the Bulldogs.
SECONDARY MUST THRIVE
Georgia's secondary will have its hands full with South Carolina's sterling freshman wide receiver Bryan Edwards. He gives the Gamecocks a big play element they sorely missed a year ago, and is a constant source of concern for opposing defenses. Edwards can do it all. He has the size, speed, hands and penchant to make the spectacular grab. Sterling Sharpe, Sidney Rice and Alshon Jeffery rank amongst the Gamecocks all time best receivers, and Edwards has the potential to join that class.
QUIRKY SCHEDULE
Georgia is playing its fourth Southeastern Conference game, the third on the road. South Carolina is hosting a second successive league home game. The Gamecocks first SEC games were on the road. Next season, for the first time since 1939, the Bulldogs will play South Carolina after the annual showdown with Florida. It will mark the first time since Georgia's famed 13-10 victory, as Herschel Walker out-rushed George Rogers, on 11/1/1980 that the two schools will play in November.
WILLIAMS-BRICE DEMONS
It has been eight years since Georgia won in Columbia, as the Bulldogs pulled out a 14-7 knee-knocker in 2008. South Carolina has won the last three at Williams-Brice Stadium, including a maddening/heart-breaking 38-35 loss for the Bulldogs on the last trip in 2014. Most South Carolina fans will tell you that Georgia is their second biggest rival, and any time the Bulldogs come to town, the atmosphere in the swaying stadium on the old fair grounds is off the charts – especially at night. Speaking of night games in Columbia, this season marks the 30th anniversary of one of Georgia's wildest wins in the series when James Jackson laid the ball down after running the final five seconds off the clock.
In those days, the defense couldn't advance fumbles. Georgia prevailed 31-26. Whew.