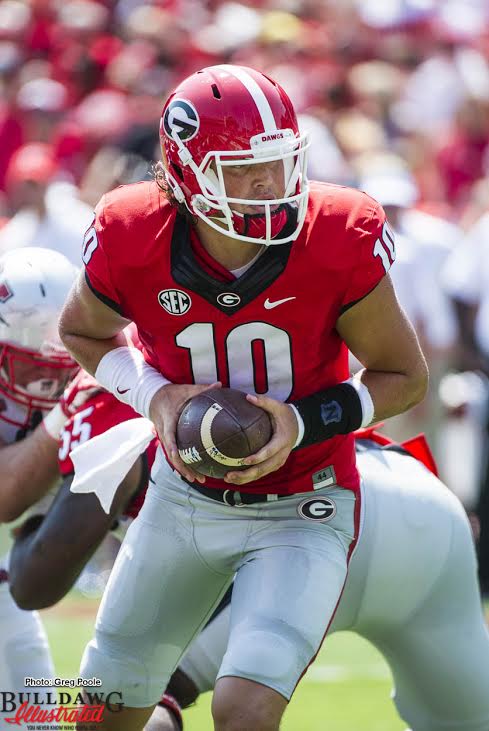 This is not your mom and dad's normal match-up preview. Jeff Dantzler takes a look at the Dawgs vs Volunteers – the intangibles.
DOBBS – THE X FACTOR
Josh Dobbs has had some high and lows and dealt with adversity during his career as Tennessee's starting quarterback. With his big arm, excellent speed, size and running ability, Dobbs is the ultimate "X-factor." If his intermediate throws are accurate, Dobbs is one of the best quarterbacks in the league. Last season in Knoxville, Dobbs had his best performance of the 2015 campaign, leading the Vols to the 38-31 comeback win over Georgia. A Peach State native, he will be looking to shine and lead Tennessee to a second straight "W" over the Dogs. Kirby Smart will have his Bulldogs prepared to see Dobbs at the top of his game.
GO FOR IT ON 4TH DOWN
Fourth down conversions in the red zone could well spell Georgia's success Saturday afternoon. With the woes and struggles of the Bulldogs kicking game, cashing in on fourth downs (if Tennessee forces Georgia there) will be a must, unless a dramatic change occurs when it comes to kicking for three. Think back to 2011 in Jacksonville. Blair Walsh was struggling mightily and the Bulldogs hit a pair of fourth quarter touchdowns to upset the Gators 24-20. Think back to Missouri. Had William Ham made one of the two he missed, what would the Dogs have done on fourth down? Great teams have to trust at least one of the quarterback/ kicker duo.
ANOTHER TIGHT ONE?
This one figures to come down to a funny play.
These teams play close games. In 2011, Georgia won 20-12 in Knoxville. The Bulldogs pulled out a 51-44 shootout in Athens the following year.
Pig Howard stretched for the checkerboards and fumbled out of the end zone in overtime and Marshall Morgan kicked the game winner in 2013. Two years ago, Todd Gurley was spectacular and Josh Dawson got a defensive touchdown, as the Dogs won 35-32. Then last season, a Volunteers' fourth down conversion and subsequent kickoff return fumble recovery ignited the comeback. A would-be tying touchdown pass was dropped by the Bulldogs and Georgia couldn't recover. That's five years in a row that Georgia and Tennessee have played a game decided by one score, including the back-to-back three-point decisions in 2013-2014.
The way these two teams are going, that's a pretty good bet again.