Hey y'all – I was on the YouTube… Thanks to Greg and Bob for having me on the latest episode of "Threading the Needle." You can catch that show on BI's Channel, CLICK HERE. I enjoyed being in front of the camera for once. Not sure I wanna make a career out of it. It is a different format for sure and in attempts to keep the show moving, I refrained from going down the rabbit hole of some of my stats.
But, in prep for the show, I went back to my recruiting metrics and concentrated on the "Net yards per play." I didn't work it into the episode, but lucky you – I'm gonna circle back in a post for you guys.
I tried to make the case back in February that teams that recruit better tend to be ranked higher. This might be a "duh" – but looking at the numbers, it proves that rosters that have a 247Sports' Composite Average of .906 have a high likelihood of being selected by the committee.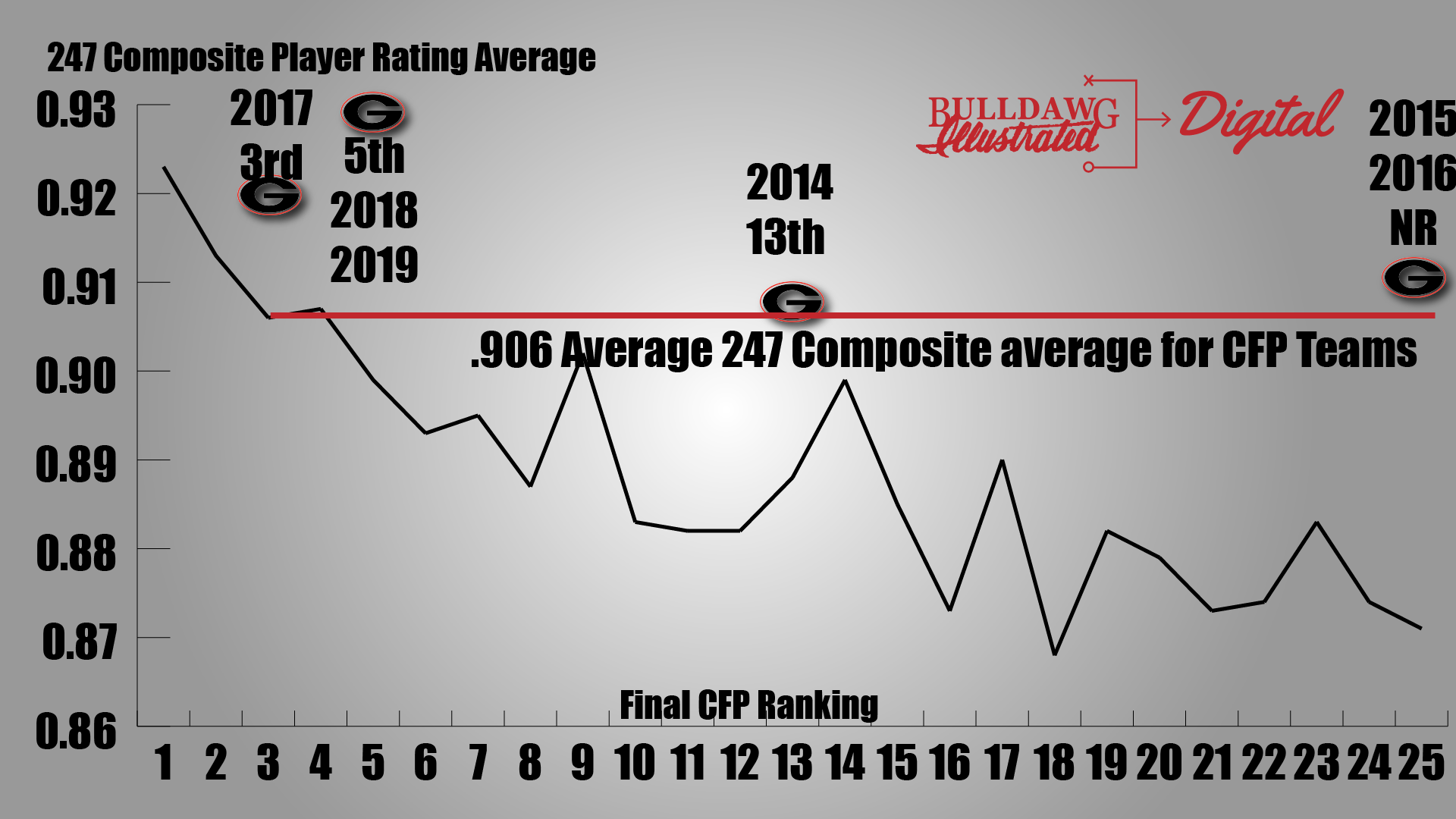 So, now what? UGA has the talent, what is the next step to thread that needle and bring a championship? Well, clearly recruiting is crucial, but a metric that I want to go back revisit shows that talent tends to produce results on the field.. Duh, again
But, the number that is critical is, what I'm calling "Net YPP". Average yards per play on offense minus Average yards per play allowed on Defense. Pretty simple stat. If I lay a similar line of this Net YPP on that same chart as 247 Composite Average you see a similar line.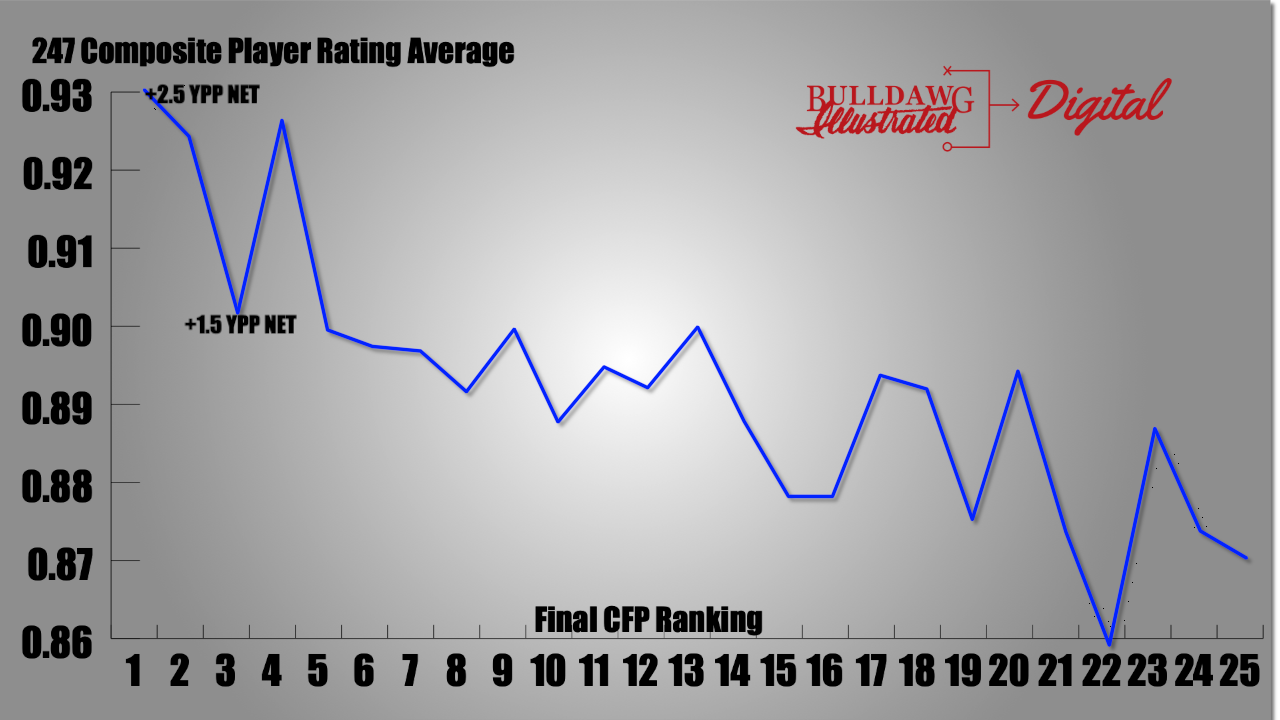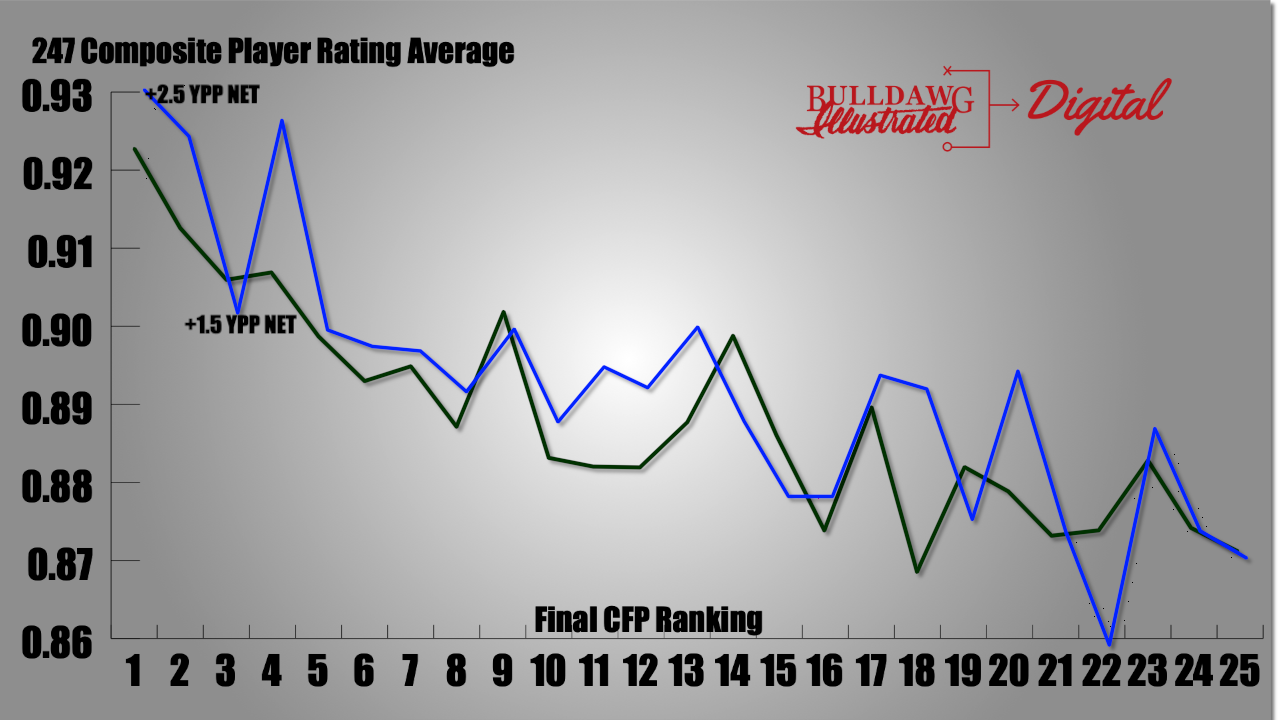 Talent tends to produce a higher Net YPP.
I mean, there it is. You have to recruit a roster with at least a .906 Composite Average and need to produce at least +1.5 Net YPP. Better yet is that fact that only three schools have had a roster of at least .906 and +2.0 Net YPP and didn't make playoff: 2019 Alabama, 2018 UGA and 2017 OSU. 10 of the last 12 CFP teams had at least +2.0 Net YPP (2018 ND and 2017 Clemson – these two teams 0-2 by a combine 54-9)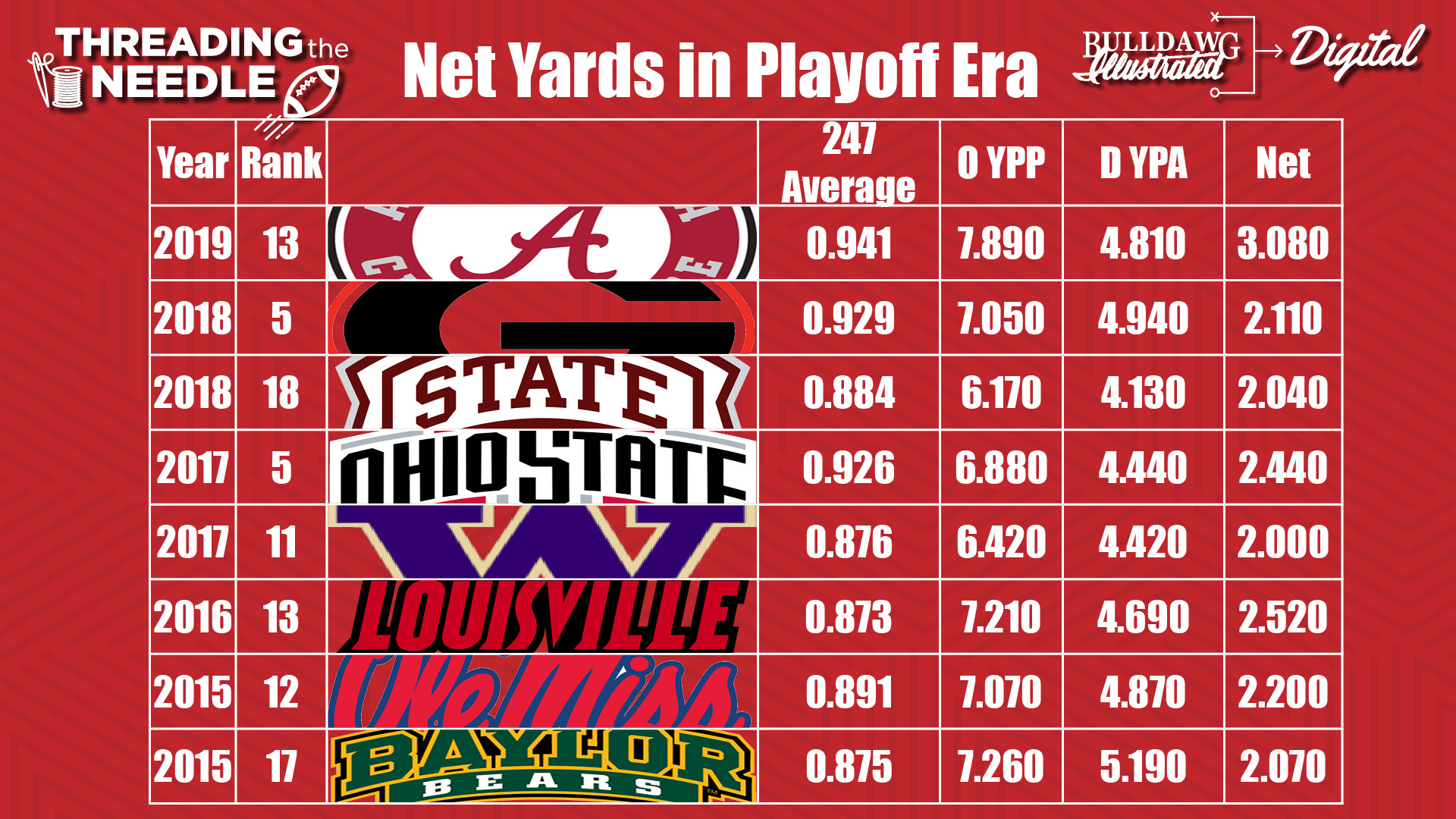 Teams with higher Net YPP are 13-5 in Playoff with 4 Championships. I can even caveat that. 2019 LSU in the Championship Game was one of teams that won with a lower Net YPP. Clemson had a +2.9 Net YPP and LSU was +2.8.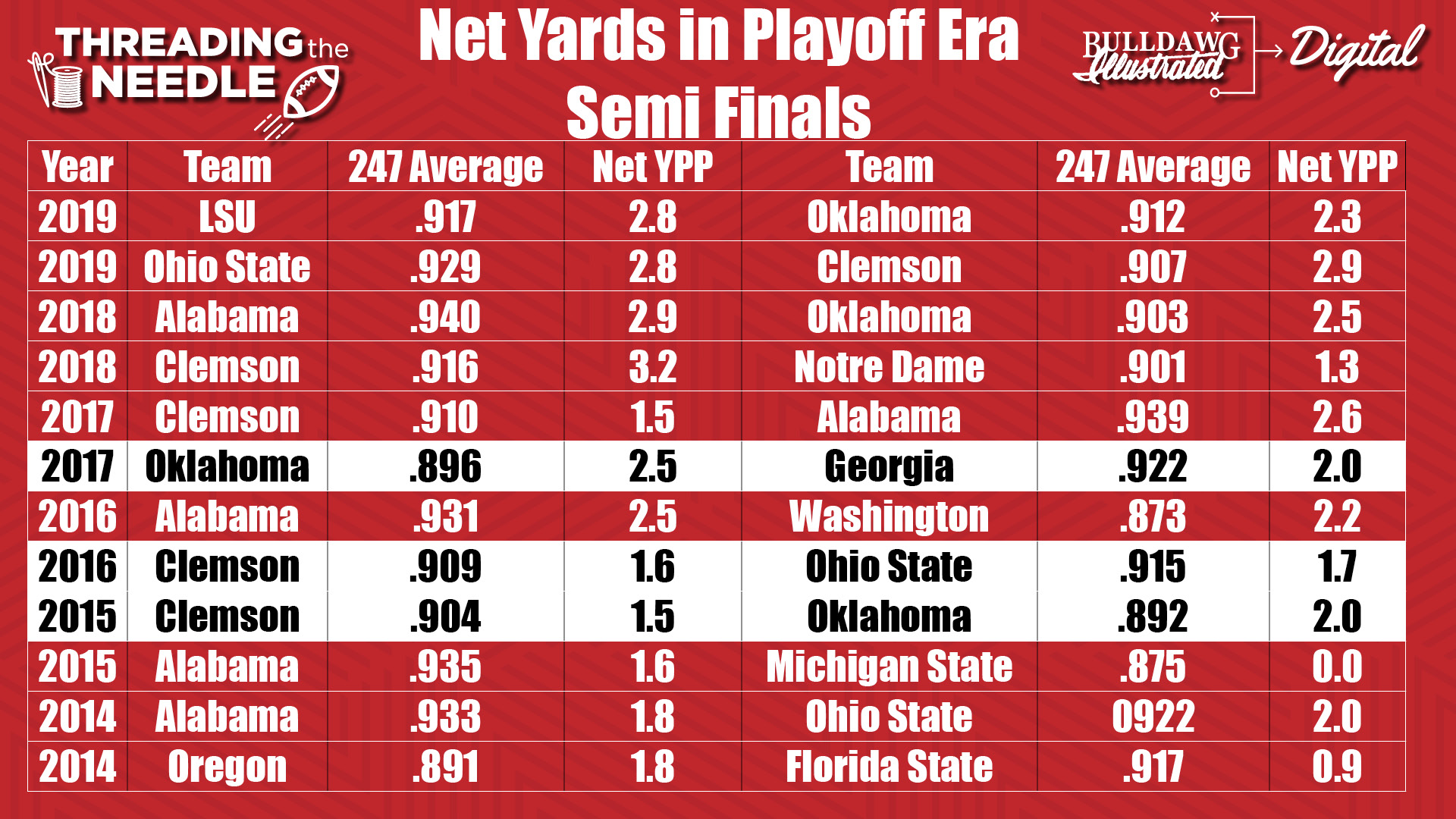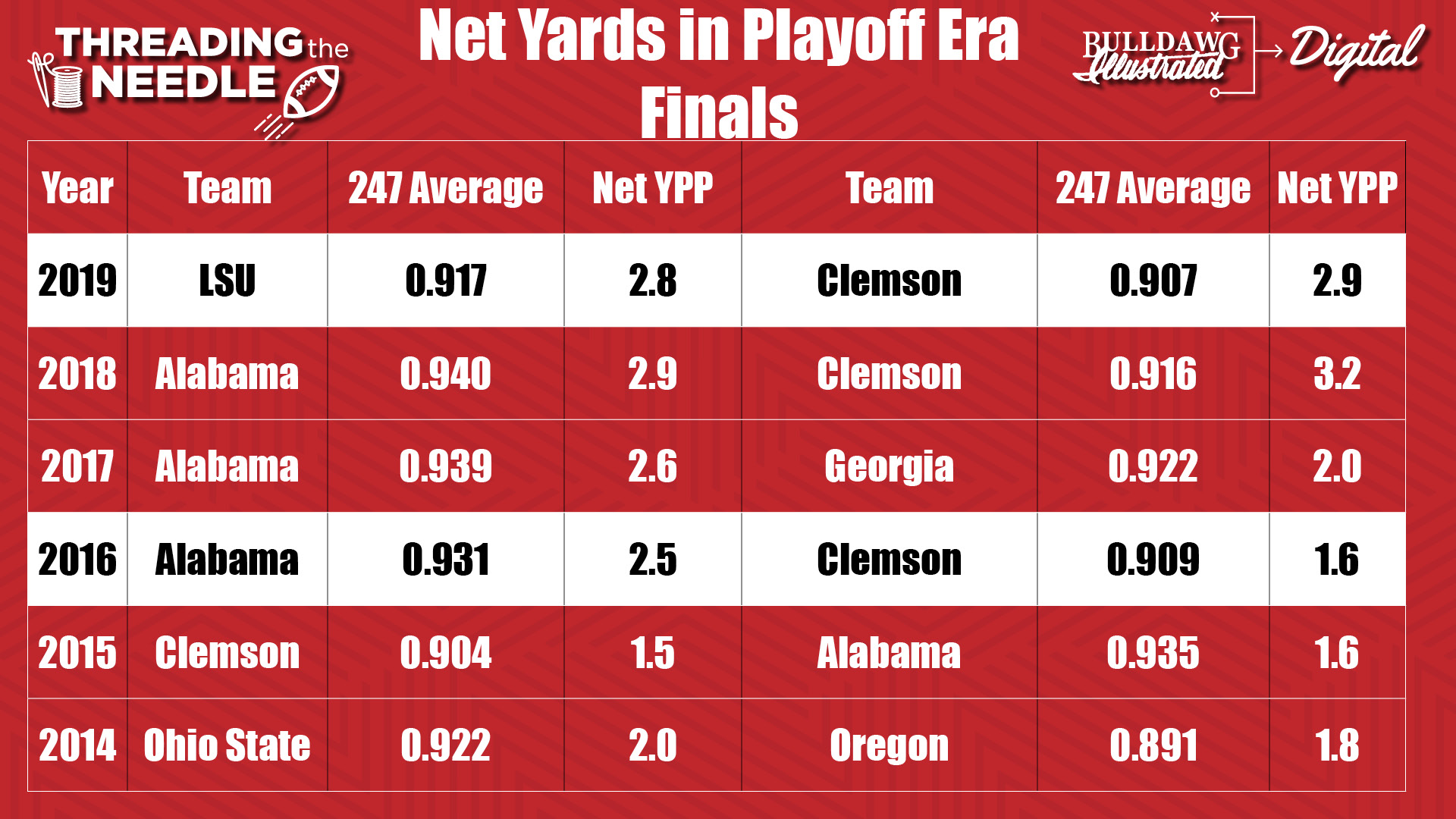 Talk about what it takes to "thread the needle.." Recruit, play offense at a high level, and have a stout defense… UGA is close… real close.