In the preseason, I listened to "The Football Analytics Show" hosted by Ed Feng. In that episode, Ed interviewed Josh Hermsmeyer of @538 and establishtherun.com. At the end of the interview, Josh, in an almost throwaway line, said that the most efficient offenses should pass on 1st down 85% of the time.
Even Ed seemed shocked. That prompted me to look at SEC offenses and 1st Down Passes.
UGA passed the ball 31% of 1st Down Passes in SEC Play, which was in the bottom half of SEC. In 2018 UGA averaged 4.8 YPA rushing and 8.9 YPA passing (66% completion) UGA Ranked 1st in 1st Down Rush Attempts.
Let's break down those personnel groups on 1st down play calls.
UGA has run 126 first down plays, 50 passes to 76 rushes. This is a marginal uptick from last season (38% to 40%). Overall Dawgs are averaging 8.7 yards on 1stDown. The looks and efficient play calling on 1st has to be helping the Success Rate on these plays.
If we are set simply these Personnel as
10 = Pass Look
11 = Base Look
12= Run Look
UGA is clearly showing it will go 4 wide on 1st down with 10 personnel but can run it out of this look, too. And do it with Success.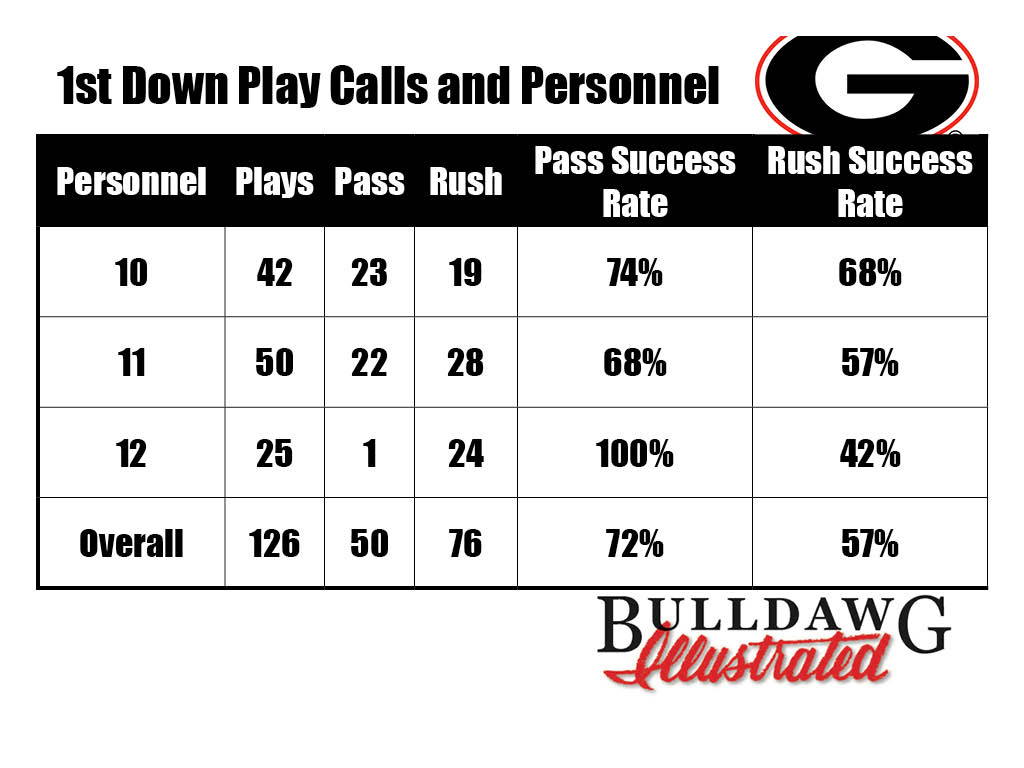 The one time that UGA passed it out of 12 on 1st was a check down to Swift in the Notre Dame game.
I know that a lot of folks in media have expected to "unleash" Fromm from game manager to big-time passer. Fromm is on target on 92% of 1st down passes! UGA at the bottom of attempts on 1st down, but 2nd in YPA and the only team not to allow a sack on 1st Down.
Let's look at the rest of the SEC passing on first down!
Here are some successful plays on 1st down passing
Fromm to Herrien for 12 yards out of 10 Personnel as Dawgs ran tempo in 3Q
Fromm to Cager out of 11 in 2Q for a big gain.