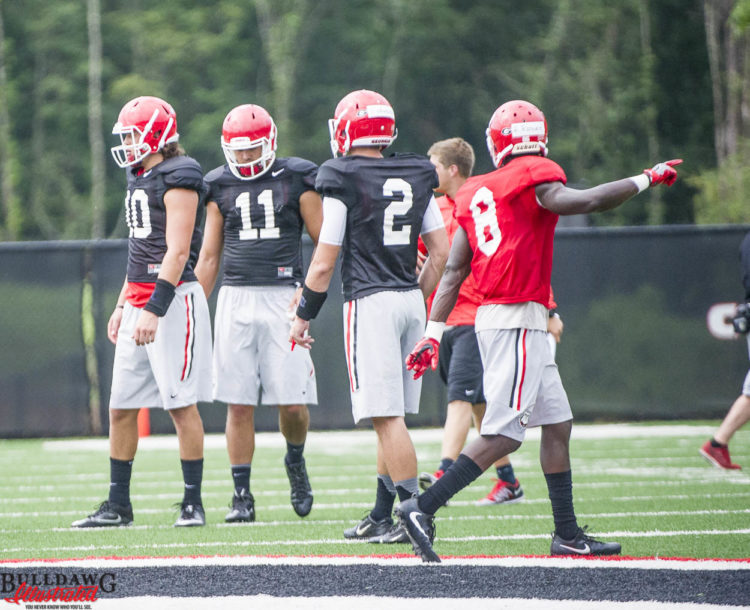 Bulldogs fall practice reached day four and had a much calmer vibe than yesterday and coaches seemed to be more pleased with the player's effort and execution today. A few things caught my eye today including the Bulldogs wide receiver corps and a few guys who were either missing or not able to participate in normal drill work.



Starting with the guys who seemed to be either missing or rehabbing an injury, the list of players for the most part, stayed the same. On the offensive side of the ball, we continued to see Sony Michel and Shaquery Wilson do light work instead of participating in normal reps. However, We did see Wims get back to normal drill work and he seems to be good to go thus far. This pretty much sums up the injury report for the offensive side of the ball, but there were a couple guys missing on the defensive side of the ball.


The two guys that I noticed not participating in normal drills today were defensive tackle John Atkins and cornerback Shattle Fenteng. Atkins is rumored to be plagued with a hyper-extended knee and was not at practice at all today. On the other hand, Fenteng was participating in light work with Michel and Wilson and it seems he may only have tweaked something and does not have any major injury. Fenteng has had his share of injuries during his time at UGA but should be good to go very soon.





Today I saw coach Kirby Smart doing some work with the wide receivers and it gave a glimpse of the wide receiver depth chart. Starting at WR 1 and going four deep it seemed that it was (in order): Terry Godwin, Isaiah Mckenzie, Reggie Davis, and Jayson Stanley. At the number 2 wide receiver spot I saw (in order): Michael Chigbu, Riley Ridley, Kenneth Towns, and Shakenneth Williams.


The intriguing name for me in the depth chart has to be freshman Riley Ridley. It has been reported time and time again that he has been impressive in practice and that must be true for him to be that high on the depth chart. I am expecting great things out of Ridley and would love to see him outdo his brother Calvin at Alabama. That will be a tall task for the young freshman but he has definitely been a very welcome addition to the Bulldogs receiving corps.


If you don't remember, Ridley actually flipped to Georgia from South Carolina and Kirby Smart said that his brother Calvin was a big reason as to why he flipped. If Riley becomes a big-time playmaker for Coach Smart, then Kirby just might have to send a thank you card to his brother Calvin in Tuscaloosa.


On the defensive side of the ball, I saw a Tracy Rocker who was much more pleased with his defensive lineman and I also got a glimpse at some of the defensive backs and inside linebackers. Everything seemed to be running smooth with all coaches today and there were only a few minor problems on the defensive side of the ball.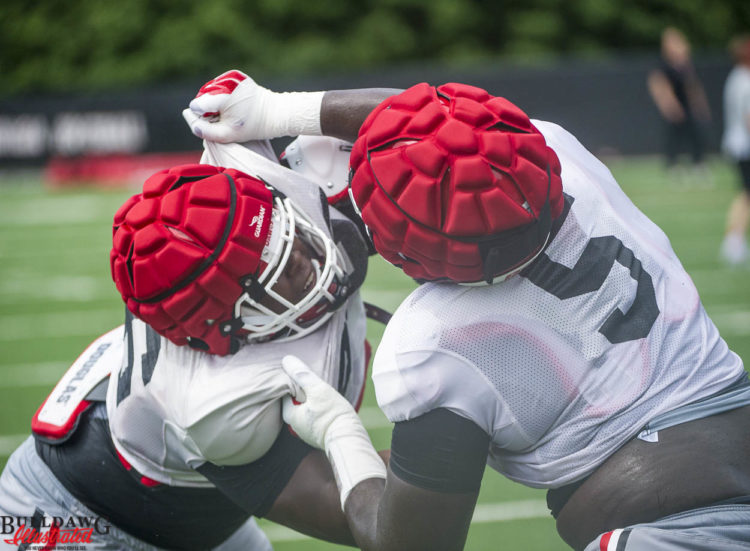 The defensive line looked very good today and every player was impressing Coach Rocker with their technique and ferocity. However, as mentioned earlier, the leader of the defensive line, John Atkins, was missing today. Although it was a negative to have him missing, there were positives in that other players were stepping up. One guy that stood out and seemed to continue to get praise from Rocker was Trenton Thompson, who is poised to have a breakout season for the Bulldogs in a position that has a lot off question marks.


The defensive backs seemed very solid throughout their drills and I did not see a single player drop a ball in their drills which is always a pleasing thing to see with members of the secondary. However, the inside linebackers did have some trouble catching the ball in their drills and it was a struggle that continued with most of the players. It was a very hot and humid day and it is still very early in the practice sessions so there is still a lot of time for improvement to be made with ball skills. Overall the Bulldogs are really shaping up and everything is beginning to come together in some aspects.