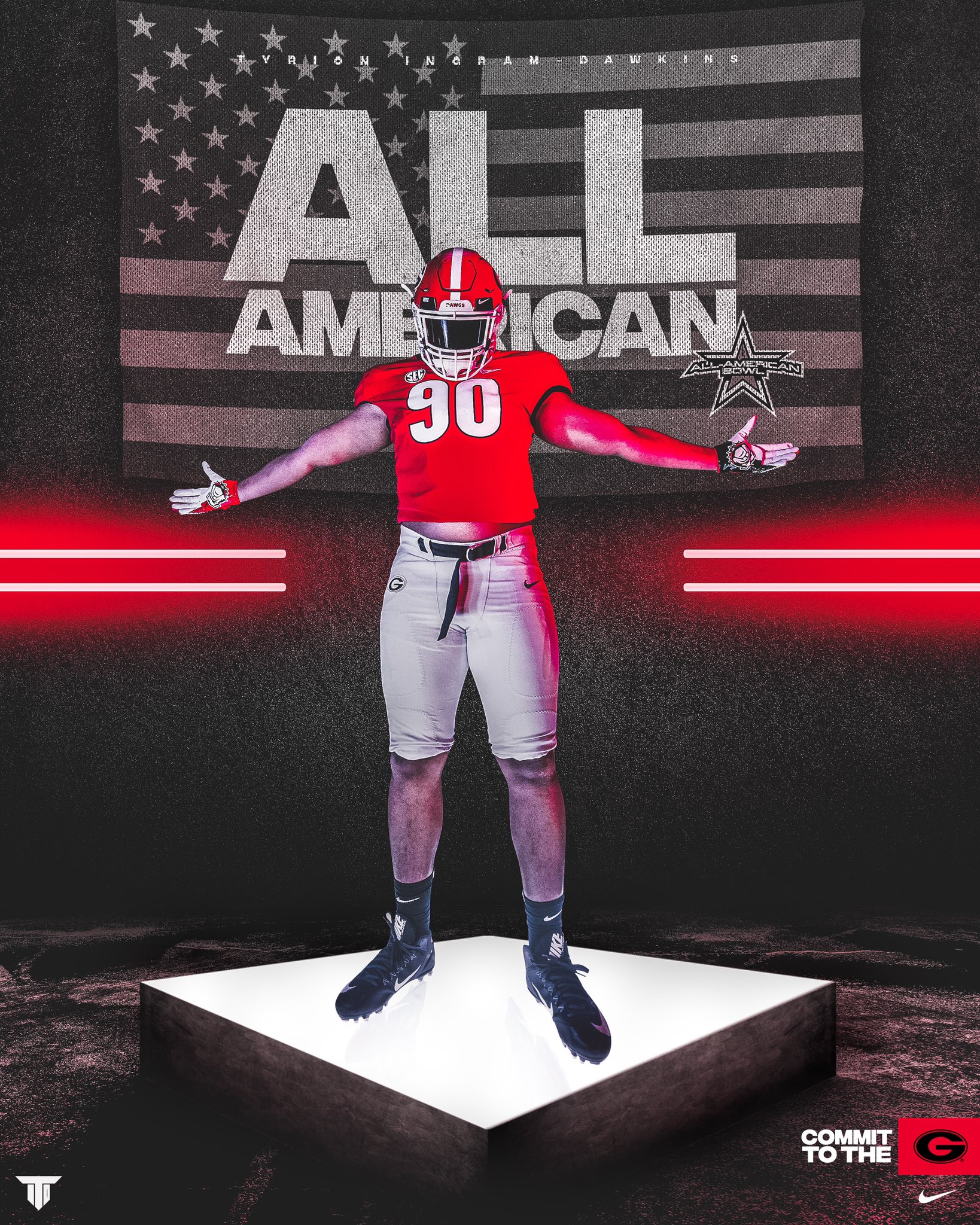 As was predicted, Georgia will play in the Peach Bowl against Cincinnati on New Years Day as part of the New Years 6. Kirby Smart said all the right things of course, including how excited he is about the game being in close proximity to the University of Georgia so that the seniors could get a pseudo last home game so to speak, with theirs having been cancelled twice thanks to the cowardice of Vanderbilt. However, the official announcement of their bowl game opponent was not the only exciting news for the Dawgs. Several members of Georgia's 2021 class arrived in Athens on Sunday.
Amarius Mims, Javon Bullard, Micah Morris, Jonathan Jefferson, David Daniel, Tyrion Ingram-Dawkins, and Jackson Meeks all publically announced on Twitter that they had made their way to the Classic City. While I did not see a tweet in the same fahsion from Lovasea Carroll, it's believe the IMG Academy product has also made it to campus. Carroll joined Amarius Mims Friday night in attending Brock Vandagriff's semifinal game at Prince Avenue.
Of course this is not all of the early enrollees that will be arriving on campus. In fact, Georgia is set to have 16 of their 20 signees enroll early in the 2021. While these new Dawgs that arrived on Sunday won't be able to suit up in the Peach Bowl, they're get the benefit of going through bowl preparation with UGA. The addition of 7 or 8 athletic and talented players to the practices readying Georgia to take on Cincinnati should also help Georgia logistically. As more opt outs occur, it becomes harder depth wise to practice as normal and even get quality scout looks. Having fresh and excited players on hand to take some of those reps will help the Dawgs and also serve as a nice conduit for the 2021 signees to make their first adjustments to Power 5, SEC, Georgia football.
Thanks to the game being in Atlanta, one could also imagine that Georgia has a big advantage in terms of logistics of the Peach Bowl overall. In the midst of a COVID-19 spike in Northeast Georgia and across the country, the Dawgs will be able to keep their travel to a minimum, only having a short bus ride to Atlanta for the game. Georgia can further control their environment and stay in Athens longer than normal if they would like, as it is highly unlikely that the normal bowl gatherings and, or festivities will be taking place in today's COVID conscious world.
Anything and everything could happen between now and kickoff on January 1st. Kirby Smart indicated in his press conference that Georgia players will be allowed to go home for Christmas. As stated before, it's unclear exactly who will be available for the game due to opt out, who knows if their will be positive COVID tests in addition to those. Regardless, the program will get a shot in the arm with the youthful, exuberant, and talent members of the 2021 joining the bowl practices and the current players that will take the field for Georgia have plenty to be motivated about with a quality opponent awaiting them in Mercedes-Benz Stadium.