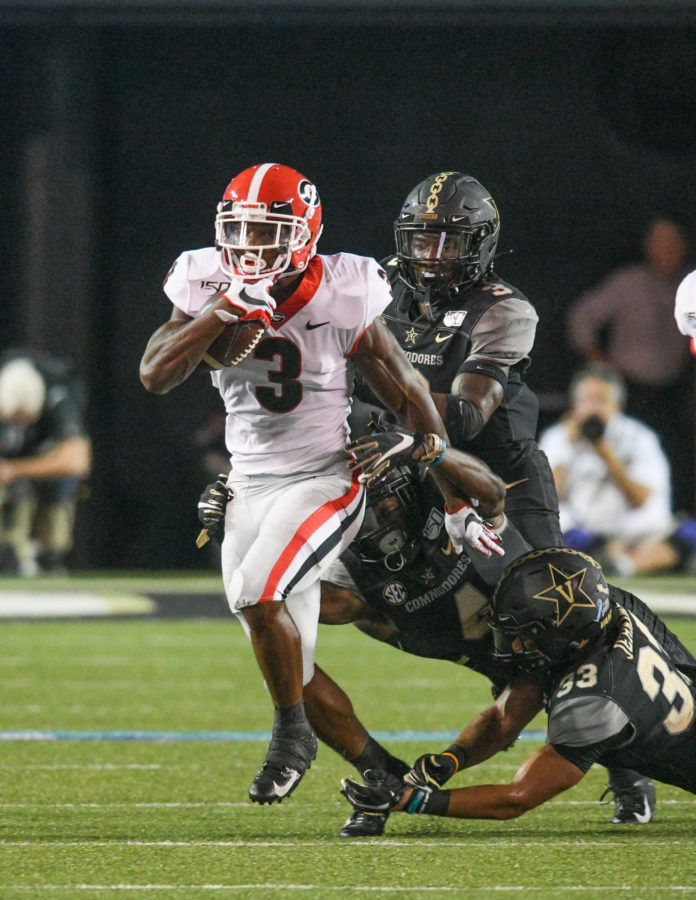 Gameday Thread? Scroll To Comments!
GAME INFORMATION
#4 GEORGIA (-27.5) @ ARKANSAS
KICKOFF – 4:00pm on SEC Network
COMMENTATORS – Dave Neal & DJ Shockley
WEATHER FORECAST – 81%, Sunny, 0% Chance of Rain, 10 mph winds
STORY LINES
FAMILIAR FOES
Sam Pittman and Scott Fountain are coaching against their former squad in their first game with the Razorbacks. Pittman and Fountain were both key parts of the Kirby Smart era at Georgia and both left indelible marks on the program, particularly in the area of recruiting. The new 'Head Hog' has a lot on his plate and an uphill climb to return Arkansas to respectability, let alone SEC prominence. One thing that Razorback and Georgia fans should be certain of is the high level at which Pittman is able to relate to and motivate his players. Pittman, Fountain, and Arkansas are likely to come out fired up early.
QB QUESTIONS
Kirby Smart is once again navigating the start of a season with the quarterback position in question. Whether it be Grayson Lambert & Jacob Easton, Jacob Eason & Jake Fromm, Jake Fromm & Justin Fields, or Dwan Mathis & JT Daniels, this is becoming common in Athens. Kirby has made no bones about promoting competition within his program and subscribes to the theory that a high tide raises all boats, so to speak. However, now it's time Kirby Smart, Todd Monken, and the remainder of the Georgia staff and offense to find the best fit for the 2020 season and make the maligned offenses of the past two seasons a distant memory.
PICKENS AND COMPANY
No matter who the quarterback is, it takes plays being made by a supporting cast to make an offense reach it's full potential. D'Andre Swift, Brian Herrian, Eli Wolfe, and Lawrence Cager are all gone from a year ago. Jake Fromm and Georgia relied heavily on that core group of guys to move the chains and put up the points that the Dawgs did a season ago. The new signal caller will be looking for George Pickens to continue his brilliance from the Sugar Bowl vs. Baylor, but the true question is who joins the extremely talented wide out as a go-to guy.
Georgia brought in 6 scholarship wide receivers in the class of 2020 and in order for UGA to make its way back to the College Football Playoff, it's likely that one or two of these true freshman will be called up on make an immediate impact. Jermaine Burton, Marcus Rosemy-Jacksaint, and Justin Robinson are the three most likely candidates to have success early. Burton, by all accounts and sources I've talked to, has had a monster camp, even drawing praise from the very hard to impress Kirby Smart. Of course, Smart, Monken, and the quarterbacks will look to veterans Kearis Jackson, Matt Landers, and Demetris Robertson to take a leap forward in each of their progressions as well.
THE NEW DUO
James Cook and Zamir White have a lot to prove. Both came in highly heralded and each have had set backs of different forms and fashions throughout their tenures at Georgia. Neither have been needed to carry the load, but rest assured that Todd Monken and his tendency to use two back sets, especially backs with different skill sets (Kareem Hunt & Nick Chubb in Cleveland a year ago), will be looking for major production out of Cook and Zeus. **Keep in mind they'll be attempting to do so behind and offensive line looking to gel and with something to prove**
EVEN MORE DOMINANT
In the SEC Network media availibity this week, I asked former Alabama Crimson Tide and New Orleans Saint safety and current analyst for the network Roman Harper if the perceived stylist change in Georgia's offense could impact their defensive dominance. Harper indicated yes, but not that an offense with more tempo and potentially more pass attempts would lead to more strain of the defense. No, instead he thought that the revamped offense would allow the defense to be more aggressive, to take some more risks because of more confidence that the offense will be explosive enough to erase potential mistakes.
Georgia was historically dominant on defense last year. Points and yards per game were at a premium for opposing offenses, yet Georgia did not create a ton of negative plays and, or turnovers. If in fact Kearis Jackson's prediction from this week comes to fruition and Georgia is explosive on the offensive side this year, then, with the amount of talent and depth that the Dawgs possess, and the confidence of Smart and Lanning to be even more aggressive and exotic in their blitzes and coverages, it could be scary for UGA's 2020 foes.
SUMMARY
My high school football coach used to paraphrase scripture and tell us that to whom much is given, much is required. Georgia is blessed with an overwhelming amount of talent on this roster. In fact, from top to bottom this the most talented roster that Georgia has had under Kirby Smart. Now it's time to put all the pieces together.
We should all simply be thankful that during this COVID riddled year that we are going to see football at all, but undoubtedly the expectations are high for Georgia. This game arrives with great anticipation, but also with many questions that need to be answered. We won't learn everything about the 2020 – 2021 Georgia Bulldogs in Fayetteville, but this SEC road opener will shed light on just how far this team has to go to be able to produce the "much required" for them to truly celebrate the 40th anniversary of the 1980 National Championship with one of their own.
Enjoy the Game 1 Hype video put out by the Dawgs below and join us in the comments throughout the day for our thoughts and perspective on the game.
Game 1 Trailer | For the Love of Sports pic.twitter.com/BDTmcmffbB

— Georgia Football (@GeorgiaFootball) September 24, 2020