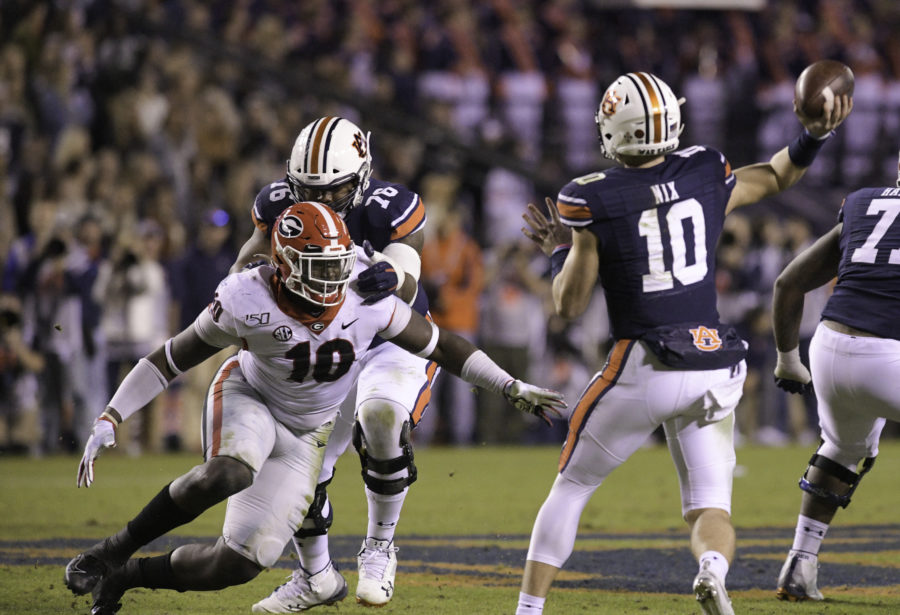 Gameday Thread? Scroll To Comments!
#7 AUBURN @ #4 GEORGIA (-7.5)
KICKOFF – 7:30pm on ESPN
COMMENTATORS – Chris Fowler & Kirk Herbstreit w/ Allison Williams
WEATHER FORECAST – 65 Sunny, 0% Chance of Rain, 3 mph winds
STORY LINES
Not only is Georgia and Auburn known as 'The Deep South's Oldest Rivalry', but it's one that typically serves as a great indicator of what each program's season will ultimately look like. Recently, the series has been dominated by Georgia (12-3 over the last 15 games), and the question leading into this game is will the Dawgs' dominance continue, or is Auburn due?
Struggling offenses and overall sloppy performances are a commonality of the two teams entering Saturday. Both teams were able to overcome lack luster starts to come away from the opening week of play unscathed. While both offenses need to improve in this game, there are different underlying issues for each side.
Auburn has an established and defined starter at the quarterback in Bo Nix, but Nix was less than stellar, only completing 59% of his passes. Also, Auburn could not run the ball at all and Nix was also Auburn's leading rusher with 34 yards on 5 carries. Kentucky won the war in the trenches against the Tigers on both sides of the ball last week, but specifically the wildcats gave Auburn left tackle Alec Jackson fits. Auburn will be looking to utilize their tempo, motions, shifts, and Malzahn branded trickery in order to establish a modicum of success on the ground against Georgia.
Georgia, on the other hand, has some uncertainty at quarterback. Stetson Bennett was excellent in relief of Dwan Mathis versus Arkansas. The former walk-on gave Georgia a spark and displayed poise and confidence. Bennett finished 20 of 29 (69%), and threw for 211 yards and 2 touchdowns and also made an athletic dash to the pylon on a successful two point conversation. I expect Bennett to get the start against Auburn, although Kirby Smart has made it clear that he's not given up on Mathis and in all likelihood Mathis will play some. JT Daniels is medically cleared but his status for the game is unknown in terms of reps during the week with the 1's and his overall comfort level at this point.
Auburn lost a tremendous amount of talent and experience from both their defensive line and their secondary. However, the linebacking core for the Tigers is as strong as any. I believe for Georgia to be able to have success offensively, it'll require Stetson Bennett and the receiving core to loosen up those linebackers by executing in the intermediate passing game. It should be noted that the Georgia running backs began to get some breathing room once Bennett and company started moving the chains through the air. Todd Monken and the offense showed a willingness to throw the ball both down the field and over the middle, and you can look for more of that to put Auburn's star LB's KJ Britt, Owen Pappoe, and Zakoby McClain on their heels.
Georgia's big defensive challenge will be the speed and size of the Auburn wide receiving core. Seth Williams is an elite target for Bo Nix. Williams has a good presence about him, is big, physical, and fights for the football. Williams, mixed with speedsters Anthony Schwarts and Eli Stove gives Auburn a potent group of targets that can make big plays with potential to change the game.
However, Schwarts was shutdown by DJ Daniel last year and Eric Stokes played tremendously as well. Also, Tyson Campbell is healthy and playing well for Georgia at cornerback. Of course Richard LeCounte is always a factor and has 4 interceptions in his last two games and Tyrique Stevenson is tremendously talented for UGA as well.
Check out the full analysis of this game from our YouTube show The Inside Slant. This week's Co-Host was Tavarres King and DJ Shockley was our guest.