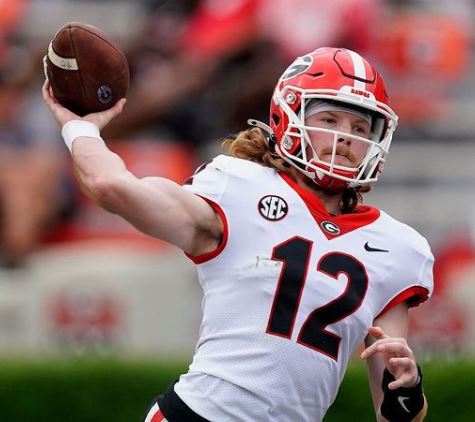 Brock Vandagriff is a special talent. Clearly, if you follow the Daily Dawg Thread here on BulldawgIllustrated.com, you know my opinion of what kind of player Vandagriff is. Also, if you listen to the Recruiting Every SECond podcast, then you know how critical I believe the use of Vandagriff in the 2021 season is to the future of Georgia's ability to recruit 5-Star quarterbacks from now on. Again, Vandagriff is a special talent, and don't just take my word for it. Recently, the former 5-Star prospect from Bogart was named the Georgia High School Gatorade Player of the Year. Now, Vandagriff is getting even more praise heaped upon him, and this time it is on the national scale. Brock Vandagriff has been named 1 of 3 finalists for the National Gatorade Player of the Year.
Vandagriff is joined by 5-Star 2023 quarterback Malachi Nelson and Jaxson Dart, now enrolled at Southern California.
College football is a quarterback-driven world. Fortunately for the Georgia Bulldogs, they're in better shape now in the quarterback room than they have been in a long, long time. The raw talent and potential possessed by Vandagriff and Carson Beck, both as the potential number 2 for the 2021 season, is staggering. However, potential does not equate to experience and readiness to lead a Top 5 ranked team. As stated before, if you follow the content on here, you will know I'm a huge proponent of the Georgia staff having a plan to provide meaningful snaps to Vandagriff. Still, the fact remains that Beck and Vandagriff do not have that element at the moment. Only Stetson Bennett IV has experience, and I'm still of the opinion that despite what any depth chart might say at any point if JT Daniels goes down and a game needs to be won, Stetson Bennett IV is going in the game.
Regardless of how 2021 pans out for Vandagriff, there is no denying his talent and accomplishments at Prince Avenue. The 2020 Single A Private State Champion now has a chance to add to his trophy case if he wins the award of National Gatorade Player of the Year. If Vandagriff does, he will join some elite company as past winners include JT Daniels and Kyler Murray as football players to win, and the likes of LeBron James and Kevin Love overall.
***For more recruiting news and analysis pertaining to Georgia and around the SEC, make sure to listen and subscribe to Recruiting Every SECond my podcast centering around recruiting in the Southeastern Conference and the implications of it. Episodes can be found in the embed player below!***