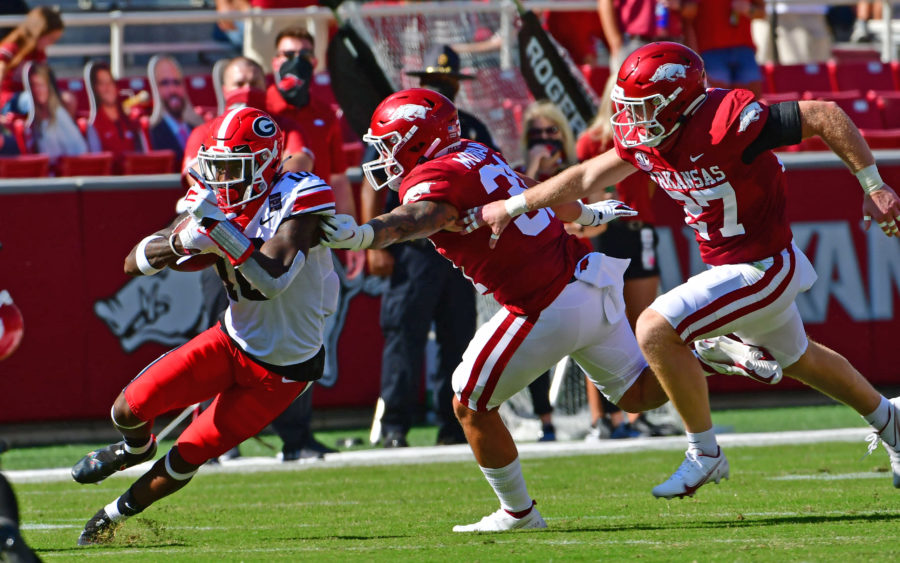 Kearis Jackson, a native of Fort Valley, Georgia and former standout for Peach County, has been either committed to or a part of the Georgia program since August 19, 2017. Jackson has witnessed and, or been a part of the nothing but a winning culture that have been established under Kirby Smart. With Mecole Hardman having moved on to the NFL after the 2018 season, Jackson was poised to play a major role for Georgia in 2019. Those plans were derailed early as Kearis broke his hand against Vanderbilt and also dealt with other injuries throughout the remainder of last season.
Coming into the 2020 season, Georgia was in need of leadership, toughness, and explosive play making ability on the offense side of the football. Throughout the start and stop, on and off, nature of the COVID embattled offseason, reports began surfacing out of Athens about Kearis Jackson. While many wanted to focus on the buzz around incoming freshmen and transfers, it was Jackson that was impressing the men who counted the most, the men in the Georgia program.
Jackson was establishing himself as a player that was the embodiment of the qualities that Kirby Smart, Todd Monken, and company were looking for. Sources I had spoken to were talking up Jackson's positive body language and confidence, his grasp of Todd Monken's offense, and his willingness to lead vocally. Also, Kirby Smart specifically singled out Jackson multiple times in his media appearances as a player that was mature and that the younger Bulldogs looked up to.
Last year and this year Kearis Jackson was and has been selected multiple times to represent the team in media availabilities. If you know anything about the Georgia program and Kirby Smart, the players selected to interact with the media are ones that he trusts to protect the team and represent themselves with dignity. If the first game is an indicator, Jackson is not only talking the talk, but he's also walking the walk.
Kearis Jackson on offense: 'It's all coming together' – Bulldawg Illustrated https://t.co/mmMMtFtyue pic.twitter.com/QId8HdzMtw

— Bulldawg Illustrated (@BD_illustrated) September 23, 2020
The Redshirt Sophomore finished the season opener versus Arkansas with 6 for 62 yards, both career highs, and also returned 2 punts for chunks of 15 and 50 yards. However, the 50 yard return was negated by a penalty. More importantly, 3 of Jackson's 6 receptions resulted in first downs and one of the three that didn't was the first play of the hurry up drive before the half that resulted in a field goal and gave UGA, and Stetson Bennett, some much needed momentum.
With Dominic Blaylock out for the season with a torn ACL and the other freshman wide receivers still acclimating themselves to life in college football and the SEC, Jackson's dual role as a leader and an on-field producer/playmaker will be vital. George Pickens is unbelievable, and everyone knows it. If Jackson can establish himself as a consistent threat with his 4.4 speed that he possesses in his 6'2″ 200 pound frame, then expect the ball to move a lot more fluidly for the Dawgs, as it did from the last drive of the second quarter in the Arkansas game onward.