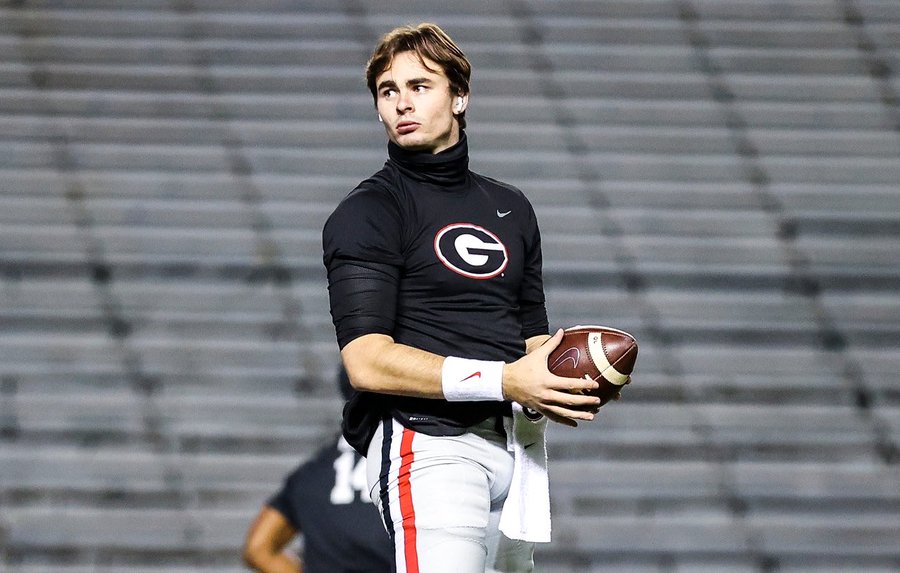 JT Daniels at the quarterback position has the Bulldog faithful and media more excited about the Georgia offense than any time I can remember since 2012 with a dealing Aaron Murray. The 2017 squad of course generated buzz but a lot of that was on the back of Nick Chubb and Sony Michel, with surprising calm and effective play by true freshman Jake Fromm. This is different than both. JT Daniels looks like a outright pro. Daniels has the stature, the arm strength, the accuracy, and the pedigree to be a high round, maybe first round, NFL Draft pick. It's not a matter of if but when Daniels decided to go pro. Today we examine what the 2021 starting lineup against Clemson could look like should Daniels elect to return and man the helm of Todd Monken's offense.
In this scenario JT Daniels would obviously be a returning starting quarterback for Georgia with the compliment of a full offseason to learn, lead, and continue to gel with a young, talented, and deep receiving core. If Daniels does decide that he needs some more seasoning at the college level, or maybe he just wants the full, non-Covid altered, SEC experience, then he and the Georgia receiving core have a chance to do some major damage.
George Pickens, Jermaine Burton, and Kearis Jackson should all be back, providing nothing unforeseen happens in the offseason. Jackson is draft eligible and there is no doubt that he has increased his stock, but there is still some inconsistency in his game that he could be cleaned up in what would be his redshirt junior year. The versatility of Jackson paired with the superstar tandem of Pickens and Burton for a full season with JT Daniels would be something to behold. Also, don't forget that Arian Smith burned South Carolina for a 31-yard touchdown Saturday. Smith, Marcus Rosemy-Jacksaint, Justin Robinson, and Ladd McConkey will all be ready to push for playing time and add depth.
Before the season I would have told you that it was a near lock that Zamir White and James Cook would both be moving on to the NFL. There is a chance that Cook still does, but I believe at this time that White and Cook return to Athens. The dynamic duo, paired with a dangerous passing game could prove lethal in 2021 for opposing defenses. Of course they'd be backed up by Kenny McIntosh, Kendall Milton, and Daijun Edwards. Add Lovasea Carroll and potentially Donovan Edwards in the 2021 class, and Georgia would legitimately have 7 running backs that could play significant roles, possibly start, anywhere in the country. Milton, when fully healthy could push for the starting role and it's possible that plays into White and, or Cook's decision to stay or go this offseason.
At the tight end position, John Fitzpatrick and Darnell Washington will return. Each have played a key role for the Georgia offense this year. It will be interesting to see the development of Washington in the offseason and the growth he shows after the benefit of a full strength and conditioning season and spring practice. Brock Bowers will burst onto the scene as well. I expect him to play early. Bowers is Tre McKitty type player. The Napa, California native is a natural athlete. He's excellent once the ball is in his hands and can really run 6'3″ 225.
Offensive line is where the biggest shakeup will take place. Trey Hill and Ben Cleveland will likely be gone, even though everyone has the option to stay due to Covid rules put in place by the NCAA. Also, Justin Schafer will be gone as he's a senior this season. Look for Sedrick Van Pran to compete with Clay Webb and Warren Ericson for the right to take over for Trey Hill at center. Warren Ericson and Clay Webb are also going to be competing at guard, and Tate Ratledge and Devin Willock will be competing at guard as well. Warren McClendon has played excellent this year and Jamaree Salyer should be returning. It is possible that Sayler gets kicked inside, especially if Broderick Jones takes the leap that the UGA staff expects him to this offseason.
Needless to say, providing that JT Daniels returns to be the straw that stirs the drink in year 2 for Todd Monken's system in Athens, Daniels would undoubtedly a Heisman preseason frontrunner. Explosivity and points should not be lacking in 2021. However, all of this hinges on does JT Daniels return. Lord willing, when that September 4th Saturday in Charlotte rolls around and Georgia takes on Clemson, it'll be a battle of 5-Star quarterbacks looking to lead their team to landmark win to start the season. If Daniels is that 5-Star in Georgia's corner, I like their chances.
https://twitter.com/jtdaniels06/status/1333146594959519744?s=20