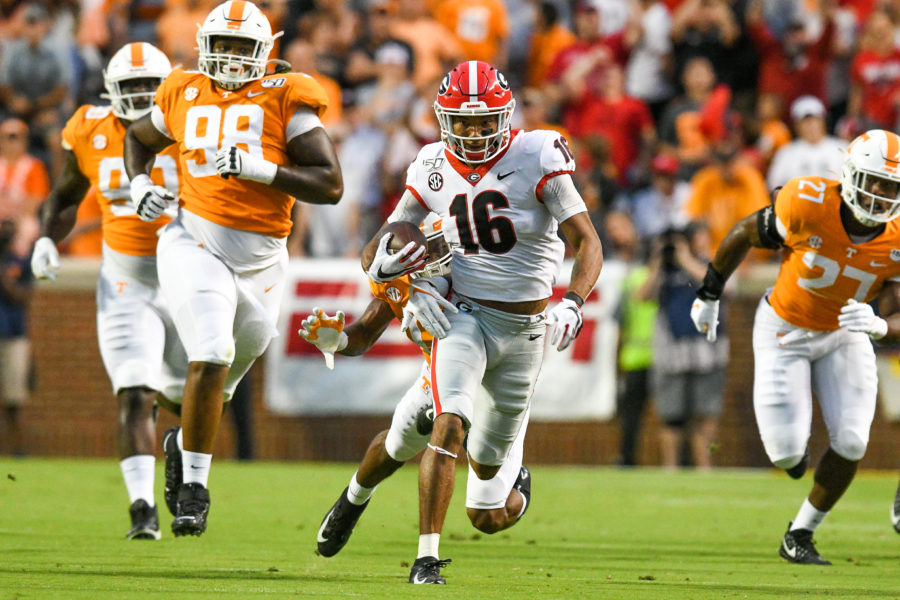 For the first time in a long time, the Georgia versus Tennessee SEC East matchup in football feels like a big game. It's been a long time since Georgia and Tennessee have both been in a winning way at the same time. Recently, Georgia has dominated this contest outscoring the Volunteers 122 to 26 over the last three seasons with an average score in favor of the Bulldogs of 40 to 8 for rounding purposes. Yet, this Saturday that all has the potential to change, well at least in the perception of the "what have you done for me lately" college football media.
While Tennessee is putting together a good, potentially very good, recruiting class in the 2021 cycle, it is not like the talent level of the Tennessee Volunteers suddenly vaulted to that of the Georgia Bulldogs over the offseason. In fact, Tennessee lost a tremendous number of key players like safety Nigel Warrior, the glue guy of that UT defense, and Marquez Callaway and Juan Jennings at receiver. Callaway and Jennings lead the Vols last year with a combined 89 receptions for a total of 1,604 yards. Replacing that kind of production is not easy and that combined with the strength of the Vols team being their experience offensive line probably accounts for UT's running of the football 59% of the time in 2020 so far.
Yes, Tennessee has the second longest win streak in the FBS with 8 straight wins, only trailing Air Force and Notre Dame who are tied with 9. The question is, against who? In the past 8 games the Volunteers have not played a ranked opponent. Also, in those games against unranked opponents, Tennessee is averaging scoring 28.6 points per game and is winning by an average of 12.1 points. Tennessee will do neither of those in this game.
For Tennessee to score 28 points, or even close, the Dawgs will have to turn the ball over a minimum over 3 times or bust multiple special teams plays. Georgia did both of those things against South Carolina last year and still only gave up 20 points and lost by 3 in overtime. No, this Georgia defense is even deeper and more talented than the number defensive statistically in the 2019 season. So far in the 2020 season, against two teams much better than the opponents of the Volunteers to date, the Bulldogs are averaging relenting only 8 points per game and 58 yards rushing.
The UT offensive line with Trey Smith and Georgia transfer Cade Mays are very good and they will come into this contest determined to run the football, but it is just simply not done against Georgia. The front seven for UGA is so deep, so versatile, and so talented, that it is going to be tough sledding for Eric Gray and Ty Chandler to find room. This game will rest solely on the arm and decision making of Jarrett Guarantano for their offense to produce at a winning clip. Bo Nix was the talk of the SEC this offseason and was made to look pedestrian by a swarming Georgia defense. I can see the hype train for Guarantano crashing just the same.
It will be difficult and a challenge for Georgia to run the ball as well. Stetson Bennett IV has shown glimpses of being the type of QB that can lead the Dawgs back to the College Football Playoff, but he needs a solid run game to help. However, it must be noted that Bennett IV's mobility is an added factor for Georgia in comparison to the Fromm era, and he can help himself out in the run game as well. Also, the ability of Bennett IV to beat the blitz and evade pressure when need be has been uncanny throughout two games.
Todd Monken did an excellent job against Auburn of formationing and motioning the defense out of position and creating one on one matchups for George Pickens and Kearis Jackson. That needs to be done early to prevent Jeremy Pruitt's defense from loading the box. If the mailman is delivering the rock on time and securely early, then the numbers game is going to become friendly for Georgia's offensive front and Zamir White, James Cook, Kenny McIntosh, and Kendall Milton could be in for a big day.
When all is said and done, the guys out in Vegas do not make lines to lose money. Georgia is a 14-point favorite and I will take the Dawgs to cover and look impressive doing so.
GEORGIA 28 – TENNESSE 10