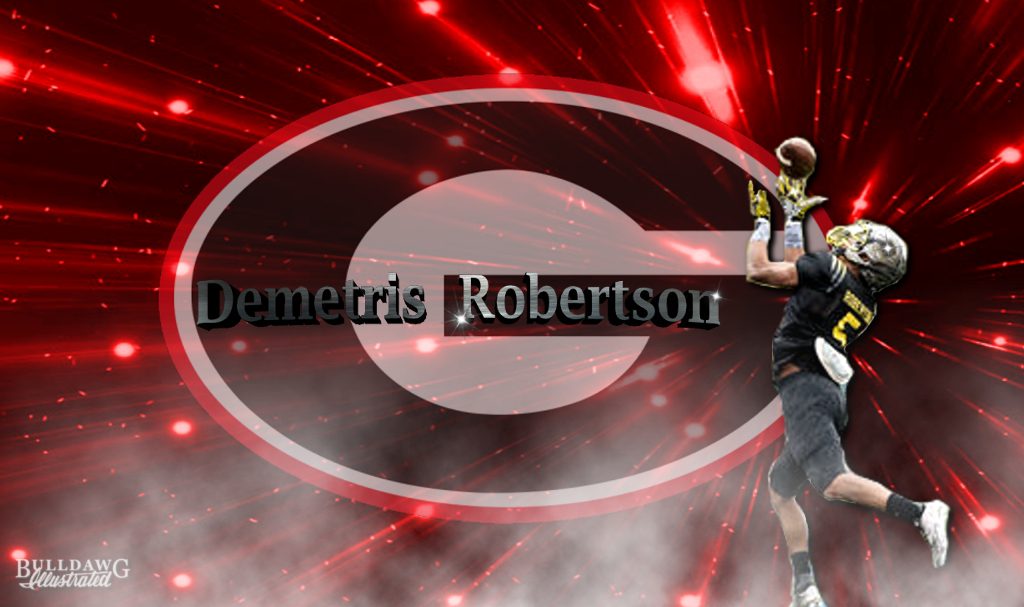 UGA could pick up one more signee for the class of 2016 when Savannah Christian's Demetris Robertson announces his decision at approximately 1 PM ET today from the College Football Hall of Fame in Atlanta, Georgia. His announcement will be carried live by 11 Alive Sports at 11Alive.com, link to live stream provided below.


Considered one of the best wide receivers in the country, Robertson is the top remaining unsigned prospect for 2016. He is rated as a five-star prospect per 247Sports.com's composite ranking system, and he is also rated a five-star prospect by Rivals and Scout.com. His recruitment has been a long process as he has weighed and measured his options carefully, which has sometimes drawn criticism from some fans, but there is no rule that states a prospective student-athlete has to make a decision and sign a National Letter of Intent on or by National Signing Day. Early enrollees do not sign Letters of Intent, but instead usually choose to sign financial aid agreements.


And that is exactly what Demetris Robertson has done, even though he will not be an early enrollee. D-Rob signed financial aid agreements with the University of California, Georgia, and the Bulldogs' in-state rival Georgia Tech. Financial aid agreements are not binding, but they do hold a scholarship for prospects at the schools they sign them with. He could still change his mind after he makes his decision today before he has to enroll at a school, which would usually be over the summer at the first part of June; although, technically, he could wait to fall semester in August.


So … who will be the hat he picks up off the table and places on his head? Which college's name will be in the phrase "I am very proud to say that I am officially committing to the (insert school's name here)?"


The likely candidates are California, Georgia Tech, Notre Dame and UGA, but Stanford could also be a possibility if Robertson made a high enough test score on the SAT when he retook it in March. What about the University of Alabama, a school he was committed to for over 9 months before decommitting from the Tide and reopening up his recruitment in April of last year? The scuttlebutt is that Bama is out of contention, but you can never count out Nick Saban and the powerhouse that is Alabama football.


But I am going to go out on a limb here and say I think he chooses the University of Georgia. If D-Rob does pick UGA and enrolls in June or August with the Bulldogs, that would give Georgia Head Coach Kirby Smart and this new staff a top 5 recruiting class for 2016. Not too shabby. The Bulldogs will be OK if D-Rob chooses to commit elsewhere, and I'll wish him much success and happiness where ever he chooses to go to school for the next several years because a young man getting an opportunity to better himself with a college education is never a bad thing.


---
CLICK HERE
FOR LIVE STREAM
OF
DEMETRIS ROBERTSON'S ANNOUNCEMENT
---