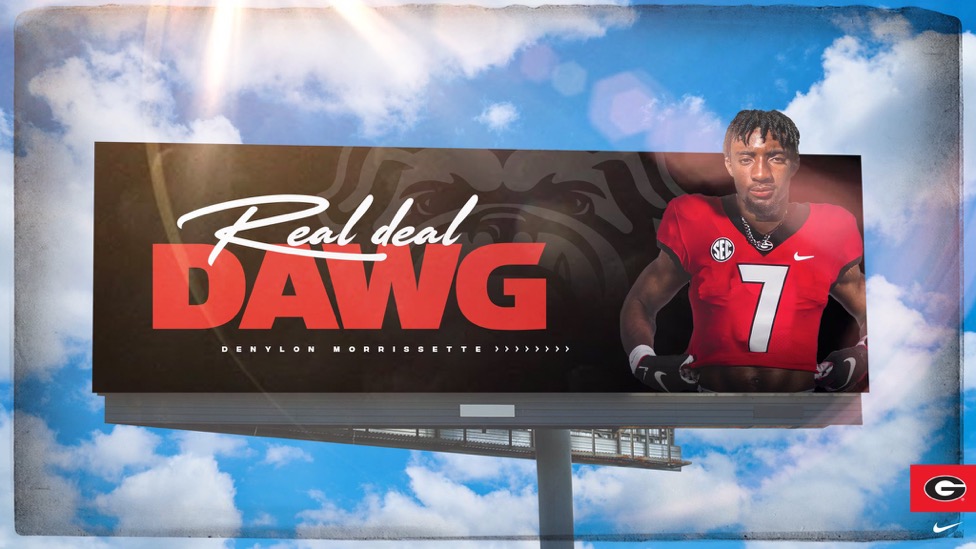 Denylon Morrissette, a 4-Star receiver from Brookwood High School in Snellville, Georgia, has announced his decision to further his education and football career at the University of Georgia. Morrissette is one of the most highly coveted receivers in the country and now is the first receiver commitment for Georgia in the class of 2022. The pick-up for the Dawgs is a huge one in more ways than one. Firstly, Georgia will lose at minimum 3 receivers after the 2021 season, and depth needs to be added. Secondly, Morrissette has the body, the mindset, and the skill set of a true #1 receiver. At 6'1″ 200 pounds, Morrissette is difficult for corners to body up, and he's more skill than linebackers and safeties when moved inside to play the slot.
Morrissette is the 13th commitment overall for Georgia. The Dawgs, already ranked by 247 Sports as having the top 2022 recruiting class in the country before Morrissette's announcement, now have a 9th in-state commitment. The Brookwood High School superstar now joins his Hustle Inc. teammates of Gunner Stockton and Marquis Groves-Killebrew as a Georgia commit and is only the 3rd commitment on the offensive side of the ball. Gunner Stockton and Jordan James, a 4-Star running back out of Tennessee, are the other 2. With receiver being a position of need and priority in this class, Morrissette checks all the boxes in terms of being an anchor for the class and giving Georgia flexibility in the styles to pair with him and his game.
Morrissette is just so physically imposing out on the gridiron. Whether it's bowling through defenders like a running back upon catching a screen pass or using his body to shield a defender from the ball down the field, Denylon makes it apparent how strong he is and how difficult it is to combat such size when there are massive amounts of skill as well. Morrissette can get in and out of breaks with good suddenness and fluidity and is sure-handed to go along with his knack for losing defenders on his routes. All of this made Morrissette a priority for the Dawgs, especially with George Pickens leaving town. Pickens and Morrissette are different in styles to an extent, but there is no doubt that the Dawgs felt a need to add a receiver with size to help fill the void that will be by Pickens once he's declared for the NFL Draft.
As aforementioned, Morrissette plays 7-on-7 with Gunner Stockton and Marquis Grove-Killebrew on Tony Ballard's Hustle Inc. 18u squad. Well, that's not the exhaustion of the talent on that team. Morrissette is just one of the talented receivers that Gunner Stockton has to target. Priority tight end Oscar Delp and receiver Kojo Antwi are also on Hustle Inc., and now Morrissette has to try his hand in some recruiting of his own.
There is no question about it; Denylon Morrissette is a monstrous commitment for the Georgia Bulldogs in various ways.