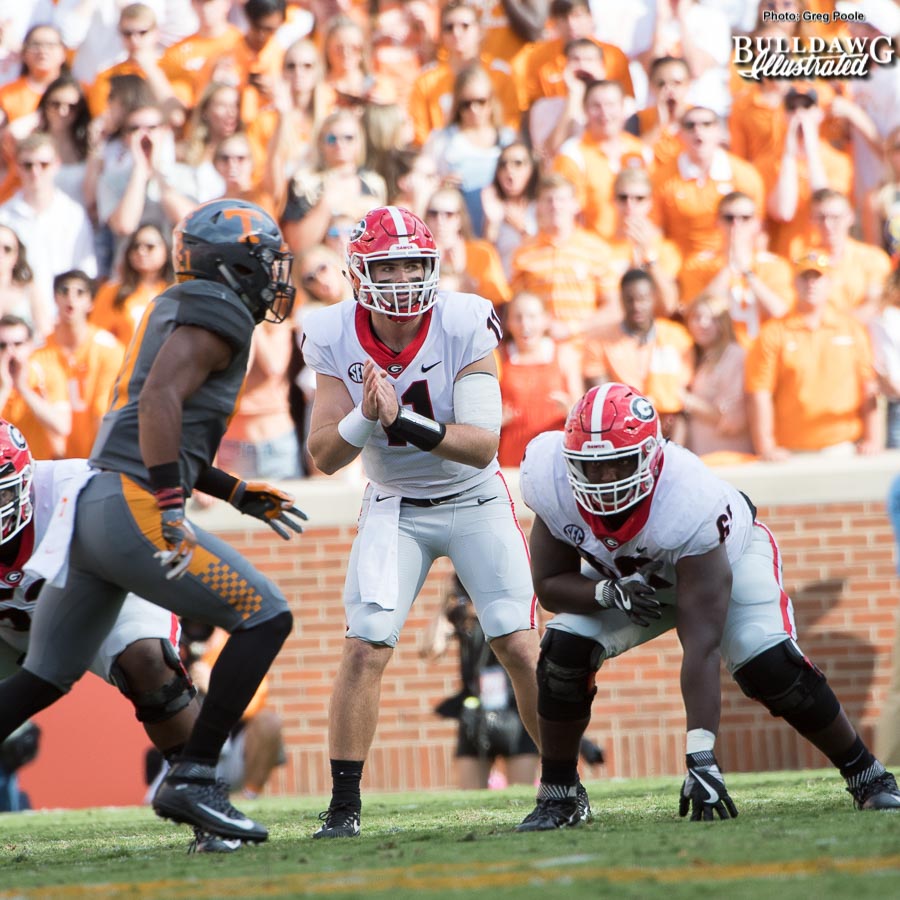 Georgia's upcoming game with Tennessee brings a lot of headlines, but head coach Kirby Smart doesn't read into to all the hype.

This past week Georgia had a bye week, but Smart and his staff got a head start on things for the upcoming matchup against Tennessee this Saturday.

"We'll start off with Tennessee. We worked on Tennessee a little bit last week, as well as some of our future opponents," said Smart. "But primarily on Tennessee on Thursday. I think Jeremy (Pruitt) is doing a great job with the situation he's in. I certainly know this. They play hard. They play physical. You can turn the tape on in the third and fourth quarter and watch how their kids compete, and they play the game the right way."

In Jeremy Pruitt's second year, the Volunteers have had a slow start to the season as they lost their opening game to Georgia State. Tennessee has also lost games to BYU and Florida, and their only win is a 45-0 blowout against FCS opponent UT Chattanooga.

Smart knows that his squad can't overlook the Volunteers, and has stressed to his players that it will be another physical battle.

"You look at last year's game with us, they fought extremely hard, made it a game there in the second half, and the games they've been in this year they've just had a lot of turnovers and their defense has actually forced a lot of turnovers," said Smart. "They've just turned the ball over quite a bit and it's hurt them in some games. But they have a good football team, have a lot of players that we recruited, and have a lot of respect for the coaching staff."
Tennessee's offense is only averaging 26 points per game under first offensive coordinator Jim Chaney, and the Volunteers rank 104th in the FBS in total offense. So far this season, Georgia's defense is one of the best units in the country, but Smart knows if his players don't execute then Tennessee can create a problem for them.

"It's going to boil down to which guy blocks properly, which guy covers properly," said Smart. There's no, like, secrets. I mean we know what they do, they know what we do. But that's the case every week. That's what the tape's for. So there's a lot of familiarity there. And at the end of the day, the players have to go out and execute.

Coach Smart added: "They have to play with a passion and energy and enthusiasm to beat the guy across from him and not make it about what our defensive coordinator calls or what their offensive coordinator calls. I just don't think that matters a whole lot. At the end of the day, it's blocking, tackling, turnovers, explosive plays, executing and doing it with a lot of passion."
Currently, the Volunteers are having a crisis at the quarterback position because redshirt junior Jarrett Guarantano isn't performing up to his full capability. Freshman Brian Maurer has seen limited playing time this season but hasn't really impressed much of anyone yet.
Smart has only seen Maurer play before in a limited role, but did comment on his athletic ability.
"I don't know that I've seen enough. Obviously he's a really good athlete, but so is Jarrett. I mean, they both can run the ball and both do things with that package. I thought he came in and did a good job. The first series he was there he did a nice job moving the ball down the field, and he is a good athlete. We know him from high school and have seen him play."

The biggest question to a lot of fans this weekend is how well will Chaney be able to move the ball against Georgia's defensive front, and what types of plays he will call.
"It will depend, but we're just focusing on preparation this week," said linebacker Tae Crowder (30). "I'm sure Coach Cheney will probably try to mess with our defense a little, try to scheme a little. We're just going to stick with what we know."
As the week goes on, Georgia's defense will prepare for what Chaney will bring and will play with the same intensity level they have played with all season. Georgia takes on Tennessee this upcoming Saturday on Oct. 5th at 7 pm.
Here is the video of Kirby Smart's presser from Monday: