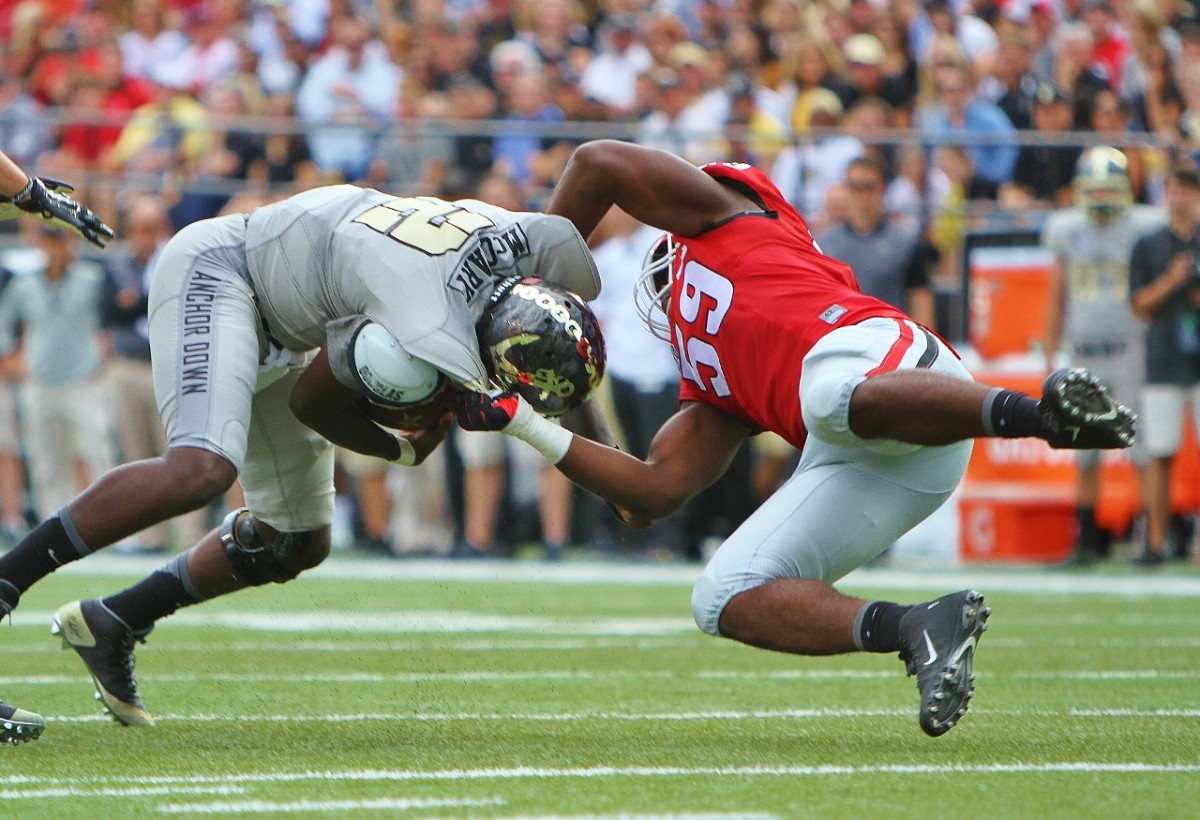 [su_spacer size="20″] Sloppy is the first word that comes to mind when I think back on a chilly afternoon in Nashville. Ten penal-ties for 92 yards is the most obvious evidence of a sloppily played game for the Dawgs. That said, the result was significantly better than Georgia's last visit to Vanderbilt.
[su_spacer size="20″]
Does UGA have the makings of a quarterback controversy? That doesn't make sense to me. If the staff saw better production opportunities with Ramsey, he would be playing. Unless play at the position improves soon, Georgia might be said to have a quarterback vacuum.
[su_spacer size="40″] The fact that Lambert only attempted five passes in the first half, on a team that values run/pass balance dearly, is an interesting commentary. Is it about the quarterbacks, the receivers or did the coaches simply believe that Georgia would run roughshod over the Vandy defenders?
[su_spacer size="40″] Jordan Jenkins was fired up for Vandy. Jenkins made it clear that he was ready for a return trip to Nashville during a media appearance last Tuesday. When asked about the 2013 game he replied, "It sucked." Jenkins had 11 tackles (6 unassisted), 2 sacks and 5.5 tackles for loss – what a day!
[su_spacer size="40″] No Uga! Hairy is great but schools that discriminate against live mascots should be expelled from the league.
[su_spacer size="40″] Is Isaiah McKenzie an exciting returner or what? If he didn't have a perfectly suitable nickname already (Joystick), Waterbug might be an appropriate choice. He scoots around, making people miss and is always a threat to score.
[su_spacer size="40″] Quarterback play was spotty, at best. At least, it appeared that way from the sideline. Lambert had a tough day getting the ball on target. Of course, he also had a run for a touchdown. The first half was particularly rough for Lambert (0-5) but the decision to throw only five times was equally puzzling.
[su_spacer size="40″] Nick Chubb turned in another stellar performance. Chubb rushed for 189 yards on 19 carries – averaging 9.9 yards per rush.
[su_spacer size="40″] Georgia fans owned Vanderbilt Stadium. There was certainly more red than gold in the stands. My guess is about 60% were wearing red and black.
[su_spacer size="40″] The defense played well. Coach Pruitt continues to get playing time for his young guys. The second unit played most of the second half. Pruitt continued to rely on his freshmen linebackers even toward the end of the game as Vandy threatened to make the game close.
[su_spacer size="40″] Lorenzo Carter's targeting call was questionable in my opinion. The quarterback had appeared to be scrambling when he pulled up to throw. Players simply cannot tackle high any longer, however. Officials are going to err on the side of the offense.
[su_spacer size="40″] [su_spacer size="80″]