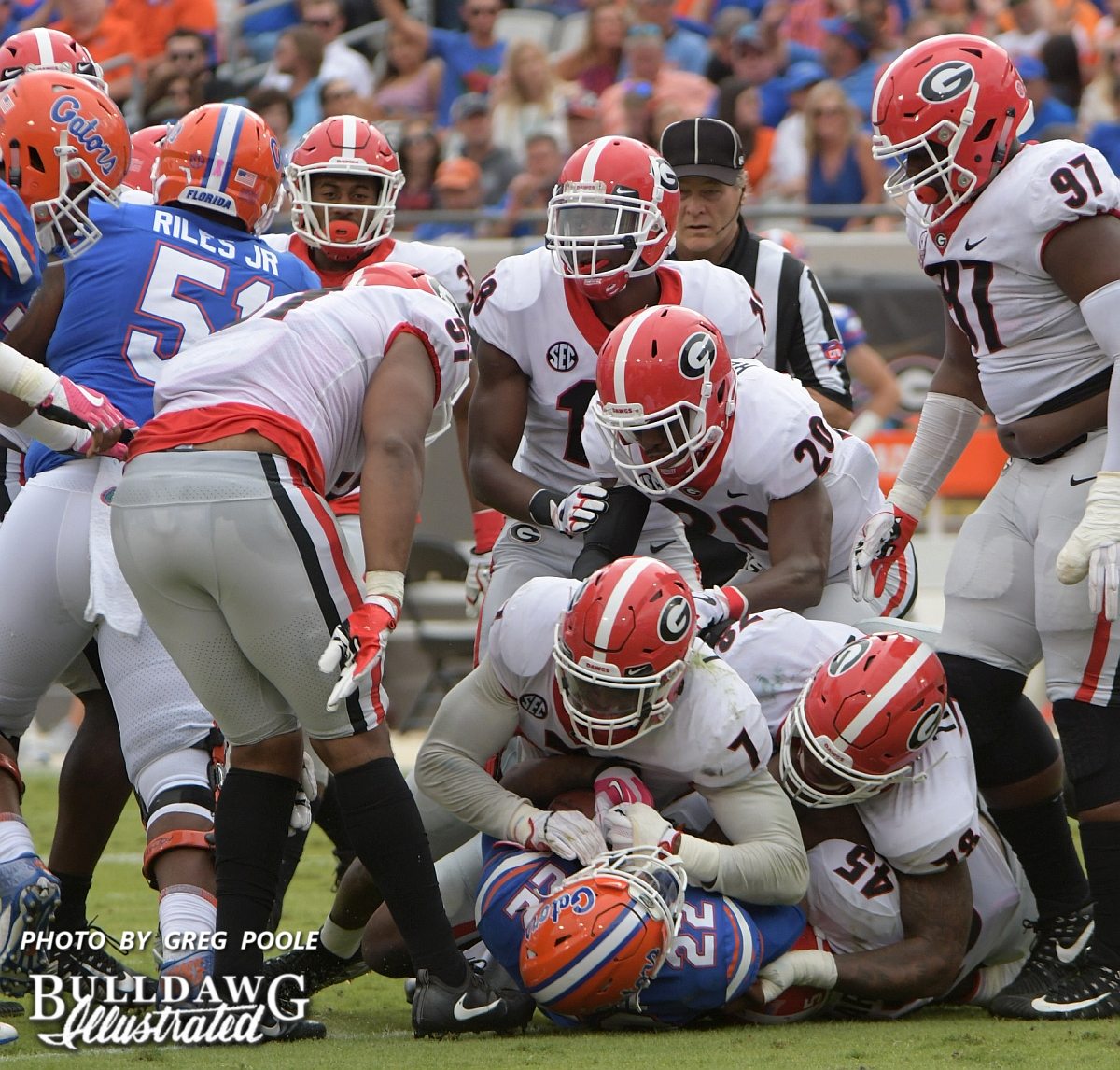 JACKSONVILLE, Fla. – For the first time in four years and for only the 7th time in the past 28 seasons, there were happy Georgia Bulldogs here Saturday as they met with the media in the bowels of Ever-Bank Field.
And for good reason: The unbeaten (8-0) and 3rd-ranked Bulldogs not only snapped their three-game losing streak to Florida but also stomped the Gators to the tune of 42-7. The 35-point margin of victory was the biggest for Georgia since the 1982 season, when the Herschel Walker-led Bulldogs smothered Florida by 44-0.
The Bulldogs, as things turned out, actually put the game away in the first quarter when they roared into a quick 21-0 lead. Following a scoreless second period, Georgia turned up the heat again in the second half, pushing its lead to 42-0 before the Gators finally hit paydirt against the Bulldogs' second-string defense with just 2:42 left in the game.
Georgia simply dominated this one on both sides of the ball. With Sony Michel rushing for 137 yards on just six carries, including touchdown jaunts of 74 and 45 yards, the Bulldogs rolled up 292 yards on the ground and got another 101 yards through the air from freshman quarterback Jake Fromm, who completed four of just seven attempts with one of his completions being a 17-yard touchdown strike to a leaping Javon Wims.
And defensively, the Bulldogs were magnificent. They limited the Gators to just 183 yards rushing, most of that coming late, and a measly 66 yards passing while registering no less than five sacks of Florida quarterback Feleipe Franks. Senior outside linebacker Lorenzo Carter totaled nine tackles on the night with junior linebacker Roquan Smith and sophomore safety J.R. Reed following with eight stops each, with Reed also scooping up a Franks fumble, caused by cornerback Tyrique McGhee, and running across the goal line from the Florida 3-yard line.
Michel said, considering the game he had, he was fine carrying the ball just six times in the victory. (Teammate Nick Chubb carried 13 times and added 77 yards to UGA's rushing total).
"I'm good enough just getting the ball as many times I need to win the game," said Michel "Whether I didn't score two touchdowns or I did score two touchdowns, as long as we win the game, I'm fine."
Michel, playing back in his home state, heaped praise on the guys blocking for him up front.
"The O-line did a great job," he said. "They work so hard throughout the week, they work so hard throughout the season, and those guys are finally playing for each other and playing for this team and are producing. I wasn't touched at all on those runs. Those guys opened up the holes, they did a great job today and I commend those guys."
Roquan Smith said the Bulldog defense really wanted to shut out the Gators and it was disappointing when Florida got its late touchdown.
"We pride ourselves on offenses not scoring because if you can't score, you can't win," Smith said. "When the two's got in there they didn't take advantage of a few things, but it is okay. But we were pretty hot about them scoring. We can clean up a few things and come back to work next week and improve."
Smith said finally taking down the Gators was most gratifying to the Bulldogs.
"It's big time," he said. "Coming down to Jacksonville playing them in a big-time rivalry game and doing what we do, playing our style of football and winning like this, everything else speaks for itself."
Smith said the Bulldogs not only felt they had to make a statement against Florida "but make a statement in every game we play. And Florida was the next opponent on the schedule so we just had to play the style of defense we play and play team offense, and it just feels great to get an awesome victory over those guys."
Smith said getting immense pressure on Franks was a big key for the defense.
"That was big, affecting the quarterback and getting him out of his comfort zone and doing those things that make a quarterback make some ill-advised throws … that's always big."
Senior safety Dominick Sanders drew ever closer to the UGA career interception record when his first quarter pick of Franks put the Bulldogs in business at the Gators' 29-yard line and led to Georgia's second touchdown, a 17-yard pass from Fromm to Wims. Sanders now had 15 career interceptions, only one behind the 16 shared by Jake Scott and Bacarri Rambo.
"I don't even think about my interceptions and the record," Sanders said. "I don't even keep track of them. I just focus on the game plan and go out and execute."
Like Smith, Sanders said the Georgia offense set the tone for the game with its 21-point, first quarter explosion.
"The offense scoring like that in the first quarter took a lot of pressure off us" he said. "It was pretty quick; they had the ball for like a minute and a half and we were back on the field so it's always sweet being out there and the offense putting up yards and points like that.  But that was big, the offense scoring like that. I congratulate the offense for coming out and dominating them and that's one thing the offense has a standard on, just coming out and punishing the defense from the start, being more physical and running the ball," Sanders said.
"This win was special, this is one team you try to relate to, just come out and dominating like this," he declared. "Last year, we had a problem with them and we thought about last year during the week but we told ourselves we can't think about last year. We've just got to focus on day by day and execute our practices, study the game plan, watch film and do things right off the field. And good things come to you like that.
Head coach Kirby Smart, as one would expect, was pleased with his team's dominating performance but, as always, he said the Bulldogs played far from a perfect game.
"I thought we came out with a really good demeanor and a good attitude," Smart said. "Throughout the game, the kids had a really good focus. They were not distracted by streaks and those kinds of things. They focused on the task at hand and got it done. Our offensive play, I think that speaks to a few things — first a great game plan by Jim Chaney. It was also a commitment from the offensive line. I think it surprised them early and we shocked them a little bit, so it was good to see that.
On the Bulldogs' getting their first non-offensive touchdown of the season, Reed tallying the touchdown on the Franks fumble caused by McGhee, Smart quipped, "It was long overdue. We've been close several times this year. We've been emphasizing it and Coach (Mel) Tucker and the staff do a tremendous job. They show them non-offensive touchdowns from the SEC every week. You see everybody else score but we haven't been on there, now we'll be on there. The guys will see it in the meeting room and really get jacked up.
"We want to play to a certain standard all the time," Smart said. "Every possession is an opportunity to get better. Defensively, you have to tackle better. Offensively, it's more about execution. We show them the things they do well. Then, we show them the things they did not do well. We have an opportunity to get better, and we will continue to improve down the stretch."
The Bulldogs, expected to climb to No. 2 in the national polls following second-ranked Penn State's one-point loss to Ohio State, now get ready for next Saturday's 3:30 p.m. home date with the South Carolina Gamecocks.
---
Recent Articles by Murray Poole
[pt_view id="2fb799183g"]