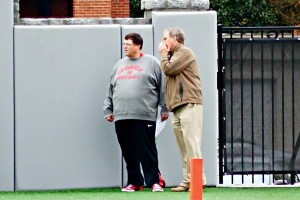 Thousands of words have been digitized formulating arguments suggesting that Jacob Eason will immediately star in Jim Chaney's offense or, to the contrary, that Eason should be spared the trauma of a baptism by fire in the SEC as a true freshman. Regardless of one's position on that question, Eason does appear to be perfectly suited for the type of attack that Chaney's 2015 Arkansas
offensive powerhouse used
.
First, read this breakdown (below) of Chaney's offense from Ian Boyd (h/t
Get The Picture
).
http://www.footballstudyhall.com/2016/2/17/11024214/how-arkansas-razorbacks-finished-no-1-in-offensive-s-p-hunter-henry-bielema
Did you notice this video of a play-action rollout pass that Chaneys likes to use? His run-based offense makes it particularly effective.
https://youtu.be/9a3Sq2Sc-1E
Now take a look at Eason's senior highlights. Although most of his throws are from the pocket, there are several examples of his ability to throw on the run (rollout).
http://www.hudl.com/athlete/2018903/highlights/320226391
Will Eason be ready in September? I don't know but based on his high school film he will be a perfect fit for Chaney's offese when he is ready.