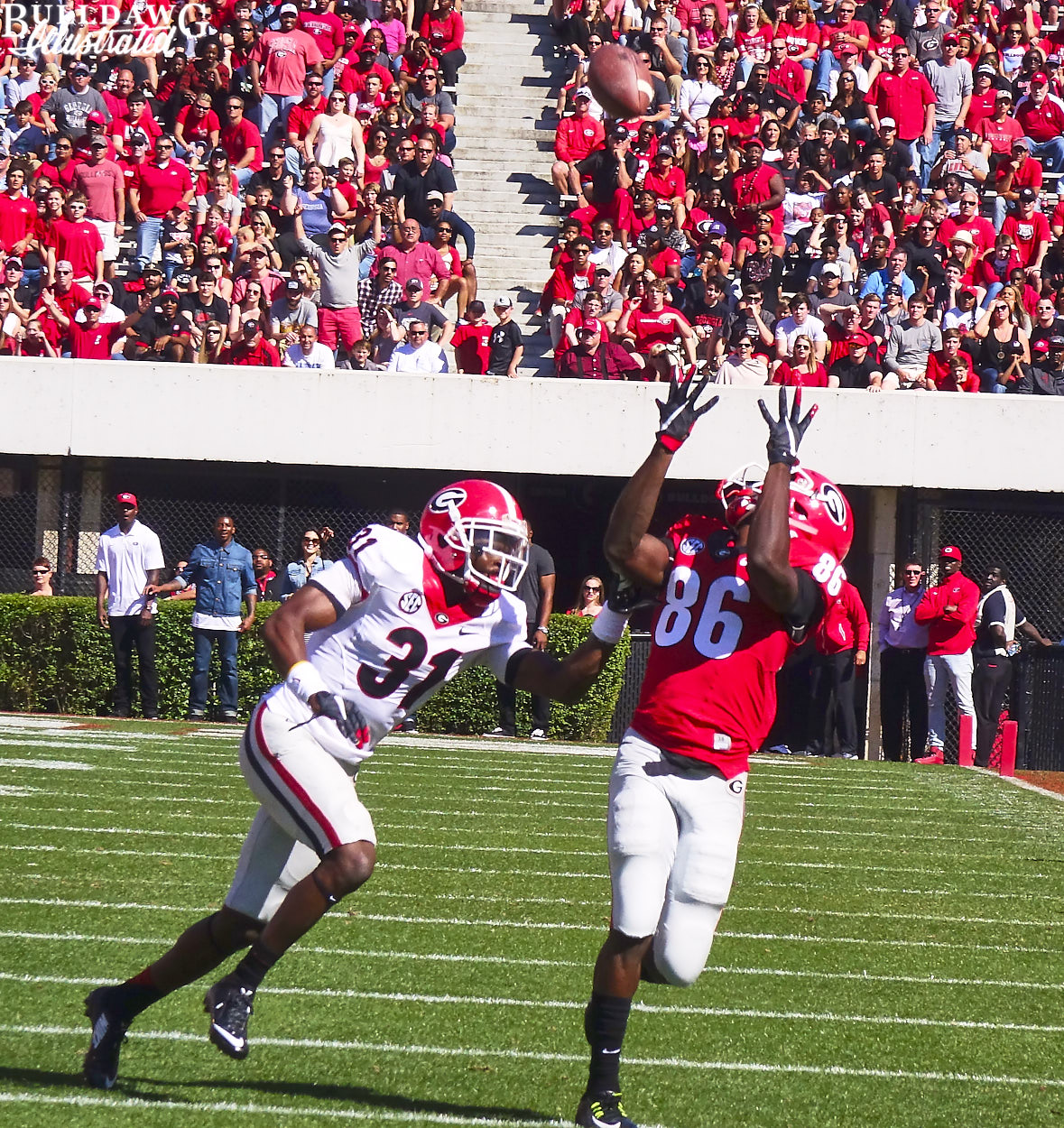 #8 – Terry Godwin Has 1000 Yards Receiving – UGA has not had a 1000-yard receiver in a single season since Terrance Edwards in 2002.  A.J. Green came close a few times but couldn't quite get it done.  Godwin runs great routes and has fantastic hands.  He will benefit greatly from improved QB play.


#7 – D'Andre Walker Leads Team in Sacks – Walker is a pass rush specialist at this point in his career but you can be very productive in Coach Smart's defense in that role.  Just ask Tim who finished last season with 9.5 sacks.


#6 – Natrez Patrick 100 Tackles & 5 Sacks – Patrick is one of UGA's best football players on defense.  With his combination of size, strength and burst he will be stout against the run and could likely see some time blitzing off the edge.


#5 – UGA TE's Combine for 80+ Receptions – Last season, UGA's TE's only caught28 passes.  This season with more competent QB play and better play calling from Jim Chaney they will be much more involved in the game plan.


#4 – Mecole Hardman has 1 Receiving TD, 1 Kick Return TD and 1 INT Return for TD – Mecole Hardman is electric with the ball in his hands and will probably have at least a limited package on offense.  If he gets in the open field with the ball in his hands it's like iMac 2.0.


#3 – Sony Michel 1200 Yards Rushing and 500 Receiving – Michel is one of the most dynamic and versatile athletes in the country.  Chaney is known for getting the ball in the hands of his best players so that means Sony will see a lot of the ball.


#2 – Jacob Eason Throws for 3000+ Yards – I'm convinced UGA is going to roll with Eason barring any unforeseen setbacks.  He throws a fantastic deep ball and when he gets in rhythm his accuracy is scary good.


#1 – Nick Chubb runs for 200+ Yards vs. Tennessee – With the Vol's being the Bulldogs 5th game of the season Chubb could very likely be rounding back into form.  You know it will be his personal mission to punish the Vol's and when he puts his mind to something it gets done.  Chubb leads the Dawgs to an upset victory.