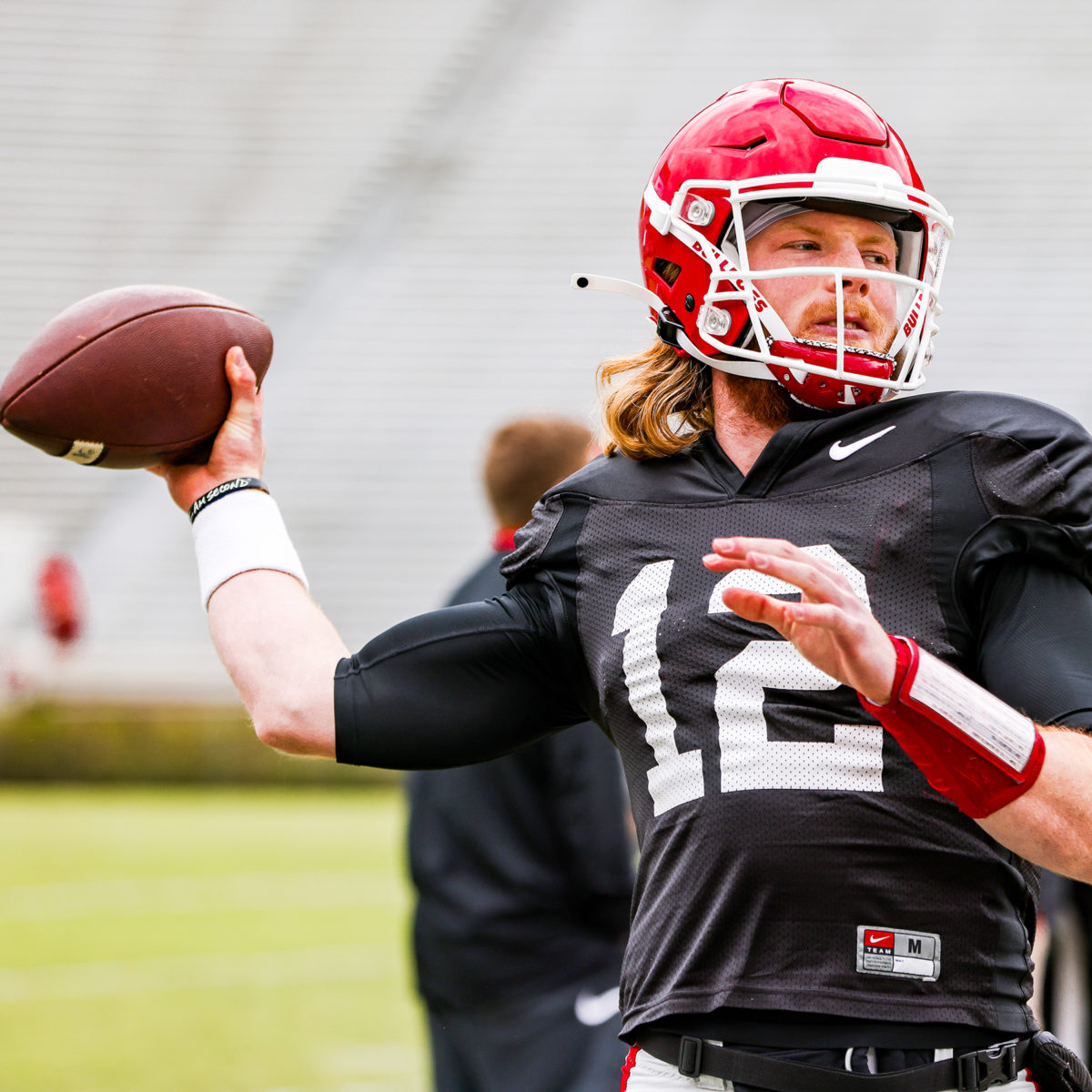 Spring practice is the time for teaching. Coaches spend the 15 practices and intervening days teaching each position group, starting from the basics. On the other hand, players have the opportunity to refresh and expand their grasp of the necessary football skills. One might expect Spring practice to be all about one-on-one smash-mouth drills, but Kirby Smart's program is also vitally interested in developing leadership skills. The national title class has moved on, but their leadership legacy will remain a part of Bulldog lore and serve as a model for future classes. Here are eight players who have created waves this spring..
1 Carson Beck:
This one was unexpected (by me, at least) when Spring Drills began, but Carson Beck has been an unexpectedly big name this spring. After all, coming into the year, Beck had completed just 10 of 21 passes for 176 yards – recording two touchdowns and two interceptions. However, the staff has given the young Jacksonville native his shot this year, and reports indicate he has responded to the challenge. G-Day could be his public turning point.
2 Brock Vandagriff
Sticking with the quarterback room, Vandagriff is in an exciting position. With upperclassmen Carson Beck and incumbent QB Stetson Bennett seemingly ahead of him in the rotation, Vandagriff has impressed observers this spring. One comment that I have heard from multiple sources is that he has shortened his release, resulting in both increased accuracy and velocity on his throws. The contest between him and Beck is one of the most interesting on the roster and may result in one of them transferring before Fall Camp.
3 & 4 Kenny McIntosh and Kendall Milton
I have listed the KMs together because they are the most likely successors to James Cook and Zamir White. Milton missed six games due to injury last year before returning for the Orange Bowl. He averaged 4.7 yards per rush in 2021.
Rising senior McIntosh played in 14 of 2021's 15 games and started against Tech. He averaged 5.7 yards per carry on 58 attempts and scored three TDs. After waiting behind Zeus and Cook, 2021 should be the year for McIntosh to be the featured back.
5 AD Mitchell
Rising sophomore Mitchell played in all five of 15 games in 2021. He had 29 catches for 426 yards and four touchdowns while leading Georgia receivers' snap count. When asked about the team's remaining wide receivers at Georgia's 2022 Pro Day, no less an authority than George Pickens said: "It's like, some stuff you can't coach. That's really part of it. He's got the skills, he's got the mindset, the routes, the speed. I mean, he's got it all. So he probably is the next upcoming, and I'm glad that he got to see me before I left so he can kind of understand."
6 Kelee Ringo
Mr. Ringo firmly established himself in Georgia lore by ignoring Kirby Smart's instruction to "get down" after his game-sealing interception in the National Championship game. During the 2021 season, Coach Smart made the following comment about Ringo, and Kelee appears to have accepted the challenge: "I'm proud of Kelee. Kelee's come a long way," Smart said. "I'm very pleased with where he's come. I'm proud of the way he works. He's gotten a lot tougher, contact tough, and he's gotten a lot smarter in terms of understanding our defense. But he still has a ways to go. He will be a leader on this team, because he's going to be a guy that has a lot of experience."
7 Jalen Carter
The defensive line suffered attrition that would have crippled most teams for several years. Still, every year, Kirby Smart signs outstanding linemen, and a new crop of talent will try to uphold the tradition of exceptional defensive line play in 2022. Jalen Carter will be a front seven leader. Carter played in all 15 games last year, starting two. In quarterback pressures, he was second on the team and received credit for two sacks. He has all the tools and experience to replenish some of the leadership that moved on after the National Championship winning season.
8 Chaz Chambliss
Chambliss looks like a football player, and he reminds me of the old Green Bay Packer Ray Nitschke. I'll bet a game photo of Chambliss with a crumpled band-aide hanging from his bloody nose as he waits for a snap will go viral during the 2022 season. Any freshman inside linebacker who can compile six solo tackles and five assists while playing on a team with the best inside linebacker unit in the country has to be a player to watch.