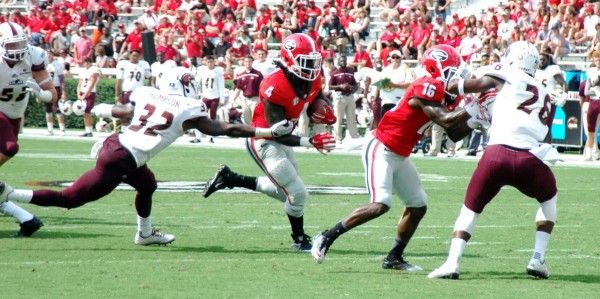 [su_spacer size="20″] On a lightning-shortened Saturday in Athens, Georgia takes care of business in a 51-14 rout of Louisiana-Monroe. The team looked sharp throughout the day as the 4-headed monster at tailback eventually ground down what may be the Sun Belt's best defense and the defense with a couple of exceptions controlled the game throughout. Let's get to the rundown.
[su_spacer size="40″]
What Went Well
[su_spacer size="40″] The Running Game
The Dawgs' running game was efficient as the tailbacks combined for 250 yards on the ground, 7.1 yards per attempt, and 4 TDs. The tailbacks didn't have any long runs, but all four backs had at least one carry that went for 10+ as the Warhawks tried to use 7+ men in the box consistently. While Nick Chubb was his usual outstanding self with 120 yards and 2 TDs, Keith Marshall showed the DawgNation that he appears to be fully recovered with 73 yards and 2 TDs on only ten attempts. We're going to see the windmill at some point this season as he takes one 50+ to the house. Sony Michel contributed to both the running game and passing game with 120 all-purpose yards.
Jenkins, Floyd & Carter
The law firm of Jenkins, Floyd & Carter put on a show with 17 combined tackles, 2 1/2 TFL, and a blocked punt. The Georgia defense constantly harassed Garrett Smith during the day with these 3 leading the charge. Carter's early blocked punt gave the Dawgs early field position to set up the first touchdown. These 3 are going to make life miserable for teams throughout the year and will make the rest of the defense better as teams try to neutralize the impact of JF&C.
Collin Barber
The Georgia punter was solid yesterday averaging close to 44 yards per punt with two inside the 20. He handled a bad snap well and still got the kick away on his first punt. He was a real difference maker on kickoffs as he consistently kicked the ball deep into the end zone. Many of us had concerns entering the season about our punting, and Barber put a lot of that concern to the back burner on Saturday.
[su_spacer size="40″] What Didn't
The Weather
The lightning delay that ended the game kept Richt and Schottenheimer from experimenting with the 2nd group of offensive linemen and from giving Brice Ramsey more time at quarterback. The 1st delay and the ensuing rainstorm sent the DawgNation to Sanford's exits. Games like this are necessary to develop depth on both sides of the ball, and we didn't get that opportunity in the 4th quarter.
The Last 5 and First 5
The last 5 minutes of the 1st half and the first 5 minutes of the 2nd half were forgettable for the Georgia defense as ULM moved the ball rapidly down the field for touchdowns. I blame the first one a little on Pruitt as he went into a prevent to exchange yards for time and a little on the execution as it appeared the players lost focus looking for the halftime break. The first drive of the 2nd half had some poor play in the secondary as Rico McGraw got a taste of what it feels like to be the least experienced member of the secondary. The Warhawks went after him on that drive like the 49ers used to do with Charles Dimry and the Falcons. McGraw is going to be a player, but he's going to have to grow up quickly to play consistently at star against the slot.
[su_spacer size="40″] Player of the Game
My player of the game is Greyson Lambert in his first start at quarterback. He was efficient with the ball and made two nicely thrown balls for TDs to Jeb Blazevich and Malcolm Mitchell. The sight check he made on Chubb's 2nd TD looked like it was completely his decision. The play was blocked well, and Nick went untouched. He did nothing to make the coaches question their decision to start him or to change QBs this week in Nashville.
[su_spacer size="40″] Grades
[su_spacer size="40″] Offense – A
51 points, 435 yards in 50 minutes – just another big performance by the Georgia offense. Good balance, solid line play, and a running game that has to have everyone on the schedule thinking how do you stop this group of running backs where they have consistently fresh legs to run at you.
[su_spacer size="40″] Defense – B+
This grade would have been an A if not for the first possession of the 2nd half. The front 7 dominated the ULM offensive line by giving up only 45 net rushing yards. A lot of the Warhawks' passing yardage (147) came on the two TD possessions. The secondary only yielded 59 passing yards the rest of the game.
[su_spacer size="40″] Coaching – A
The coaches kept the team focused after the delay when it could have been easy to relax and let the Warhawks hang around but never threaten. Also, kudos to Coach Richt for agreeing to suspend the game and reduce the risk of injury.
[su_spacer size="40″] Overall – A-
Excellent effort on both sides of the ball. This game was exactly what it needed to be – win, advance, and tune up for the SEC schedule. Good luck to ULM the rest of the season.
[su_spacer size="40″] Look Ahead to Vandy
The Dawgs travel to Nashville to take on the Commodores on Saturday as the featured 3:30 game with Verne & Gary. The Commodores looked dreadful in their 14-12 loss to Western Kentucky on Thursday night. As everyone is aware, Georgia has struggled in its last 2 appearances in Nashville with the Grantham-Franklin showdown at the end of the 2011 game and the disastrous, special teams induced and SEC officiating caused loss in 2013. The outcome of Saturday afternoon is purely driven by the focus of the Dawgs – nothing more, nothing less. If Georgia comes in with the same level of focus as this past Saturday, the Dawgs will win big in what should be a neutral site game in Music City. If the Dawgs make mistakes and allow the Commodores to stay in the game, the Dawgs should win, but the game could be very uncomfortable. My early prediction is that the Georgia running game controls the game to allow the Dawgs to cover the 18-19 point spread.
[su_spacer size="80″]