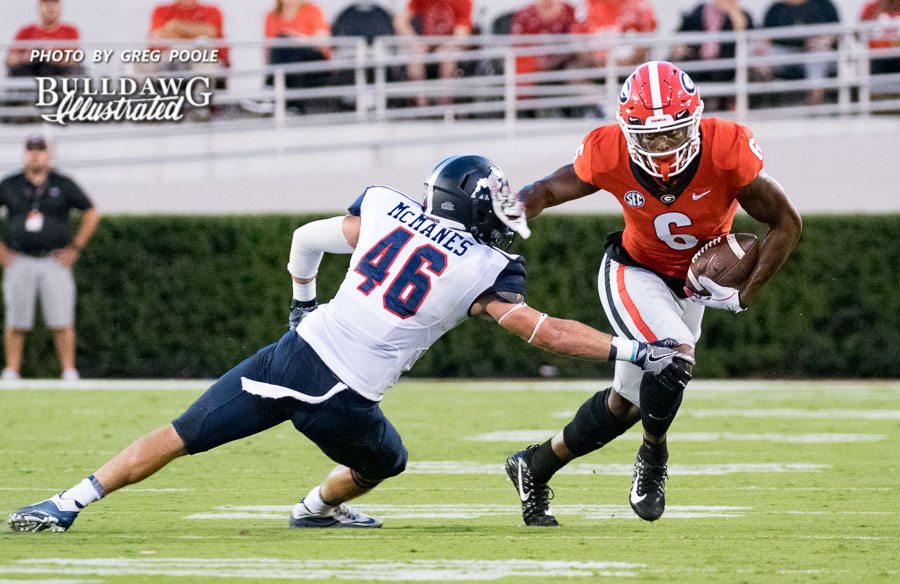 Even before the 2017 football season began, I thought the Mississippi State game would be the toughest one for Georgia to win, out of the Bulldogs' first four outings.


Yes, more difficult than facing a Notre Dame team on the road in South Bend, Ind. That's because the Fighting Irish were only 4-8 last season and were full of question marks at a number of positions on both offense and defense entering the new season.


At the same time, this Mississippi State team of Dan Mullen, even though it posted only a 6-7 finish in 2016, returned a number of talented football players … such as arguably the best quarterback in the Southeastern Conference in Nick Fitzgerald, bruising tailback Aeris Williams and powerful sophomore nose tackle Jeffery Simmons.


And as everyone knows, Kirby Smart's Bulldogs had to battle to the wire to get a very satisfying 20-19 road victory over Notre Dame two weeks ago. No question, Georgia was a vastly superior team that Saturday night at Notre Dame Stadium but the Bulldogs enabled the Irish to stick around and keep it close due to Georgia committing 112 yards in penalties and also turning the ball over twice.


So, question is, as the Bulldogs kick off their SEC slate Saturday night at what will surely be a boisterous Sanford Stadium, how will Georgia fare against a MSU team that is suddenly looking much stronger than that Notre Dame squad the Bulldogs whipped by a single point?


Most certainly, the stage is set for a battle royal between the hedges. Georgia enters the game at 3-0 with a No. 11 national ranking by the Associated Press and Mississippi State enters the game at 3-0 with a No. 17 national ranking.


Good as the Bulldog defense has been in the three outings to date — and Mel Tucker's unit holds down the nation's No. 5 spot in rushing defense — the Georgia stop-'em gang is going to be seriously challenged by the running of State quarterback Fitzgerald, who chalked up no less than eight 100-yard rushing games last season, and tailback Williams who bullied the LSU defense for 146 yards last week.


Speaking of LSU, the then 12th-ranked Tigers were literally taken apart by the Maroon Bulldogs in Starkville. They were manhandled on both sides of the line of scrimmage en route to a 37-7 pasting by Mississippi State.


But it's not so much the Georgia defense I'm concerned about in this nationally-televised ESPN game Saturday evening (7 p.m. kickoff). I'm thinking the Roquan Smith, Lorenzo Carter and Davin Bellamy-led Bulldogs can at least limit Fitzgerald (good as he is), Williams and the State offense enough to put Georgia in position to win the football game.


What I'm most worried about, from the home team's standpoint, is how well will the Georgia Bulldogs' offense do against Simmons and the Mississippi State defense? Jim Chaney's UGA offensive unit has still been inconsistent over the first three games and only against FCS Samford last weekend did one of Georgia's touted running backs go over the 100-yard mark in this young season, when Nick Chubb compiled 131 yards and two touchdowns. And while freshman quarterback Jake Fromm has certainly played with poise and responded with a number of big passing plays, the Bulldogs have yet to get a 200-yard showing from its aerial game.


For Georgia to win this game, the Bulldogs can't live on its defense alone to get the job done. The offense must come up with a balanced and consistent attack, both running the ball well and also throwing it with aplomb, to complement the defensive performance and thereby enable Georgia to climb to 4-0 season and 1-0 in the SEC.


Will that happen for the Bulldogs? I don't think it's going to be smooth sailing by any stretch of the imagination against a Maroon Bulldog bunch that is coming to Athens aiming to prove their romp over the LSU Tigers was no fluke; however, I do look for Georgia to get it done in a very closely-fought ball game. So make it Georgia Bulldogs 21, Mississippi State Bulldogs 17!




---
Recent Articles by Murray Poole


[pt_view id="2fb799183g"]