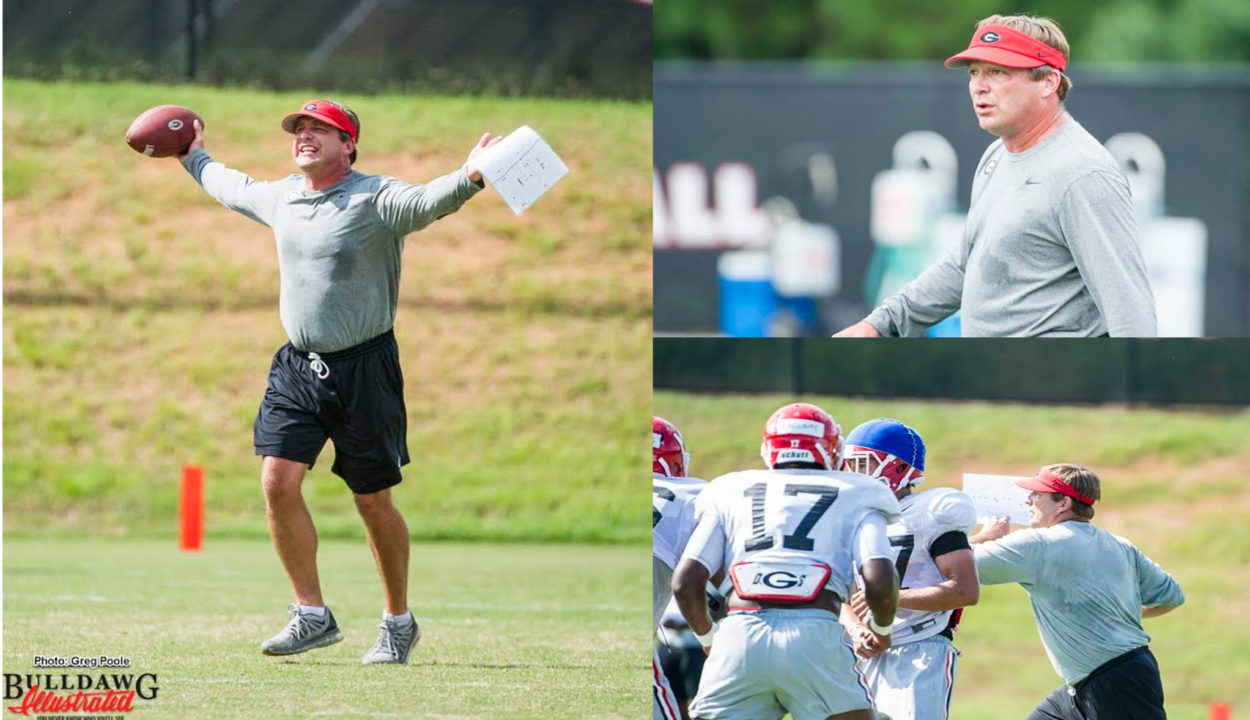 After covering Kirby Smart this spring, I thought I knew what to expect from fall camp. After all, there had been a marked jump in the intensity level of practice between the norm of 2015 and the somewhat frenetic pace atmosphere of the first Kirby Spring. As it turned out, that was just the beginning.


The atmosphere, as fall camp opened, retained the pace and energy of spring but immediately took on an air of seriousness. Smart was everywhere. One minute he was leading reps with the defensive backs, then a minute later he was barking at a defensive lineman about his conditioning. Your head coach sweats/hustles/works and he expects no less from his players.


Developing quality depth was an important part of the mission given to the coaching staff from day one Smart era. The recruiting class of 2016 has been given every opportunity to carve out playing time for itself this fall. Look for as few as five or six to redshirt and most of those will be future contributors along the line of scrimmage.


The quarterback competition has gotten more attention from the media than any other element of fall camp, and at the time of this writing, it is still unresolved. Jacob Eason, the overwhelming favorite of the fan base, has been brought along slowly if being a serious contender to start at quarterback for a major program as a freshman can be considered as nurturing.


The wunderkind from Washington is presumed by most observers to be the eventual starter for the Dawgs. It is not the "if", but the "when" that has provided writers with ready-made attention-grabbing material for all of August. There is little doubt that the staff has made every effort to see if Eason can grab the job this fall. During the last couple of weeks, before actual game prep for UNC began, Eason was given extra reps with the first unit offense to test his progress.


My theory is that if the quarterback competition is as close as Smart has continually said, and Eason is seen by the staff as the eventual starter (this season), it makes sense to start him against North Carolina and Nicholls State. Practice reps do not substitute for game reps. When you have a fifth-year senior and a fourth-year junior who cannot pull away from a true freshman after going head-to-head during both spring and fall camps, make the move to the freshman and let him get game-speed reps before the SEC schedule begins.


Offensive line: As spring practice ended, Georgia's offensive line was in need of help. Depth was scarce and the available personnel did not mesh well with the positions that had to be filled. Enter Tyler Catalina. The 6-6/315 graduate transfer from Rhode Island was expected by many observers to become a right tackle at UGA. However, offensive line coach Sam Pittman has plugged Tyler in at the all-important left tackle slot (protecting the quarterback's blindside). This move has allowed Isaiah Wynn to slide over to left guard, his natural position.


By taking over at left tackle, Catalina has given Pittman far more flexibility to meet the game planning requirements for the various opponents the Dawgs will face.


Freshmen rarely see the field along the offensive line but Smart has singled out Solomon Kindley for praise several times during fall camp. Kindley (a three-star) was an under-the-radar prospect from Raines High School in Jacksonville. Most recruiting observers believe that he did not grab the attention of evaluators because he was considered overweight at nearly 400 pounds. Sam Pittman liked his athleticism and offered. Kindley successfully lost about 60 pounds and reported to camp at a svelte 336. A trimmed-down Kindley is now able to showcase his natural athletic ability and is challenging for playing time as a freshman.


Running backs: Nick Chubb will play against North Carolina. Based on his unrestricted practice reps, I believe he will be available for as many carries as the coaches need from him. Sony Michel, however, has not been cleared for the first game as of this writing. Michel will be cutting it close with the healing process of the compound fracture he suffered to his left forearm in early July. If Michel cannot go in Atlanta (my guess is that he will play), there are several backs who have looked good and drawn favorable comments from Coach Smart in fall camp.


Elijah Holyfield, the freshman son of legendary heavyweight boxing champ Evander Holyfield, has returned to practice after missing a few days with a sprained ankle. Holyfield is a powerful runner with the physique of a veteran. Brendan Douglas, Tae Crowder and another freshman, Brian Herrien provide running back depth for the Bulldogs.


With the departure of Tim Kimbrough during fall camp, Georgia's inside linebacker corps took a depth hit. Almost immediately after Kimbrough's departure, safety Rashad Roundtree was moved to the vacant spot and has been impressive in practice. Inside linebacker and defensive line are the areas of concern on that side of the ball, but a solid group of young players with immense talent have asserted themselves during fall camp.